Picture this: You're in a room with the world's top investors, absorbing their wisdom and uncovering their secrets to financial success. Sounds incredible, right? Well, the perfect investing podcast can turn that fantasy into reality, giving you exclusive access to insights and advice from the brightest minds in the business.
You see, the investing landscape is constantly evolving. As an investor, staying ahead of stock market trends, cutting-edge strategies, and emerging industries is essential. And who better to learn from than the best in the game? The right investing podcast can open doors to the thoughts, experiences, and guidance of successful investors, sharpening your skills and elevating your investment decisions.
Ready to dive into the world of the top investing podcasts? Feast your ears on our list of the 15 best investing podcasts to skyrocket your investment profits. Plug in your headphones, hit play, and get ready to learn from the pros!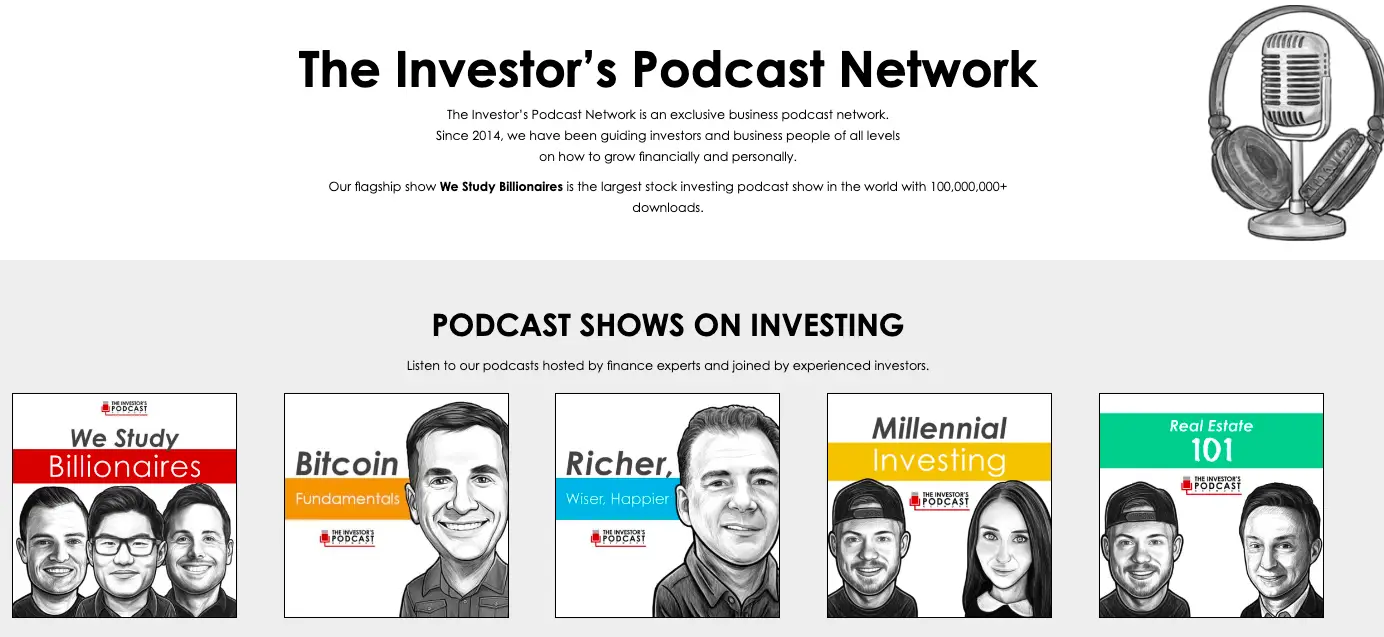 Number of Episodes: 1,000+
Upload Schedule: Multiple times a week
What it is: The Investor's Podcast Network (TIP) delivers top-notch educational content designed for long-term wealth creation, empowering you with investing tips to help you make well-informed investment decisions.
They offer a suite of shows, including We Study Billionaires, The Good Life, The Real Estate Investing Podcast, The Millennial Investing Podcast, and The Bitcoin Fundamentals Podcast, each covering a wide range of topics – from dissecting the strategies of successful investors to personal finance and the latest crypto trends.
TIP encourages listener engagement and fosters a sense of camaraderie among the audience. With regular Q&A episodes, listener-submitted questions, and an active online community, listeners can learn about investing and grow together. Plus, TIP's shows are available on all major podcast platforms for your listening convenience.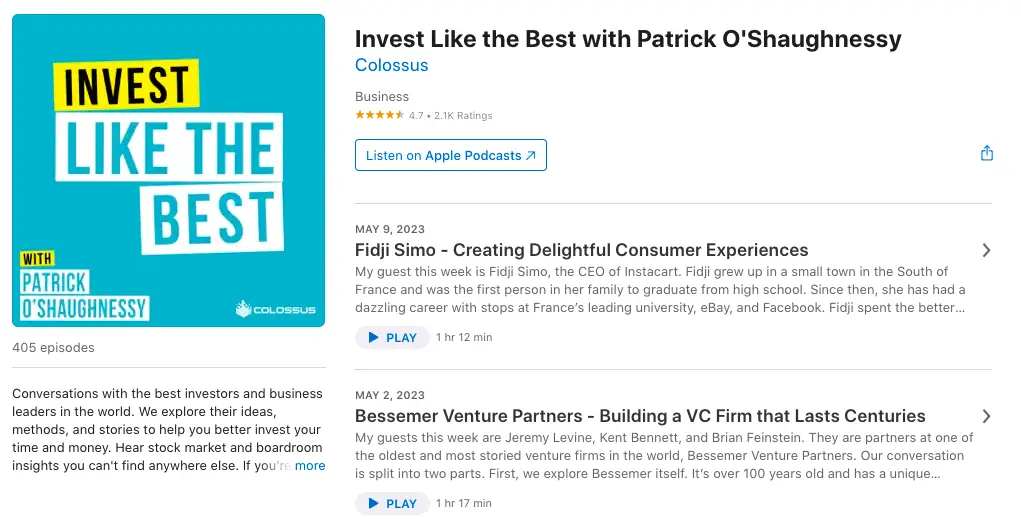 Number of Episodes: 400+
Upload Schedule: Once weekly
What it is: Invest Like the Best, hosted by the charismatic Patrick O'Shaughnessy, is a podcast featuring interviews with the brightest minds in investing, entrepreneurship, and business leadership. Together, they unveil their secrets and winning strategies to help you conquer the market.
Explore various topics, from time-tested investment techniques to groundbreaking technologies and ingenious ideas. And don't worry about getting bored- Patrick's engaging conversational style and warm demeanor make each episode a delight to listen to. His talent for weaving fascinating stories and anecdotes into the discussions keeps the content fresh and enthralling.
Whether you're a novice or a seasoned pro, you'll walk away from each episode with insights that fuel your passion for investing. Invest Like the Best doesn't just impart theoretical wisdom – it arms you with practical tips and tactics to apply to your investment endeavors.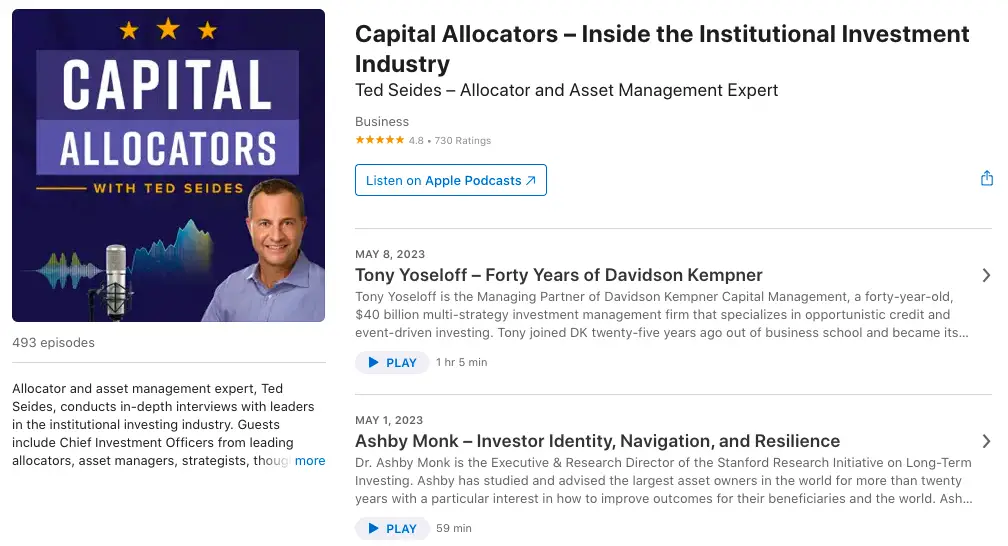 Number of Episodes: 400+
Upload Schedule: 1-2 times weekly
What it is: Capital Allocators is an investing podcast that dives deep into investing, bringing its listeners valuable insights from the brightest minds in the finance industry. Hosted by Ted Seides, a seasoned investment professional, the show features interviews with top investors, asset managers, and business leaders who share their experiences in the investing world.
Capital Allocators transcends the typical investment podcast, focusing on the decision-making processes and strategies that drive the success of world-class investors. Instead of simply discussing stocks, bonds, or market trends, this podcast takes you on a journey into the minds of investment gurus, exposing their thought processes, risk management techniques, and approaches to evaluating opportunities.
But that's not all – Capital Allocators isn't afraid to tackle real-world examples and case studies, making the content even more enthralling and relatable. From dissecting specific investment decisions to exploring industry trends, this podcast equips you with priceless lessons and insights that can be applied to your own investment odyssey.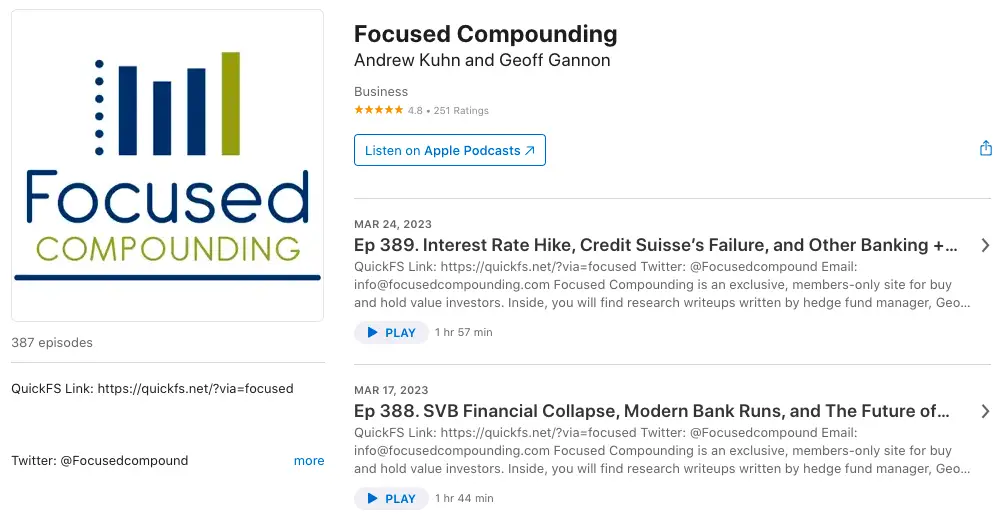 Number of Episodes: 300+
Upload Schedule: Weekly
What it is: Focused Compounding is an investing podcast that dives deep into the fascinating realm of finance and the stock market. Hosted by Andrew Kuhn and Geoff Gannon, this dynamic duo unravels the secrets of value investing, sharing their unique insights and perspectives with listeners.
At the core of Focused Compounding lies the fascinating concept of value investing. This investing style, championed by the legendary Warren Buffett, zeroes in on finding undervalued companies. This podcast delves into various aspects of value investing, such as pinpointing undervalued stocks and cultivating a long-term mindset.
But Focused Compounding doesn't stop there –  It transcends surface-level chatter, plunging into the nitty-gritty of specific companies and industries. Engage with fascinating case studies where your hosts examine diverse companies' financials, business models, and competitive advantages.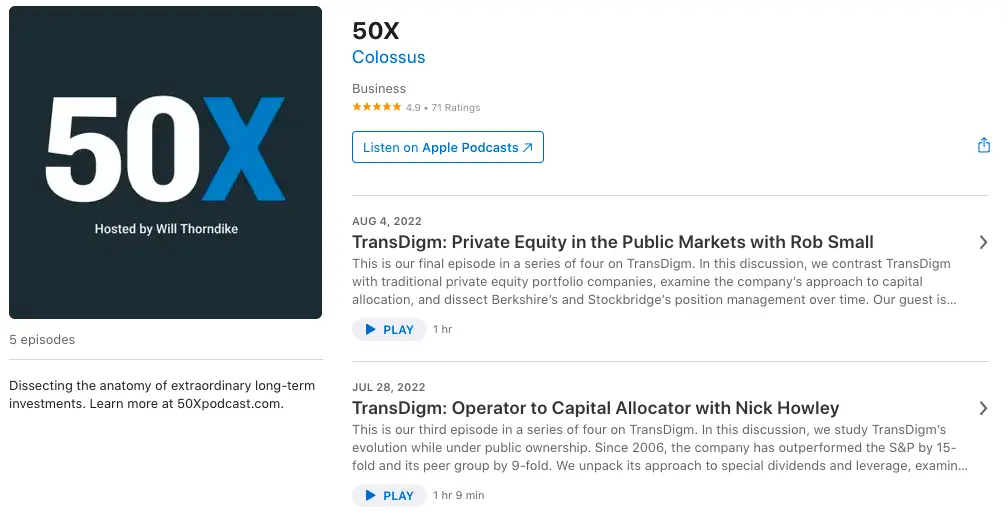 Number of Episodes: 5
Upload Schedule: Weekly
What it is: Introducing the 50X podcast, the ultimate audio gateway to unlocking the secrets of phenomenal long-term investments. If you crave valuable insights, captivating case studies, and real-life examples to empower your investment decisions, then buckle up – you've struck gold!
Why 50X? Their name embodies their goal: unearthing investments with the potential to grow 50 times over the long haul. How do they do it? By dissecting the critical factors that catapult companies to stratospheric success – and dishing out these juicy insights to you, the esteemed listener. Spearheaded by the dynamic Will Thorndike, this podcast delves into financials, business models, and competitive advantages of companies primed for explosive growth.
Each episode serves up a mix of razor-sharp analysis, insider scoops on the current industry landscape, savvy risk management tips, and jaw-dropping examples of companies that have soared to 50X returns.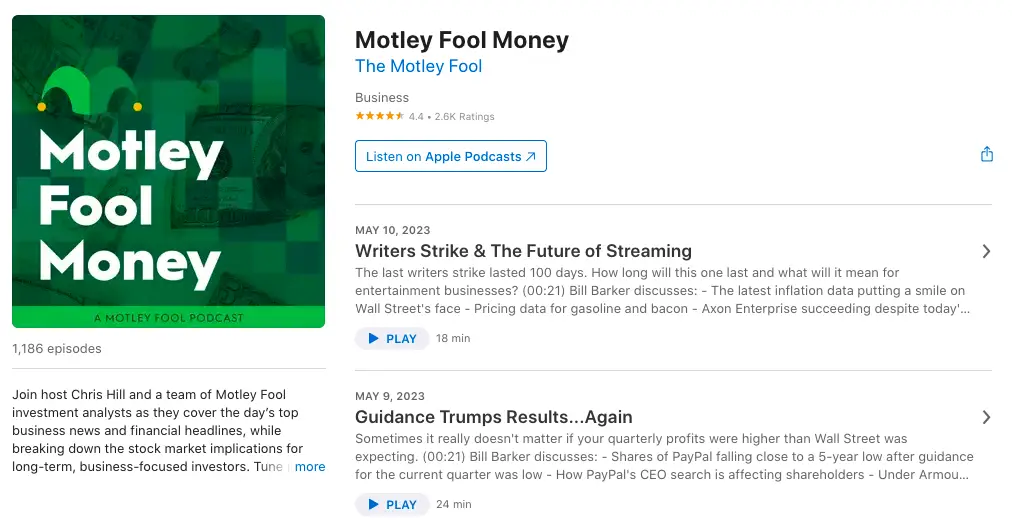 Number of Episodes: 1,000+
Upload Schedule: Daily
What it is: Motley Fool Money is an investing podcast that delivers invaluable insights and financial news straight to your ears. Hosted by the charismatic Chris Hill, this audio gem features a diverse panel of Motley Fool analysts who dive into the week's top business and investing stories, gifting you with the investment knowledge necessary for success.
This pod is your key to unlocking expert analysis tailored for long-term investing approaches.Their panel of analysts brings a wealth of perspectives to the table, ensuring you gain a comprehensive understanding of the stock market and the various factors that can influence your investments.
But they don't just stop at providing information. Motley Fool Money serves up actionable advice on investing in a captivating and entertaining format. With lively discussions, quick-witted banter, and enthralling storytelling, MFM is a delight to listen to. They even encourage listener engagement by answering your burning questions, allowing you to gain personalized advice specifically crafted for your unique investing needs.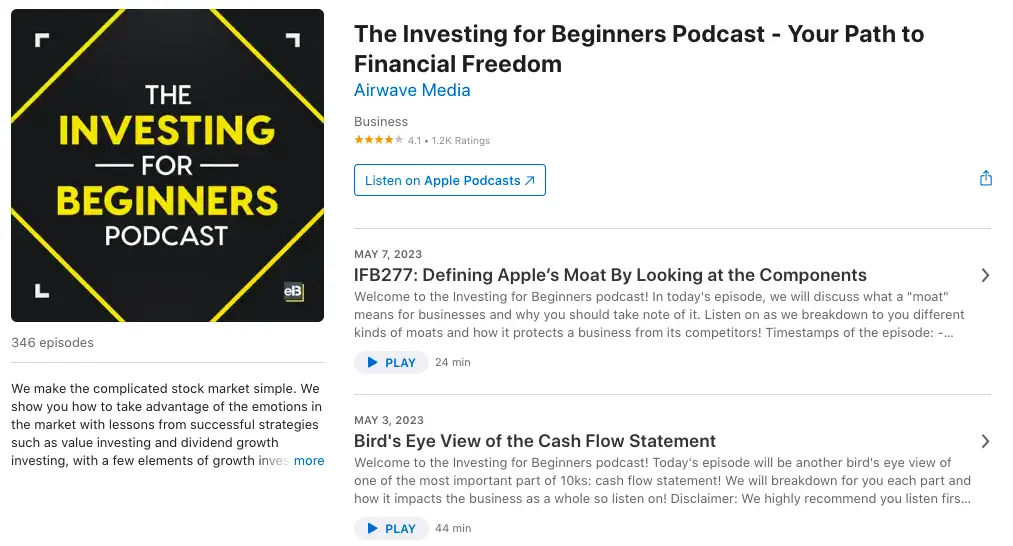 Number of Episodes: 300+
Upload Schedule: Twice weekly
What it is: The Investing for Beginners Podcast is your essential guide to diving into investing basics with confidence and ease. Designed specifically for newbies, this show breaks down complex concepts into simple, digestible nuggets of wisdom, making it the perfect launchpad for anyone looking to grow their wealth.
Featuring interviews with successful investors, financial advisors, and thought leaders, this podcast delivers a treasure trove of insights from diverse perspectives. The result? Fresh, engaging content that keeps you hooked and hungry for more.
But the Investing for Beginners Podcast doesn't stop at theoretical discussions. It dives deep into the practical aspects of investing, covering crucial topics like portfolio management, risk assessment, and investment strategies. You'll walk away with actionable tips that you can put to work in your own financial journey, ensuring you build a rock-solid foundation in investing.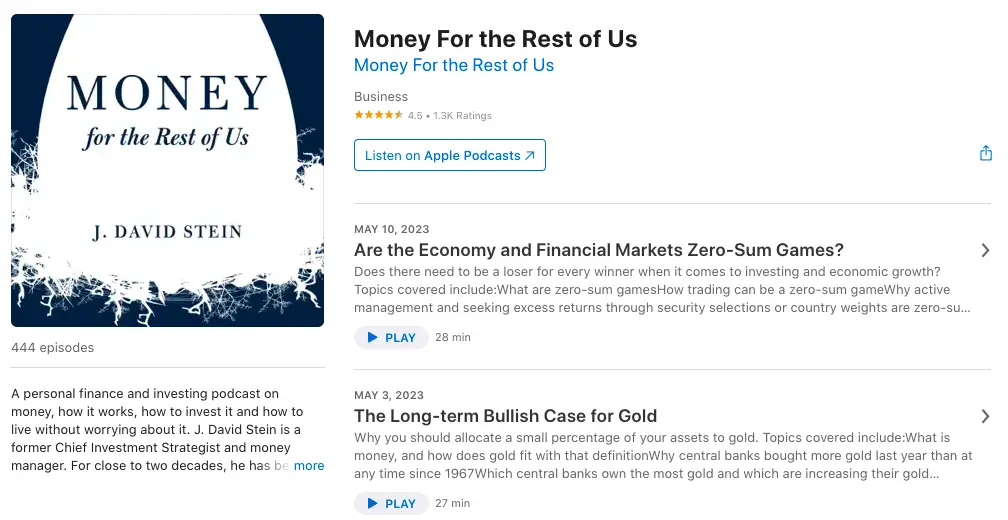 Number of Episodes: 400+
Upload Schedule: Once weekly
What it is: Money for the Rest Of Us is a captivating investing podcast hosted by the brilliant J. David Stein. With his decades of experience as a Chief Investment Strategist, David takes listeners on an enthralling journey through the complex realm of investing strategies and personal finance management.
Dive into a treasure trove of engaging stories and relatable anecdotes as David simplifies complex investment concepts, making them accessible to everyone. Say goodbye to feeling overwhelmed and hello to a newfound understanding of financial principles that will leave you feeling empowered.
Anchored in data, Money for the Rest Of Us weaves statistics and case studies into investment advice. This evidence-based approach lends credibility to the podcast and equips listeners with the investing knowledge necessary to achieve financial freedom.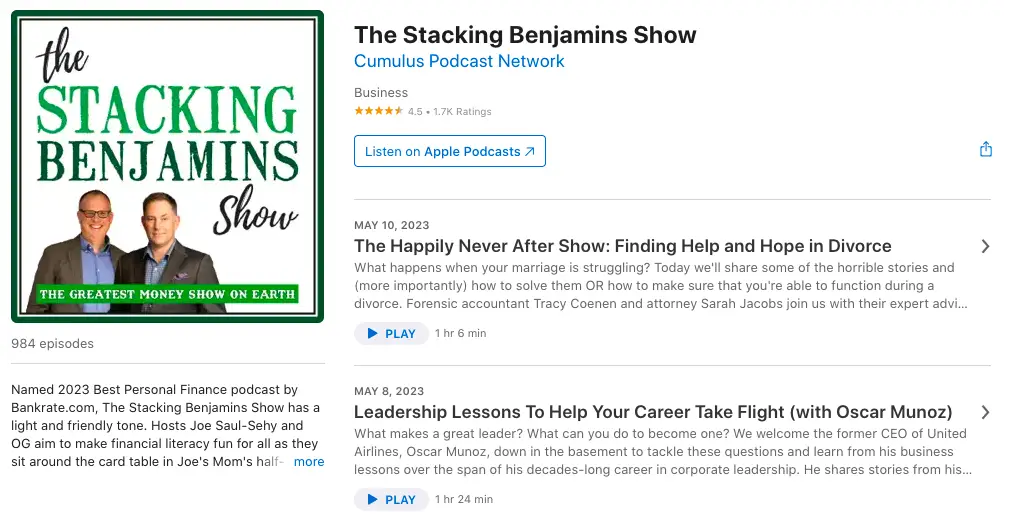 Number of Episodes: 900+
Upload Schedule: Three times a week
What it is: The Stacking Benjamins Show is a podcast that brings financial education to the masses in a fun, engaging, and conversational way. This investing podcast prioritizes listener engagement and presents complex financial topics in an entertaining and digestible manner.
Unlike traditional investing podcasts focusing on stock tips or market analysis, The Stacking Benjamins Show aims to make personal finance and investing accessible to everyone. They do this by breaking down complex topics into bite-sized pieces and presenting them in a light-hearted format. You won't find any jargon or difficult words here, just clear and concise language that's easy to understand.
Hosted by Joe Saul-Sehy and featuring a rotating cast of co-hosts, The Stacking Benjamins Show brings together financial experts, authors, and everyday people to share their stories. This approach ensures that listeners get diverse perspectives on investing, all while keeping the conversation lively and engaging.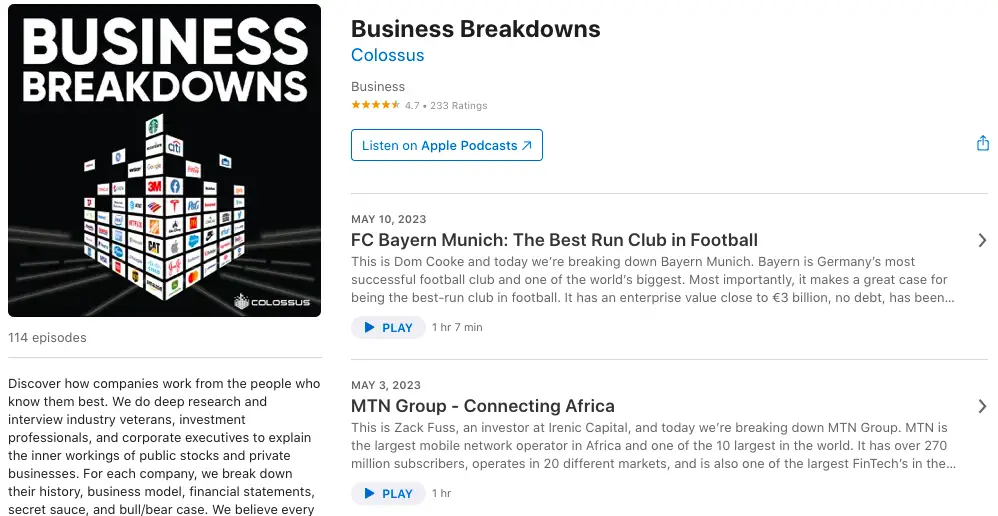 Number of Episodes: 100+
Upload Schedule: Weekly
What it is: Immerse yourself in the world of investing with Business Breakdowns, an investing podcast that dives deep into the intricacies of various businesses, industries, and investment strategies. Designed to enlighten and empower investors of all levels, this show will elevate your understanding of the market and guide you towards well-informed decisions.
Whether you're just dipping your toes into investing or a seasoned pro, Business Breakdowns offers a vast wealth of knowledge and insights to sharpen your investment portfolio. Engage in thought-provoking interviews with accomplished investors, trailblazing business leaders, and industry gurus who share their invaluable perspectives and advice.
For each company dissected, the podcast delves into their origin story, business model, financial statements, and the compelling reasons to invest or hold back. If you're eager to elevate your investing prowess and stay ahead of market trends, Business Breakdowns is your go-to podcast. Its enthralling format, expert guests, and comprehensive analysis make it an indispensable resource for investors hungry for success.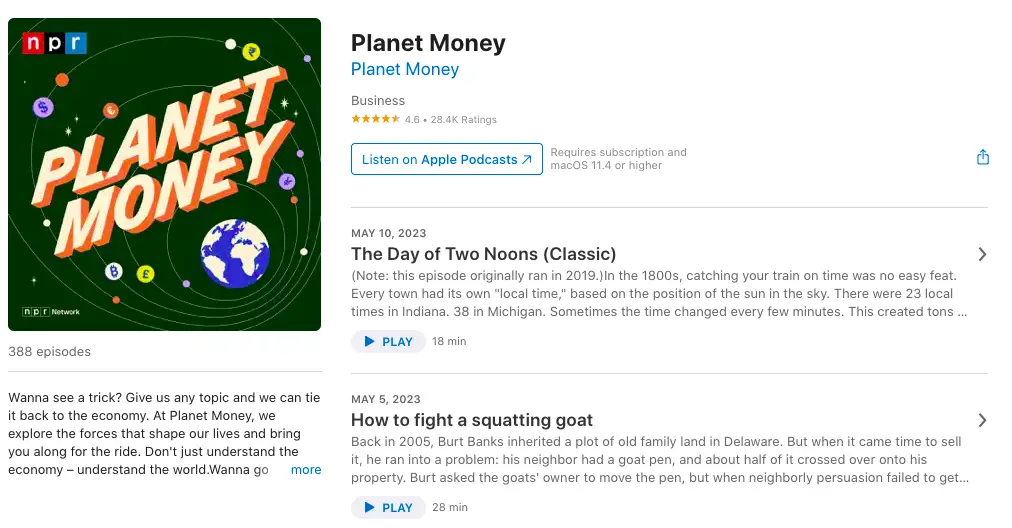 Number of Episodes: 300+
Upload Schedule: Multiple times a week
What it is: Pocket Money is a podcast that makes investing accessible, engaging, and downright enjoyable for everyone. Hosted by the dynamic duo of Sally McMullen and Kate Browne, Pocket Money is your go-to source for financial wisdom with a refreshing twist.
Whether you're a budding investor or a seasoned pro, Pocket Money covers an array of financial topics – from stocks and bonds to cryptocurrency and real estate. With episodes clocking in at under 30 minutes, you can absorb valuable information during your daily commute or lunch break. No more feeling overwhelmed by dense financial jargon; instead, you'll feel like you're chatting with friends who just happen to be financial whizzes.
As you tune in to Pocket Money, you'll enjoy lively discussions, interactive segments, and valuable advice from many guest experts. It's the perfect mix of data-driven insights and playful banter, making it a must-listen for anyone looking to up their financial game.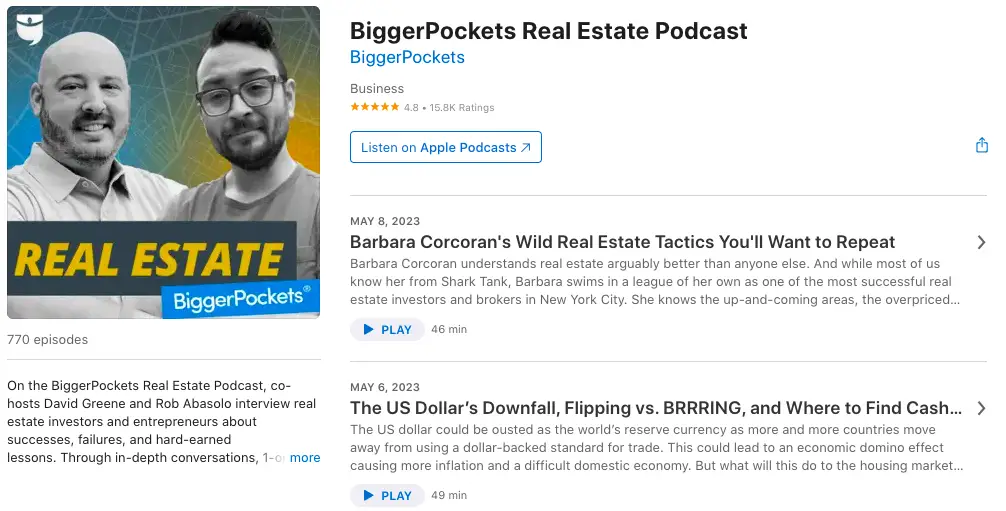 Number of Episodes: 700+
Upload Schedule: Multiple times a week
What it is: The Bigger Pockets Real Estate Podcast is a goldmine for investors eager to plunge into real estate. This pod zeroes in on unveiling real-life experiences and battle-tested tactics from triumphant investors. They feature a diverse array of guests, all armed with hands-on experience in real estate investing and eager to impart their insider tips to listeners.
The pod also places a heavy focus on community and networking, encouraging listeners to forge connections and cultivate relationships that can propel their real estate portfolios to new heights. This emphasis on community elevates the podcast above others that may merely provide information without fostering genuine connections among listeners.
But what if you're new to real estate investing? Fear not! Bigger Pockets Real Estate caters to investors across the spectrum, from wide-eyed beginners to battle-hardened pros. The podcast delves into a vast array of real estate investing topics, guaranteeing there's something enticing for everyone.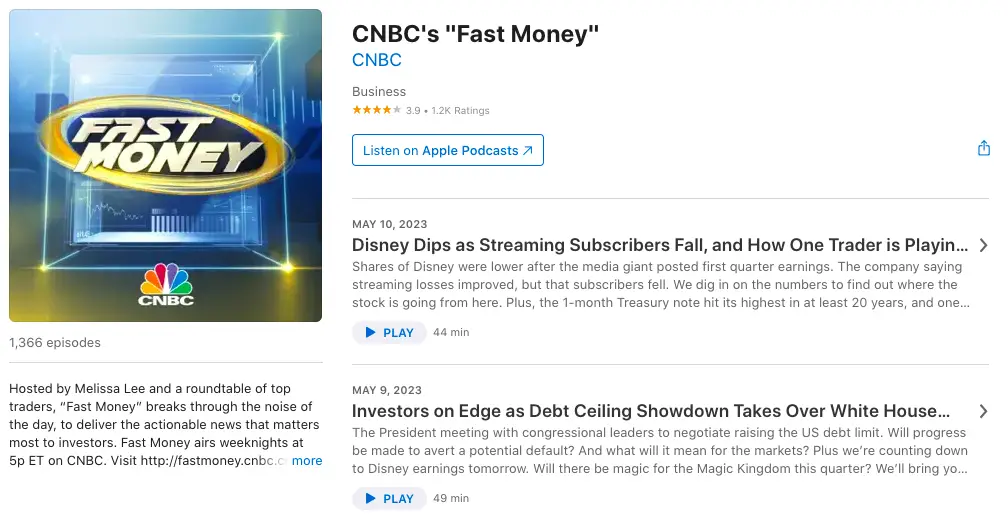 Number of Episodes: 1,300+
Upload Schedule: Multiple times a week
What is it: "Fast Money" by CNBC is an investing podcast that empowers investors with razor-sharp insights and actionable tips to conquer the world of finance. Featuring a dynamic panel of elite traders, they passionately dissect the day's sizzling topics and debate their investment techniques. With an unwavering commitment to exceptional content, "Fast Money" has become the ultimate destination for investors seeking to stay ahead.
The podcast showcases a versatile panel of trading virtuosos, including Guy Adami, Tim Seymour, Karen Finerman, and Dan Nathan. These seasoned experts infuse years of experience into their valuable insights on market trends and investment strategies, covering an impressive array of topics from breaking market news to in-depth analysis of specific stocks and sectors.
But Fast Money doesn't stop at just analysis and debate; it also delivers practical, game-changing tips and advice for investors. This empowers listeners with the opportunity to learn from the best, absorb their wisdom, and apply these perspectives into their own portfolios.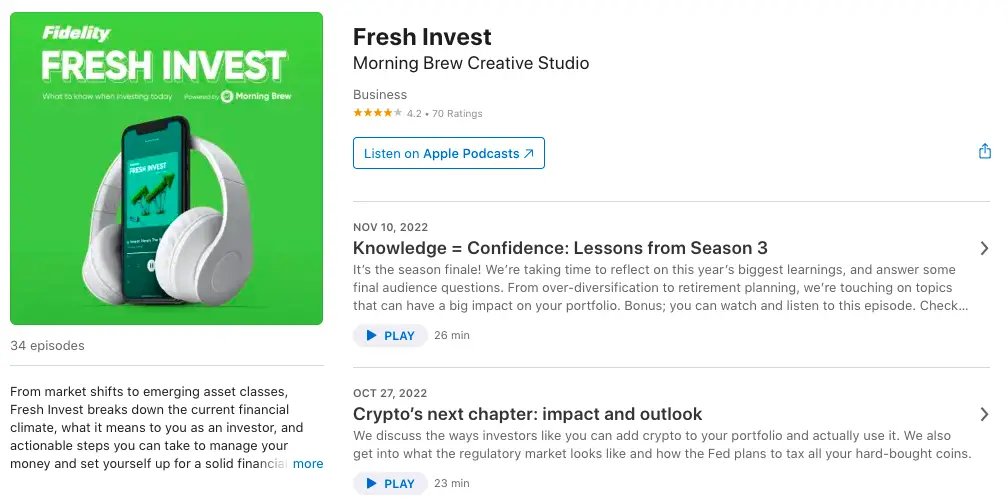 Number of Episodes: 30+
Upload Schedule: Multiple times a week
What it is: Hosted by Morning Brew co-founder and executive chairman Alex Lieberman, the Fresh Invest Podcast is a valuable resource designed to help investors navigate the world of investing. Their goal is to empower you with actionable insights and expert advice, enabling you to make smarter investments and set yourself up for a solid financial future.
Get ready to dive deep into the ever-changing financial landscape as Alex unravels market shifts, explores emerging asset classes, and discusses what it all means for you as an investor. Every week, Alex is joined by Fidelity's top-notch guests, who bring their unique perspectives and invaluable expertise to the table.
The Fresh Invest Podcast will inspire you to take bold, decisive action to manage your money and secure your financial future. Their engaging, data-driven content is infused with a playful and irreverent style, making it an absolute treat for your ears and mind.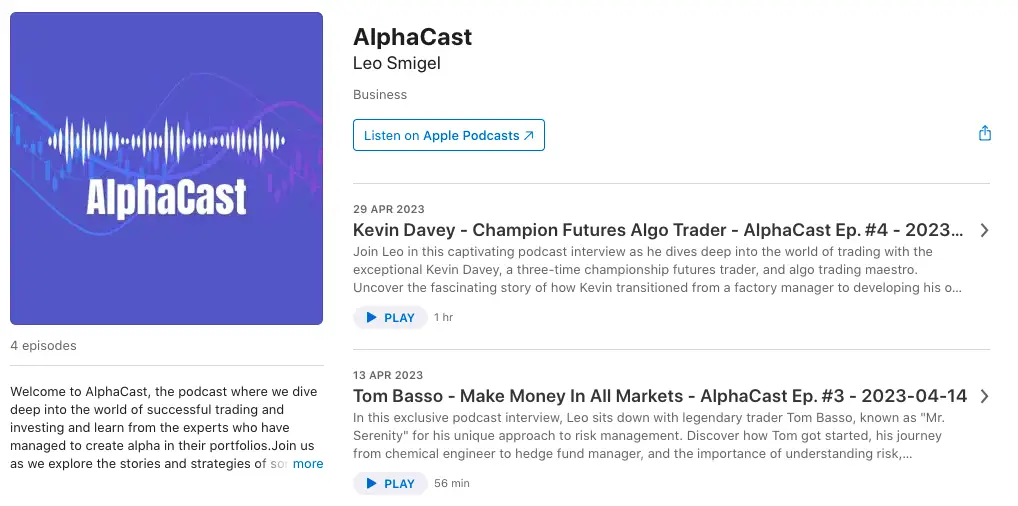 Number of Episodes: 4
Upload Schedule: Twice monthly
What it is: Introducing AlphaCast, the groundbreaking investing podcast that's fresh on the market! Hosted by Leo Smigel, the mastermind behind Analyzing Alpha, this show is your golden ticket to exclusive, in-depth interviews with the brightest luminaries in trading, investing, and finance.
Prepare to be captivated as Leo Smigel brings together the most brilliant minds in the investing arena, including market wizard Marsten Parker, who graced the pages of Jack Schwager's renowned book. These riveting conversations offer you a once-in-a-lifetime chance to learn from the best, catapulting AlphaCast to the top of every serious investor's must-listen list.
But AlphaCast doesn't just explore high-level theories; it dives headfirst into the nitty-gritty details that make investing strategies successful. You'll be hooked as you delve into topics like cutting-edge quantitative investing techniques, the secrets of trading psychology and discipline, and the art of risk management and portfolio construction.
With its potent blend of actionable insights and real-world examples, AlphaCast is your key to unlocking the next level of your investing prowess.
Conclusion
The 15 investing podcasts we've shared offer a wealth of knowledge, insights, and inspiration to help you level up your investing game. By tuning in to these audio shows, you'll gain invaluable access to the wisdom and experiences of the world's top investors, empowering you to make smarter investment decisions and boost your profits.
So, don't wait any longer – explore and subscribe to the best investing podcasts today! Your future self will thank you as you reap the benefits of learning from the greatest minds in the industry. Happy listening and investing!