Listen up, traders and quantitative analysts: Are you sick of struggling to find the ultimate market data provider that caters to your unique needs? The struggles of discovering the right market data platform are all too familiar, with unreliable data and sky-high costs being prime examples. These obstacles can be disastrous for traders who depend on precise and budget-friendly market data to make well-informed decisions.
But hold onto your hats! As an experienced veteran with 15 years of experience in investing and algo-trading, I've unearthed Norgate Data, a market data service that shines like a lighthouse in this cutthroat landscape.
In this all-encompassing Norgate Data review, I'll unveil why this data provider might be the answer to your prayers, and how it can transform your trading results into a powerhouse of success.
Norgate Data Key Features

In your quest for unrivaled market data, you'll uncover the remarkable features of Norgate Data:
Bias-free "end-of-day" and historical market data for U.S., Australian, and Canadian stocks and indices with 100 futures markets from 11 world-wide exchanges. With the Norgate Data Updater, you'll enjoy consistently updated daily information, keeping you ahead of the curve.
A diverse range of supported APIs and plug-ins, such as Python, AmiBroker, and RightEdge. The Norgate Data Updater empowers you with user-configurable data, enabling effortless transitions between configurations.
An assortment of data packages, including options that deliver world futures price data and forex rates. Find the perfect package tailored to your unique API needs and aspirations.
Norgate Data's API Integrations

Norgate allows you to integrate with all kinds of powerful APIs, extensions, and plug-ins, including:
AmiBroker
Python
Zipline
RightEdge
Wealth-Lab
RealTest
XLQ2
Share Trade Tracker
TuringTrader
How Norgate Data Sets Itself Apart From Competitors
Being a successful trader is about more than just having the latest intel – it's about seeing the whole picture. That means digging deep into historical data, not just relying on end-of-day snapshots. This is where Norgate Data truly shines, leaving other market data providers in the dust.
Norgate Data is the beacon of comprehensive and precise historical data that leaves no stone unturned. With their highest-tier subscription plan, you can delve into the deepest depths of market history, dating all the way back to 1950. Talk about getting the full picture!
But it's not just about having the right data – it's about being able to use it effectively. Norgate Data's intuitive platform and seamless integrations ensure you can effortlessly access and analyze the insights you need, without the headache.
In the high-stakes world of trading, every second is precious.  And when you choose Norgate Data, you're choosing a provider that understands this and is committed to helping you thrive. With their unrivaled data accuracy and wide range of integration options, Norgate Data equips you with the tools to make intelligent trading decisions.
Expert Opinions: Insights from Industry Pros on Norgate
But don't just take my word for it – Norgate Data's exceptional performance has garnered rave reviews from industry pros, including Andreas Clenow, a renowned Swedish Swiss financier and entrepreneur. Clenow applauds Norgate's seamless software integration, saying, "Norgate has done a great job with the software integration. Their data quality is great."

But wait, there's more! Joe Marwood from StocksoftResearch can't get enough of Norgate Data either. As a dedicated user for his backtesting needs, Joe gushes about Norgate's "clean, reliable" data that integrates perfectly with Amibroker.

So, if you're seeking a data solution that's both powerful and efficient, look no further. Norgate Data has the stamp of approval from some of the trading world's brightest minds!
But of course, like any stock data market provider, Norgate Data has unique advantages and disadvantages that traders should be aware of.
Norgate Data Pros and (Limited) Cons
Let's delve deep into the intricate details of Norgate Data, revealing the strengths and weaknesses of this dynamic data powerhouse.
Norgate Data Pros
International coverage: Norgate Data provides daily market data to the United States, Australia, and Canada with 74 global currency pairs.
High-quality APIs: The platform features seamless integration with APIs and third-party plug-ins.
Accurate, reliable data: Norgate Data provides current and historical daily data.
Scalable support: Norgate is designed to handle a large volume of requests.
Low latency: Users can enjoy fast connections and access accurate data quickly.
Norgate Data Cons
Higher price: Norgate is slightly more expensive with its Platinum and Diamond packages compared to other data providers.
No REST APIs: You'll need to install the Norgate Data Updater.
Access to end-of-day data only: You can only access end-of-day data updates.
After weighing these pros and cons, I've awarded Norgate Data an impressive 4.3 out of 5. This score highlights its robust features while acknowledging areas for improvement. To learn more about my ranking process for the best market data API vendors, dive into our Market Data API Buying Guide and explore the full range of criteria.
Pricing: Finding the Perfect Data Package For You
Norgate Data presents an array of pricing options, ensuring there's a perfect fit for everyone, from the aspiring systematic trader to the savvy Wall Street pro. Discover the ideal plan tailored to your unique needs:
U.S. Stocks Daily Data: Silver, Gold, Platinum, and Diamond, plus an optional OTC Add-on
Australian Stocks Daily Data: Silver, Gold, Platinum, plus an optional Derivatives Add-on
Canadian Stocks Daily Data: Silver, Gold, Platinum
Daily Futures Data: Silver
Daily Forex Data: Silver
Test out a 3-week free trial of each data package, ensuring the perfect fit before you commit.
Check out the details of each Norgate Data package in the tables below: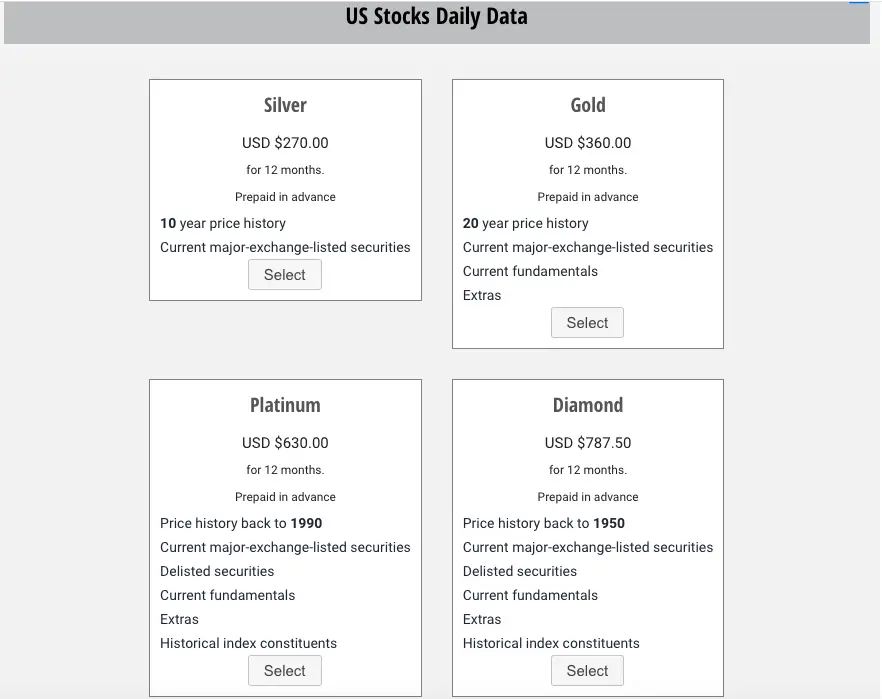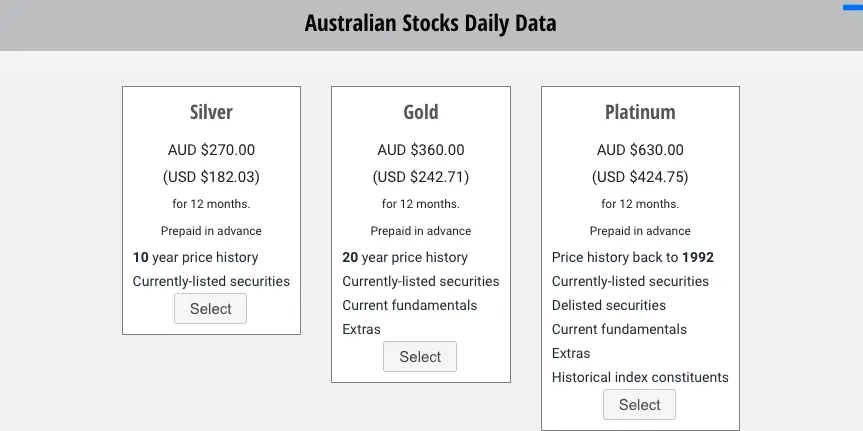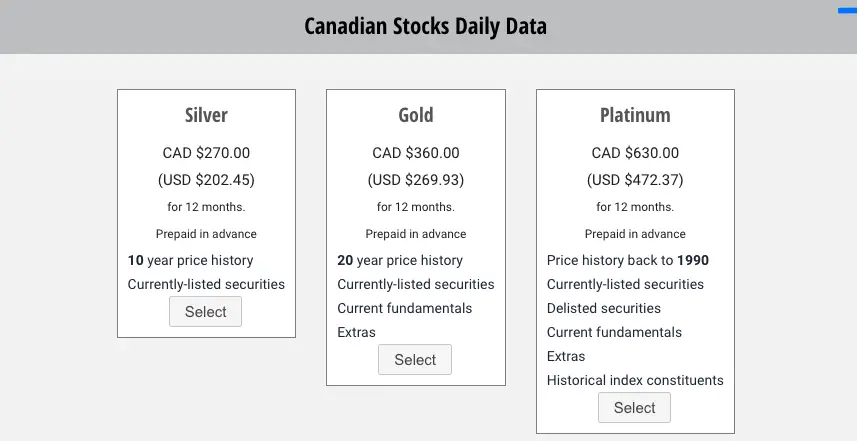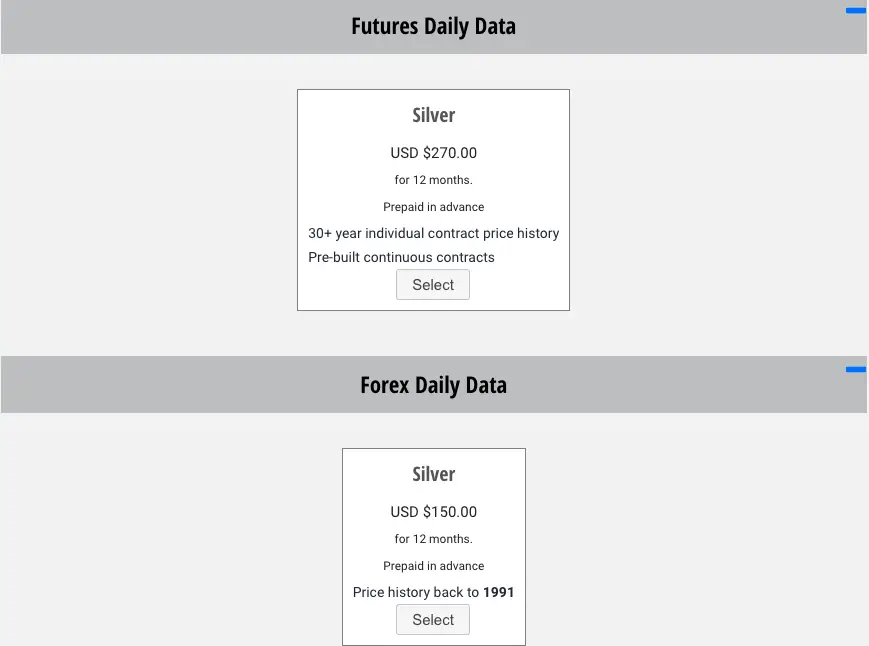 A Guide to Getting Started with Norgate Data
Interested in signing up for Norgate Data but not sure where to start? No worries!
I've created an in-depth, step-by-step guide on how to harness the power of Norgate Data Python plug-in. This will help you integrate Norgate Data's top-notch financial data directly into your Python trading system, revolutionizing your analysis and execution processes.
Norgate Data Customer Support and Resources
Still have questions? Norgate Data also offers a responsive email support system, ensuring your questions and concerns are addressed in under 48 hours. While mailing them is also an option, emailing is far more efficient.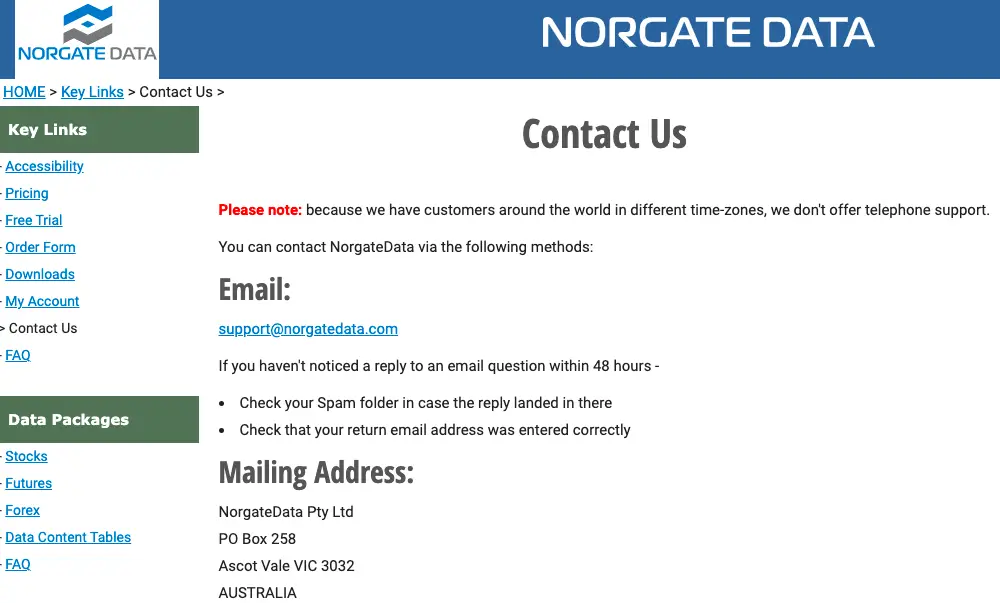 Though their customer support team is reliable, it would be a game-changer if they introduced phone support or an interactive chatbot. Additionally, it'd be nice to see Norgate Data make an effort to foster a community among traders via Slack or Discord, as seen with other market data providers. This feature would elevate the user experience to new heights.
But when it comes to educational resources, Norgate Data truly shines. With comprehensive guides on installing plug-ins, crafting databases, and troubleshooting pesky issues, even complete beginners will feel like seasoned pros in no time. These invaluable how-to tools make Norgate Data an outstanding choice for anyone looking to dive into the world of data with confidence and ease.
Community Insights: Real Experiences from Norgate Data's Users
So, what's the buzz among everyday traders about Norgate Data? Reddit user TuringTrader can't sing its praises enough! Norgate has won him over with its user-friendly updater tool and access to top-notch end-of-day data.

Another savvy trader highly recommends Norgate Data as an ingenious solution to conquer survivorship bias. He appreciates that Norgate grants you much-needed access to SP500 data, complete with historical index changes.

Of course, a few traders express concerns with Norgate Data, particularly regarding pricing.


But with its clean datasets, I believe that Norgate's Platinum and Diamond packages are worth it for algo traders navigating the stock markets. Every cent spent on these premium services is an investment in your trading success.
Maximize Your Success with Norgate Today
So what are you waiting for? Seize the moment and elevate your trading prowess with Norgate Data. Harness the power of top-tier market data to supercharge your strategies and skyrocket your success.
Don't let this chance slip away – experience the Norgate Data difference for yourself!
Frequently Asked Questions (FAQ)
Let's dive headfirst into the burning questions that traders and quant analysts frequently ask about Norgate!
How much historical data does a Norgate Data free trial provide?
Free trial users can access the last two years of historical data.
Does Norgate Data provide historical data for fundamentals?
No, this company offers information presented on a current company report basis.
What do the symbol prefixes mean on Norgate Data?
Norgate Data uses distinctive symbol prefixes to pinpoint items within their database that aren't found on traditional exchanges. See below to determine what each symbol means:
$: Index
#: Market Indicator
%: Interest Rate
@: Cash Commodity
&: Continuous Futures Contract
Does Norgate Data sell or provide lists of historical index constituents?
Historical index membership information is exclusively available to Platinum subscribers or higher. 
Why can't I find a specific company or ticker as a delisted stock on Norgate Data?
You might be under the impression that a stock is forever tied to a specific company name or ticker symbol. However, these identifiers can transform throughout a stock's life cycle. Moreover, a name or ticker initially linked to one stock may eventually be adopted by another.
In the Norgate Data delisted database, a stock is preserved under its final known company name and ticker, leaving behind any former aliases.
Market Data Industry: Trends, Challenges, and Norgate Data's Adaptability
The market data industry is in a constant state of flux, with fresh trends and challenges cropping up regularly. One such trend gaining momentum is the insatiable demand for real-time data. This hunger puts the heat on market data providers to deliver precise and prompt data.
The industry also grapples with data management and storage conundrums. The staggering volume of data generated daily forces providers to devise efficient ways to store, process, and disseminate this information. Add data security and privacy concerns to the mix, and you've got a complex challenge on your hands!
But fear not, for Norgate Data is primed and ready to tackle these challenges head-on. With a laser focus on customer needs, they're committed to providing the most accurate and timely data imaginable.
How do they do it? Well, Norgate Data pours resources into their technology and infrastructure. This ensures their clients receive up-to-the-minute information without compromising quality or accuracy.
Data management and storage are also high on Norgate Data's priority list. They harness cutting-edge technologies to process and store vast amounts of data. Plus, they're devoted to maintaining top-notch data security and privacy. By implementing rock-solid security measures, Norgate Data safeguards its clients' invaluable information.
In a world where data reigns supreme, Norgate Data grasps the significance of adaptability and innovation. They're dedicated to keeping their finger on the pulse of industry trends and challenges, ensuring they remain a dependable market data provider amidst all the chaos.
Conclusion: Elevate Your Trading with Norgate Data
When it comes to trading and quantitative analysis, data quality is essential. Norgate delivers pristine, precise, and trustworthy economic data through a rigorous validation process, guaranteeing top-notch information to help you make informed market decisions.
Covering U.S., Australian, and Canadian stocks, as well as futures and forex daily data via its APIs, Norgate Data is a superb choice for traders seeking reliable market data, a wealth of supported plug-ins, and seamless integration. So, elevate your trading strategy and gain access to daily stock data today!