Imagine yourself as a fearless algo trader or quantitative analyst, exploring the competitive terrain of the financial world. In this quest for success, you need a trusted companion by your side, a beacon of light guiding your way.
As a seasoned warrior with 15 years of experience in investing and algo-trading, I've discovered the true power of a reliable data provider. My path to glory was paved with the help of Polygon.io's exceptional minute data and lightning-fast APIs.
In this riveting review, we'll explore the depths of Polygon.io's offerings and reveal why it became my trusted ally. Together, we'll determine if this game-changing market data provider is the perfect fit for you, paving your way to trading triumph.
Learn how I rank the best data API vendors by reading my market data API buying guide.
Polygon.io Key Features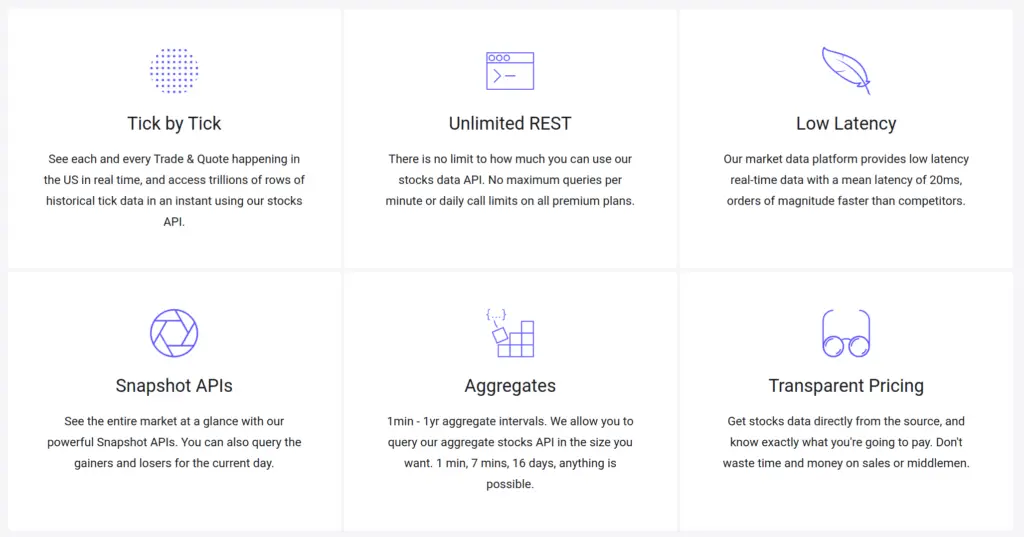 On an exhilarating quest for unparalleled market data, you'll discover a few of Polygon's key features:
Real-time and historical market data curated from multiple sources accessible through powerful snap (REST) and streaming (websockets/SIP) APIs.
Easy-to-use APIs complete with comprehensive documentation, attentive customer support, and versatile SDKs for various programming languages.
An ever-expending data category (like the recently added indices) and continuous API enhancements.
And while I use Polygon.io for my pricing data; as the saying goes, "Nobody's perfect."
Pros and (Few) Cons of Polygon.io
So, let's dive into the nitty-gritty of Polygon.io's strengths and weaknesses, uncovering the truth behind this dynamic data provider.
Polygon.io Pros
Comprehensive data coverage: Polygon.io offers extensive historical and real-time data for stocks, options, ETFs, cryptocurrencies, and forex.
High-quality APIs: The platform's well-documented and easy-to-integrate APIs support various coding languages and platforms.
Clean, normalized data: Polygon.io ensures consistent data quality and provides accurate pricing with NBBO.
Scalable infrastructure: Built to handle large volumes of requests, making it ideal for algo traders and quant analysts.
Low latency: The platform offers extremely fast connections with a mean latency of roughly 20ms.
Polygon.io Cons
Limited international coverage: Polygon.io lacks comprehensive global equity data outside the United States.
No macroeconomic or futures data: You'll need to look elsewhere for macroeconomic or futures data.
Incomplete company financial data: Polygon.io's company financial data may not be as comprehensive as other providers.
Pricing: Finding the Perfect Plan for Your Needs
Polygon.io offers a smorgasbord of pricing plans, ensuring there's something for everyone, whether you're a budding systematic trader or a seasoned Wall Street quant. Choose the perfect plan to suit your needs:
Stocks and Currencies APIs: Basic, Starter, Developer, and Advanced
Options API: Customized Solutions
Currencies API: Basic and Starter
Try before you buy with free Basic plans, offering up to 5 API calls per minute. Explore the details of each plan in the tables below:
Getting Started with Polygon.io: A Step-by-Step Guide
And if you're new to algo trading or Polygon.io, I've created a Polygon API Tutorial and walk-through video.
Polygon.io offers a comprehensive customer support system, including email support and an extensive help center with detailed documentation on their APIs, websockets, and other services.
They also provide a Slack community where users can ask questions and interact with other users and the Polygon team.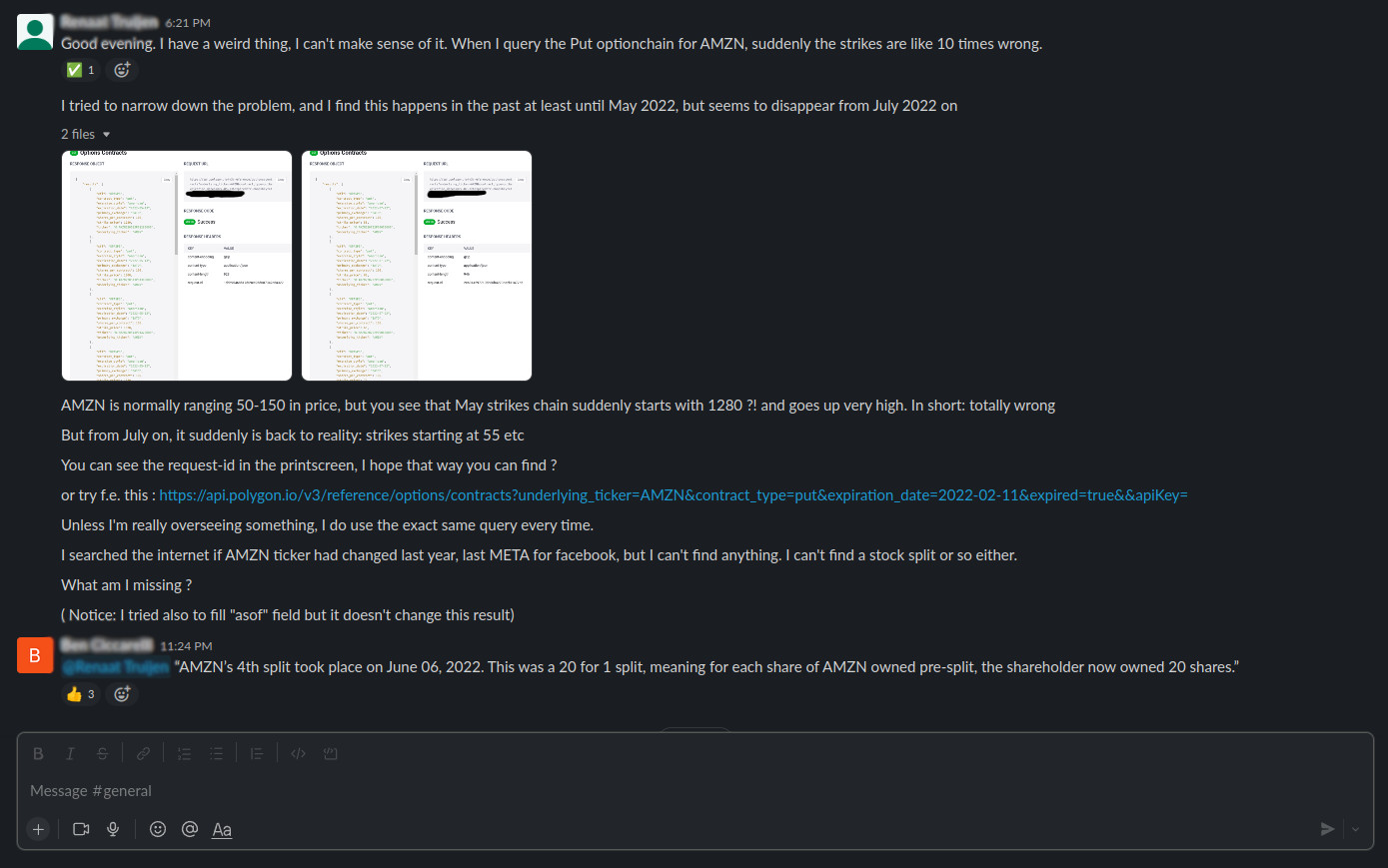 The quality of customer support is generally considered to be good, with responsive and helpful assistance from the Polygon.io team. However, it's important to note that response times may vary depending on the complexity of your query or issue.
Most of my support tickets have been answered almost immediately through the website chat powered by Intercom.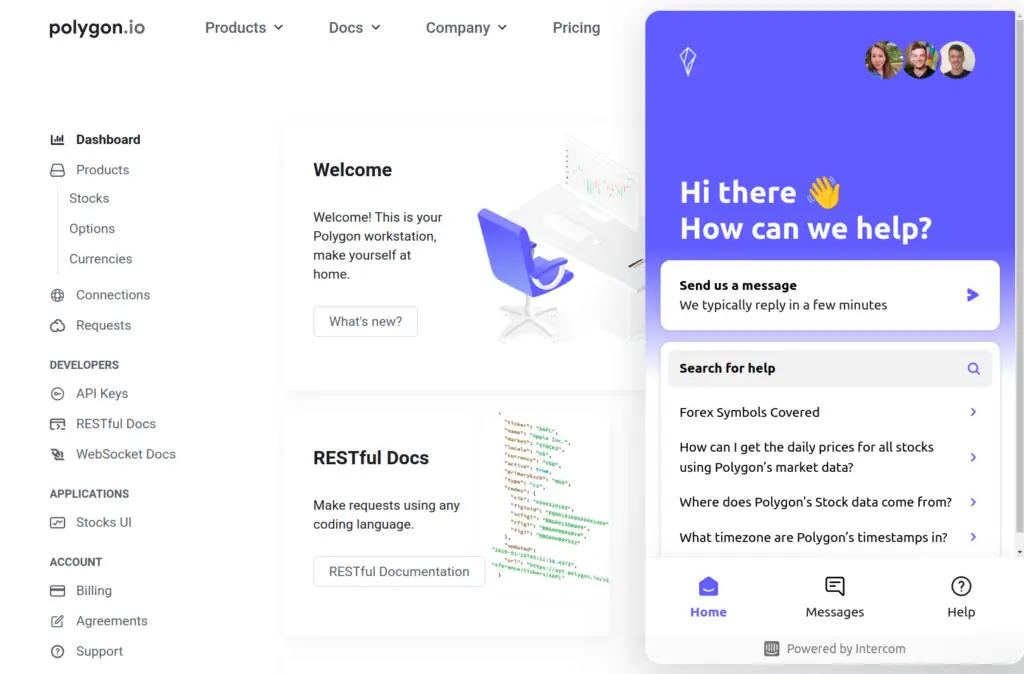 In terms of educational resources, Polygon.io provides various guides for using its platform effectively. These include step-by-step tutorials on getting started with their APIs, websockets integration examples in multiple programming languages (such as Python, JavaScript/Node.js), sample codes for different use cases like streaming stock quotes or historical data retrieval, as well as best practices for optimizing API usage.
Overall, Polygon.io offers solid customer support and valuable educational materials to assist users in leveraging their platform efficiently.
Community Insights: Real Experiences from Polygon.io's Users
There are some big names that use Polygon.io.

While Google, Fool.com, Standard, and the government use Polygon.io to power their services, what about traders like us?
@daytradingzoo shares that they've tried different data providers, but none of them come close to the speed and reliability of Polygon. I'm inclined to agree.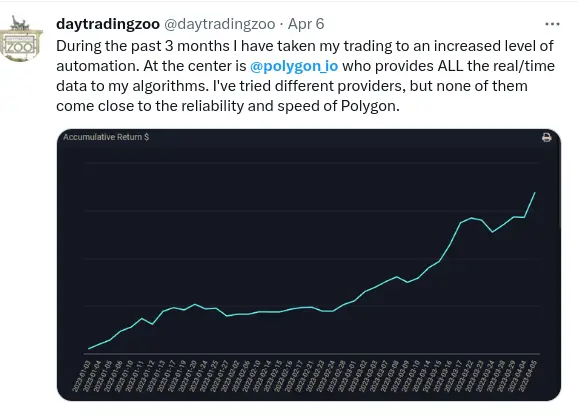 @Alice_comfy states she's ingesting 15k transactions per second into Postgres after switching to Polygon and Rust. I'm biased since I use Polygon.io, Postgres, and Rust, too. But I think she's on to something…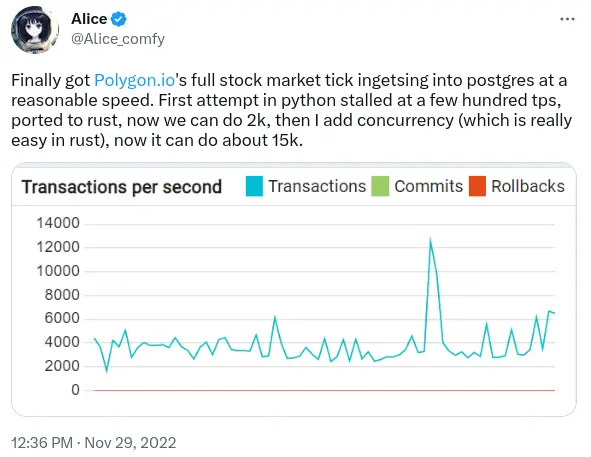 @GoshawkTrades reminds us that garbage in equals garbage out and why they've subscribed to Polygon.io.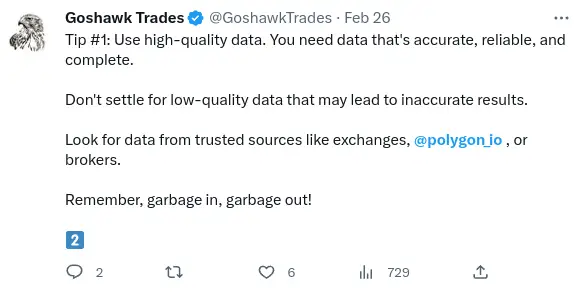 Polygon.io, though a star on the rise, hasn't quite nailed the company financials data game, as shown below.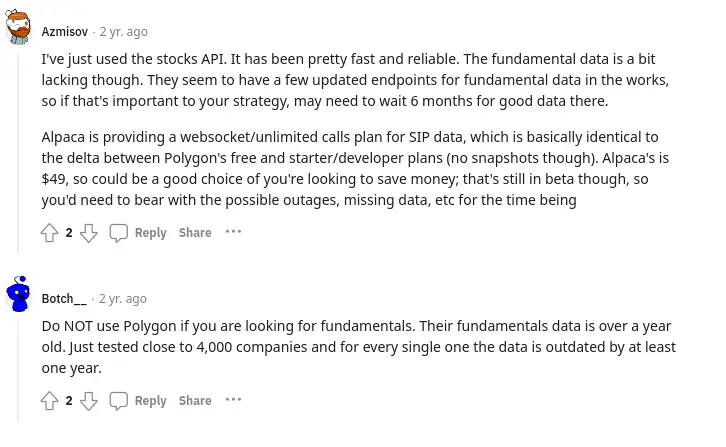 I lean on Nasdaq Data Link / Quandl for those vital digits. But when it comes to a premier pricing provider, Polygon steals the show – and that's no small praise from yours truly.
Exclusive Offer: Maximize Your Success with Polygon.io
I've teamed up with Polygon.io to bring an exclusive 10% discount for Analyzing Alpha readers who sign up through my link.
Since I use Polygon on a daily basis, I have no problem recommending their fantastic APis –But don't wait too long – this offer is time-limited, so grab it while it's hot!
Frequently Asked Questions (FAQ)
How many tickers can you subscribe to on a single Polygon WebSocket connection?
You can subscribe to up to 50 tickers per WebSocket connection. If you need more than that, you can open multiple connections or use the Polygon REST API.
Does Polygon offer dark pool data?
Polygon does not offer dark pool data at this time. However, they do offer alternative trading system (ATS) data, which is similar to dark pool data but more transparent and regulated.
What is the max number of tickers I can pass through Polygon's Snapshot?
You can pass up to 50 tickers per Snapshot request. If you need more than that, you can make multiple requests or use the Polygon Aggregates API.
How does Polygon handle delisted tickers?
Polygon keeps delisted tickers in its database for historical purposes. However, they do not provide any updates or new data for them.
Conclusion: Don't Miss the Opportunity to Supercharge Your Trading with Polygon.io
For trading and quantitative analysis, data quality is vital. Polygon.io delivers clean, accurate, and dependable data through a meticulous validation process, ensuring the best information for your backtests and algos. It covers U.S. stocks, ETFs, options, forex, and crypto markets, offering fast, real-time data through its APIs.
I'm a Polygon.io customer, and after lots of different providers, I couldn't be happier using Polygon for my pricing data. That's why I'm so excited to offer 10% off your subscription and elevate your trading experience with Polygon.io.