Stanley Druckenmiller achieved over 30% returns for three decades without a single down year. He often stated, "The best economist I know is the inside of the stock market. I'm not that smart. The market is much smarter than me. I look to the market for signals."
Take it from Stanley; if your goal is to beat the market, you must understand the components of the stock market. You must know the 11 different stock market sectors, their industries, and how and why they move.
In this post, I share the 11 stock sectors and the ETFs you can use to invest and trade them. I also discuss what industries comprise the sectors and when to buy each sector based on historical performance. Finally, I also provide a non-exhaustive but pretty good list of the companies in each sector at the bottom of the post with additional suggested resources.
If you're only here for the data, you can download a CSV file of the stock market sectors, industries and companies.
What is a Stock Market Sector?
The Global Industry Classification Standard classifies businesses into different categories based on the products or services they provide. The top-level categorization is a sector. GICS defines 11 sectors.
The 11 market sectors can be further broken down into 24 industry groups, 68 industries, and 157 subindustries defined by GCIS.
Dividing the economy into different sectors enables a better understanding of how the individual components of the economy are functioning.
The 11 Stock Market Sectors and 68 Industries
| Sector | Industry |
| --- | --- |
| Communication Services | Diversified Telecommunication Services |
| | Entertainment |
| | Interactive Media & Services |
| | Media |
| | Wireless Telecommunication Services |
| Consumer Discretionary | Auto Components |
| | Automobiles |
| | Distributors |
| | Diversified Consumer Services |
| | Hotels, Restaurants & Leisure |
| | Household Durables |
| | Internet & Direct Marketing Retail |
| | Leisure Products |
| | Multiline Retail |
| | Specialty Retail |
| | Textiles, Apparel & Luxury Goods |
| Consumer Staples | Beverages |
| | Food & Staples Retailing |
| | Food Products |
| | Household Products |
| | Personal Products |
| | Tobacco |
| Energy | Energy Equipment & Services |
| | Oil, Gas & Consumable Fuels |
| Financial | Banks |
| | Capital Markets |
| | Consumer Finance |
| | Diversified Financial Services |
| | Insurance |
| | Mortgage REITs |
| | Thrifts & Mortgage Finance |
| Health Care | Biotechnology |
| | Health Care Equipment & Supplies |
| | Health Care Providers & Services |
| | Health Care Technology |
| | Life Sciences Tools & Services |
| | Pharmaceuticals |
| Industrials | Aerospace & Defense |
| | Air Freight & Logistics |
| | Airlines |
| | Building Products |
| | Commercial Services & Supplies |
| | Electrical Equipment |
| | Industrial Conglomerates |
| | Machinery |
| | Marine |
| | Professional Services |
| | Road & Rail |
| | Trading Companies & Distributors |
| | Transportation Infrastructure |
| Information Technology | Communication Equipment |
| | Electronic Equipment, Instruments & Components |
| | IT Services |
| | Semiconductors & Semiconductor Equipment |
| | Software |
| | Technology Hardware, Storage & Peripherals |
| Materials | Chemicals |
| | Construction Materials |
| | Containers & Packaging |
| | Metals & Mining |
| | Paper & Forest Products |
| Real Estate | Equity Real Estate Investment Trusts |
| | Real Estate Management & Development |
| Utilities | Electric Utilities |
| | Gas Utilities |
| | Independent Power & Renewable Electricity Producers |
| | Multi-Utilities |
| | Water Utilities |
Communication Services
Previously called the Telecommunications Sector, the Communications Services Sector contains companies like Verizon and Facebook that provide communications services primarily delivered through high bandwidth wireless or wired networks.
ETF: Communication Services Select Sector SPDR Fund (XLC)
Consumer Discretionary
The Consumer Discretionary Sector contains companies that rely heavily on discretionary spending and positive consumer sentiment.
Automobiles from Ford, Home remodels from Lowe's, Jewelry from Tiffany's, and your favorite meal from Darden Restaurants are examples of businesses that provide discretionary products.
ETF: Consumer Discretionary Select Sector SPDR Fund (XLY)
Consumer Staples
The Consumer Staples Sector is made up of businesses whose products and services are less sensitive to economic cycles.
Our favorite beverages from Coke, hair products from Proctor and Gamble, ketchup from Kraft Heinz, and shopping trips to Walmart are examples of companies in the consumer staples.
ETF: Consumer Staples Select Sector SPDR Fund (XLP)
Energy
The Energy Sector is made up of businesses that create equipment for or perform services that discover, create, store, or transport energy or fuels.
Like The Consumer Staples sector, the products and services from these businesses are nearly impossible to do without. Household names in this sector are Exxon Mobil, BP, and Shell. Many of these companies pay significant dividends and are highly dependent upon commodity prices such as oil, natural gas, and coal.
ETF: Energy Select Sector SPDR Fund (XLE)
Financial
The Financial Sector contains banking, lending, investing, and real estate companies. Real estate has been reclassified into its own sector. As of September 2016, Real Estate companies were placed in a newly created Real Estate Sector and are no longer contained in the Financial Sector.
The Financial Sector's performance is often tied to interest rates and the debt cycle. Bank of America, Visa, Goldman Sachs, Markel Insurance, and many regional banks are in this sector.
ETF: Financial Select Sector SPDR Fund (XLF)
Health Care
The Health Care Sector contains businesses that research and develop new pharmaceuticals and biotechnological products and companies that create healthcare supplies & equipment and provide healthcare-related services.
Amgen, Johnson & Johnson, Medtronic, and United Health are some of the more notable names in this sector.
ETF: Health Care Select Sector SPDR Fund (XLV)
Industrials
The Industrials Sector contains companies that manufacture and distribute capital goods, provide "heavy" commercial services or supplies, and provide transportation services by air, road, rail, and marine.
The Industrials sector includes familiar companies like Boeing, UPS, Delta, Lockheed Martin, and Caterpillar.
ETF: Industrial Select Sector SPDR Fund (XLI)
Information Technology
The Information Technology Sector contains businesses that manufacture technology hardware and provide technology software and services.
Adobe, Cisco, Microsoft, Salesforce, and Intel are some of the familiar household names in this sector.
ETF: The Technology Select Sector SPDR Fund (XLK)
Materials
The Materials Sector contains businesses that manufacture chemicals, construction materials, glass, paper, forest products, related packaging products, metals, minerals, and mining companies, including steel producers.
Most often in the business-to-business space and not as well known to the average consumer, BHP Group, Rio Tinto, Vale, Dupont and Sherwin-Williams, and Dow Chemical are some of the largest companies in this space.
ETF: Materials Select Sector SPDR Fund (XLB)
Real Estate
The Real Estate Sector contains all non-mortgage REITs, which remain in the Financial Sector. Additionally, the Real Estate Sector includes Real Estate Management and Development services.
Simon Properties, Howard Hughes Corporation, and Brookfield Property
Partners are a few of the companies in this space.
ETF: The Real Estate Select Sector SPDR Fund (XLRE)
Utilities
The Utilities Sector contains businesses considered power producers or distributors, water, gas, or electric utilities.
Companies in this sector are often regional and highly regulated, having large cash flows but limited upside. PG&E, Duke Energy, and NRG are some of the more prominent players in this sector.
ETF: Utilities Select Sector SPDR Fund (XLU)
Sector Rotation Strategies
With an understanding of stock market sectors and industries, how do we use this information to beat the market? We first need to understand the business cycle.
Mastering The Market Cycle author and famed debt investor Howard Marks says that while we can't know exactly where we are in the market cycle, we can get a general idea to help put the odds in our favor.
When consumers and businesses are optimistic, lending is easy, and many discretionary goods and services are produced and purchased. When it overheats, lending gets tight, and companies cut back their budgets.
If you're interested in learning more about the credit cycle, I highly suggest watching How the Economic Machine Works by Ray Dalio.
The Business Cycle Framework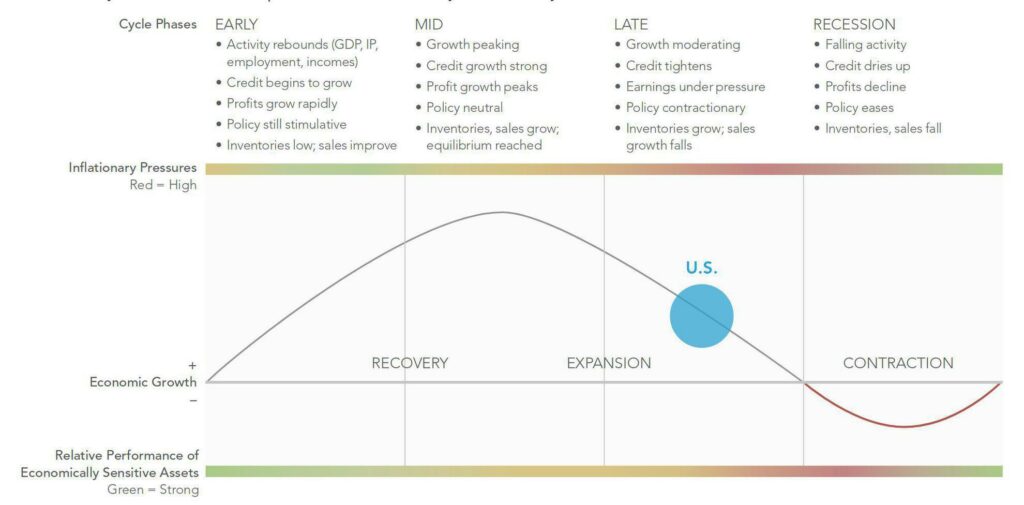 Sector Performance by Business Cycle Phase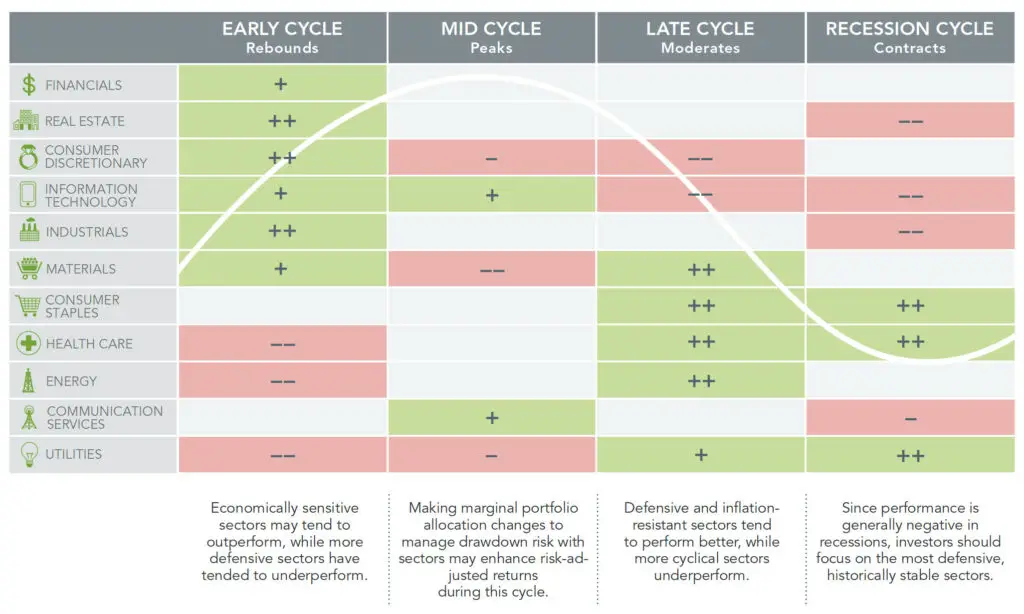 Source: The Business Cycle Approach to Equity Sector Investing
By analyzing where we are at in the business cycle, we can potentially predict what businesses will do best in the following market cycle. Market prices usually lead 6-9 months ahead of the business cycle as participants are trying to predict what will happen with economic output in advance.
If you're not interested in predicting the market, you can apply a systematic sector momentum rotational strategy.
How to Visualize Sector and Industry Rotation
A relative rotation graph is the best way to visualize how the sectors and industries are changing. Stockcharts.com and other sites provide relative rotation graphs to help visualize market changes. Stockcharts.com allows you to drill down into the members of each sector after reviewing the sector. You will need a membership, however, to access all of the information.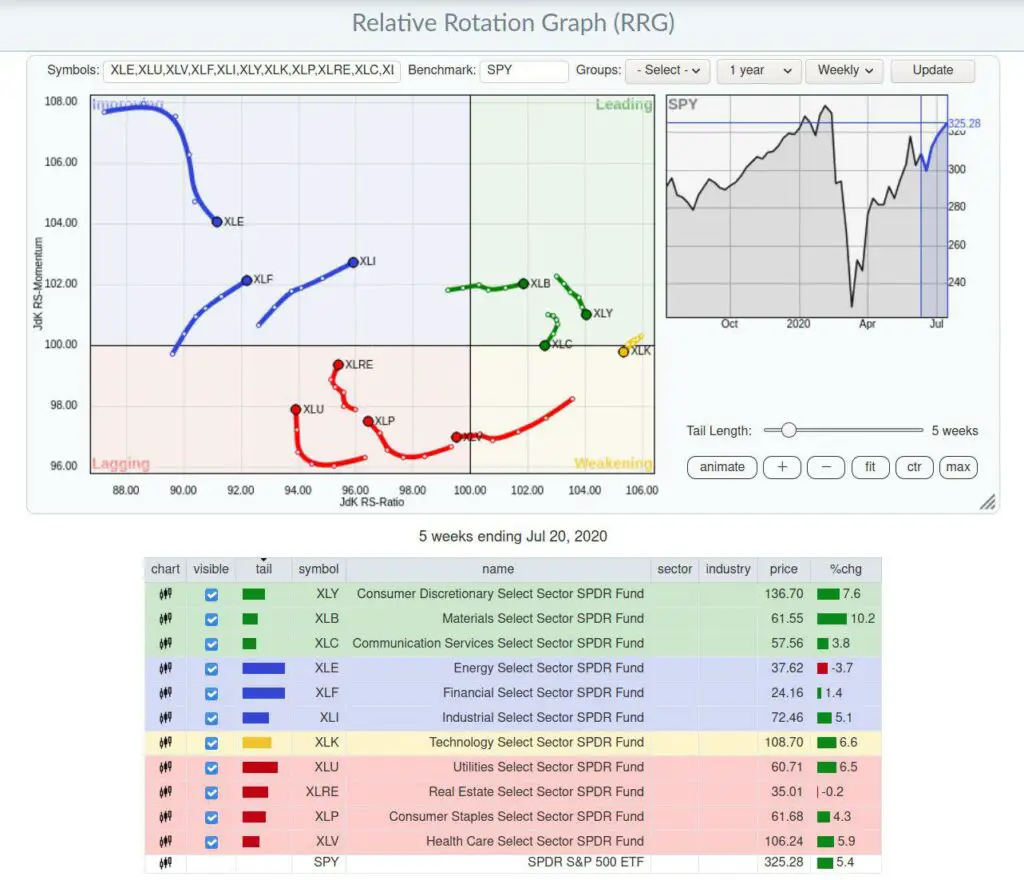 Should You Use a Sector Rotation Strategy?
My personal opinion is yes and no. I believe sectors are too expansive, and industry rotation should be used. Let's look at the Real Estate sector as an example. XLRE contains both real estate investment trusts and real estate developers.
The certain, steady cash flows provided to an investor from established REITs would be an excellent holding in an uncertain recession; however, real estate developers that were too aggressive could be overburdened and perform poorly in a recession. One industry would do poorly while the other thrived. Due to this, I like to get more granular, and instead of using sector rotation, I use industry rotation.
PE Ratio by Stock Sector 1997-2017
List of Stocks by Sector and Industry
A non-exhaustive list of S&P 500 companies is organized by sector, industry category, and industry group.
| TICKER | NAME | SECTOR | INDUSTRY_CATEGORY | INDUSTRY_GROUP |
| --- | --- | --- | --- | --- |
| CF | CF Industries Holdings Inc | Basic Materials | Chemicals | Agricultural Chemicals |
| MOS | Mosaic Company | Basic Materials | Chemicals | Agricultural Chemicals |
| APD | Air Products & Chemicals Inc. | Basic Materials | Chemicals | Chemicals – Major Diversified |
| CE | Celanese Corp | Basic Materials | Chemicals | Chemicals – Major Diversified |
| DD | DuPont de Nemours Inc | Basic Materials | Chemicals | Chemicals – Major Diversified |
| DOW | Dow Chemical Co. | Basic Materials | Chemicals | Chemicals – Major Diversified |
| EMN | Eastman Chemical Co | Basic Materials | Chemicals | Chemicals – Major Diversified |
| FMC | FMC Corp. | Basic Materials | Chemicals | Chemicals – Major Diversified |
| ALB | Albemarle Corp. | Basic Materials | Chemicals | Specialty Chemicals |
| IFF | International Flavors & Fragrances Inc. | Basic Materials | Chemicals | Specialty Chemicals |
| LYB | LyondellBasell Industries NV | Basic Materials | Chemicals | Specialty Chemicals |
| PPG | PPG Industries, Inc. | Basic Materials | Chemicals | Specialty Chemicals |
| SHW | Sherwin-Williams Co. | Basic Materials | Chemicals | Specialty Chemicals |
| NBL | Noble Energy Inc | Basic Materials | Energy | Independent Oil & Gas |
| APA | Apache Corp. | Basic Materials | Energy | Independent Oil & Gas |
| COG | Cabot Oil & Gas Corp. | Basic Materials | Energy | Independent Oil & Gas |
| COP | Conoco Phillips | Basic Materials | Energy | Independent Oil & Gas |
| DVN | Devon Energy Corp. | Basic Materials | Energy | Independent Oil & Gas |
| EOG | EOG Resources, Inc. | Basic Materials | Energy | Independent Oil & Gas |
| FANG | Diamondback Energy Inc | Basic Materials | Energy | Independent Oil & Gas |
| HES | Hess Corporation | Basic Materials | Energy | Independent Oil & Gas |
| MRO | Marathon Oil Corporation | Basic Materials | Energy | Independent Oil & Gas |
| OXY | Occidental Petroleum Corp. | Basic Materials | Energy | Independent Oil & Gas |
| PXD | Pioneer Natural Resources Co. | Basic Materials | Energy | Independent Oil & Gas |
| XEC | Cimarex Energy Co. | Basic Materials | Energy | Independent Oil & Gas |
| CVX | Chevron Corp. | Basic Materials | Energy | Major Integrated Oil & Gas |
| XOM | Exxon Mobil Corp. | Basic Materials | Energy | Major Integrated Oil & Gas |
| CXO | Concho Resources Inc | Basic Materials | Energy | Oil & Gas Drilling & Exploration |
| HP | Helmerich & Payne, Inc. | Basic Materials | Energy | Oil & Gas Drilling & Exploration |
| FTI | TechnipFMC plc | Basic Materials | Energy | Oil & Gas Equipment & Services |
| HAL | Halliburton Co. | Basic Materials | Energy | Oil & Gas Equipment & Services |
| NOV | National Oilwell Varco Inc. | Basic Materials | Energy | Oil & Gas Equipment & Services |
| SLB | Schlumberger Ltd. | Basic Materials | Energy | Oil & Gas Equipment & Services |
| KMI | Kinder Morgan Inc | Basic Materials | Energy | Oil & Gas Pipelines |
| WMB | Williams Cos Inc | Basic Materials | Energy | Oil & Gas Pipelines |
| HFC | HollyFrontier Corp | Basic Materials | Energy | Oil & Gas Refining & Marketing |
| MPC | Marathon Petroleum Corp | Basic Materials | Energy | Oil & Gas Refining & Marketing |
| PSX | Phillips 66 | Basic Materials | Energy | Oil & Gas Refining & Marketing |
| VLO | Valero Energy Corp. | Basic Materials | Energy | Oil & Gas Refining & Marketing |
| ARNC | Arconic Inc | Basic Materials | Metals & Mining | Aluminum |
| FCX | Freeport-McMoRan Inc | Basic Materials | Metals & Mining | Copper |
| NEM | Newmont Mining Corp. | Basic Materials | Metals & Mining | Gold |
| NUE | Nucor Corp. | Basic Materials | Metals & Mining | Steel & Iron |
| F | Ford Motor Co. | Consumer Goods | Automotive | Auto Manufacturers – Major |
| GM | General Motors Company | Consumer Goods | Automotive | Auto Manufacturers – Major |
| APTV | Aptiv PLC | Consumer Goods | Automotive | Auto Parts |
| BWA | Borg Warner Inc | Consumer Goods | Automotive | Auto Parts |
| LKQ | LKQ Corp | Consumer Goods | Automotive | Auto Parts |
| HOG | Harley-Davidson, Inc. | Consumer Goods | Automotive | Recreational Vehicles |
| PCAR | Paccar Inc. | Consumer Goods | Automotive | Trucks & Other Vehicles |
| WHR | Whirlpool Corp. | Consumer Goods | Consumer Durables | Appliances |
| AVY | Avery Dennison Corp. | Consumer Goods | Consumer Durables | Business Equipment |
| AAPL | Apple Inc | Consumer Goods | Consumer Durables | Electronic Equipment |
| FBHS | Fortune Brands Home & Security Inc | Consumer Goods | Consumer Durables | Home Furnishings & Fixtures |
| LEG | Leggett & Platt, Inc. | Consumer Goods | Consumer Durables | Home Furnishings & Fixtures |
| MHK | Mohawk Industries, Inc. | Consumer Goods | Consumer Durables | Home Furnishings & Fixtures |
| CLX | Clorox Co. | Consumer Goods | Consumer Durables | Housewares & Accessories |
| NWL | Newell Brands Inc | Consumer Goods | Consumer Durables | Housewares & Accessories |
| HAS | Hasbro, Inc. | Consumer Goods | Consumer Durables | Toys & Games |
| CHD | Church & Dwight Co., Inc. | Consumer Goods | Consumer NonDurables | Cleaning Products |
| ECL | Ecolab, Inc. | Consumer Goods | Consumer NonDurables | Cleaning Products |
| AMCR | Amcor Plc | Consumer Goods | Consumer NonDurables | Packaging & Containers |
| BLL | Ball Corp. | Consumer Goods | Consumer NonDurables | Packaging & Containers |
| IP | International Paper Co. | Consumer Goods | Consumer NonDurables | Packaging & Containers |
| OI | Owens-Illinois, Inc. | Consumer Goods | Consumer NonDurables | Packaging & Containers |
| PKG | Packaging Corp Of America | Consumer Goods | Consumer NonDurables | Packaging & Containers |
| SEE | Sealed Air Corp. | Consumer Goods | Consumer NonDurables | Packaging & Containers |
| WRK | WestRock Co | Consumer Goods | Consumer NonDurables | Packaging & Containers |
| CL | Colgate-Palmolive Co. | Consumer Goods | Consumer NonDurables | Personal Products |
| COTY | Coty Inc | Consumer Goods | Consumer NonDurables | Personal Products |
| EL | Estee Lauder Cos., Inc. | Consumer Goods | Consumer NonDurables | Personal Products |
| KMB | Kimberly-Clark Corp. | Consumer Goods | Consumer NonDurables | Personal Products |
| PG | Procter & Gamble Co. | Consumer Goods | Consumer NonDurables | Personal Products |
| CPRI | Capri Holdings Ltd | Consumer Goods | Consumer NonDurables | Textile – Apparel Clothing |
| HBI | Hanesbrands Inc | Consumer Goods | Consumer NonDurables | Textile – Apparel Clothing |
| PVH | PVH Corp | Consumer Goods | Consumer NonDurables | Textile – Apparel Clothing |
| RL | Ralph Lauren Corp | Consumer Goods | Consumer NonDurables | Textile – Apparel Clothing |
| UA | Under Armour Inc | Consumer Goods | Consumer NonDurables | Textile – Apparel Clothing |
| VFC | VF Corp. | Consumer Goods | Consumer NonDurables | Textile – Apparel Clothing |
| NKE | Nike, Inc. | Consumer Goods | Consumer NonDurables | Textile – Apparel Footwear & Accessories |
| TPR | Tapestry Inc | Consumer Goods | Consumer NonDurables | Textile – Apparel Footwear & Accessories |
| TAP | Molson Coors Brewing Company | Consumer Goods | Food & Beverage | Beverages – Brewers |
| KO | Coca-Cola Co | Consumer Goods | Food & Beverage | Beverages – Soft Drinks |
| MNST | Monster Beverage Corp. | Consumer Goods | Food & Beverage | Beverages – Soft Drinks |
| PEP | Pepsico Inc. | Consumer Goods | Food & Beverage | Beverages – Soft Drinks |
| BF.B | Brown-Forman Corp. | Consumer Goods | Food & Beverage | Beverages – Wineries & Distillers |
| STZ | Constellation Brands Inc | Consumer Goods | Food & Beverage | Beverages – Wineries & Distillers |
| HSY | Hershey Company | Consumer Goods | Food & Beverage | Confectioners |
| MDLZ | Mondelez International Inc. | Consumer Goods | Food & Beverage | Confectioners |
| ADM | Archer Daniels Midland Co. | Consumer Goods | Food & Beverage | Farm Products |
| KHC | Kraft Heinz Co | Consumer Goods | Food & Beverage | Food – Major Diversified |
| LW | Lamb Weston Holdings Inc | Consumer Goods | Food & Beverage | Food Wholesale |
| HRL | Hormel Foods Corp. | Consumer Goods | Food & Beverage | Meat Products |
| TSN | Tyson Foods, Inc. | Consumer Goods | Food & Beverage | Meat Products |
| CAG | Conagra Brands Inc | Consumer Goods | Food & Beverage | Processed & Packaged Goods |
| CPB | Campbell Soup Co. | Consumer Goods | Food & Beverage | Processed & Packaged Goods |
| GIS | General Mills, Inc. | Consumer Goods | Food & Beverage | Processed & Packaged Goods |
| K | Kellogg Co | Consumer Goods | Food & Beverage | Processed & Packaged Goods |
| MKC | McCormick & Co., Inc. | Consumer Goods | Food & Beverage | Processed & Packaged Goods |
| SJM | J.M. Smucker Co. | Consumer Goods | Food & Beverage | Processed & Packaged Goods |
| MO | Altria Group Inc. | Consumer Goods | Tobacco | Cigarettes |
| PM | Philip Morris International Inc | Consumer Goods | Tobacco | Cigarettes |
| BAC | Bank Of America Corp. | Financial | Banking | Money Center Banks |
| C | Citigroup Inc | Financial | Banking | Money Center Banks |
| CMA | Comerica, Inc. | Financial | Banking | Money Center Banks |
| JPM | JPMorgan Chase & Co. | Financial | Banking | Money Center Banks |
| PNC | PNC Financial Services Group | Financial | Banking | Money Center Banks |
| STI | Suntrust Banks, Inc. | Financial | Banking | Money Center Banks |
| WFC | Wells Fargo & Co. | Financial | Banking | Money Center Banks |
| CFG | Citizens Financial Group Inc | Financial | Banking | Regional – Mid-Atlantic Banks |
| FITB | Fifth Third Bancorp | Financial | Banking | Regional – Midwest Banks |
| HBAN | Huntington Bancshares, Inc. | Financial | Banking | Regional – Midwest Banks |
| KEY | Keycorp | Financial | Banking | Regional – Midwest Banks |
| USB | U S Bancorp | Financial | Banking | Regional – Midwest Banks |
| MTB | M & T Bank Corp | Financial | Banking | Regional – Northeast Banks |
| SIVB | SVB Financial Group | Financial | Banking | Regional – Pacific Banks |
| ZION | Zions Bancorporation N.A | Financial | Banking | Regional – Pacific Banks |
| RF | Regions Financial Corp. | Financial | Banking | Regional – Southeast Banks |
| PBCT | People's United Financial Inc | Financial | Banking | Savings & Loans |
| AMG | Affiliated Managers Group Inc. | Financial | Financial Services | Asset Management |
| AMP | Ameriprise Financial Inc | Financial | Financial Services | Asset Management |
| BEN | Franklin Resources, Inc. | Financial | Financial Services | Asset Management |
| BK | Bank Of New York Mellon Corp | Financial | Financial Services | Asset Management |
| BLK | Blackrock Inc. | Financial | Financial Services | Asset Management |
| IVZ | Invesco Ltd | Financial | Financial Services | Asset Management |
| NTRS | Northern Trust Corp. | Financial | Financial Services | Asset Management |
| STT | State Street Corp. | Financial | Financial Services | Asset Management |
| TROW | T. Rowe Price Group Inc. | Financial | Financial Services | Asset Management |
| AXP | American Express Co. | Financial | Financial Services | Credit Services |
| COF | Capital One Financial Corp. | Financial | Financial Services | Credit Services |
| DFS | Discover Financial Services | Financial | Financial Services | Credit Services |
| EFX | Equifax, Inc. | Financial | Financial Services | Credit Services |
| MA | Mastercard Incorporated | Financial | Financial Services | Credit Services |
| PYPL | PayPal Holdings Inc | Financial | Financial Services | Credit Services |
| SYF | Synchrony Financial | Financial | Financial Services | Credit Services |
| TSS | Total System Services Inc | Financial | Financial Services | Credit Services |
| V | Visa Inc | Financial | Financial Services | Credit Services |
| WU | Western Union Company | Financial | Financial Services | Credit Services |
| CBOE | Cboe Global Markets Inc. | Financial | Financial Services | Diversified Investments |
| ICE | Intercontinental Exchange Inc | Financial | Financial Services | Diversified Investments |
| NDAQ | Nasdaq Inc | Financial | Financial Services | Diversified Investments |
| CME | CME Group Inc | Financial | Financial Services | Investment Brokerage – National |
| ETFC | E TRADE Financial Corp. | Financial | Financial Services | Investment Brokerage – National |
| GS | Goldman Sachs Group, Inc. | Financial | Financial Services | Investment Brokerage – National |
| MKTX | MarketAxess Holdings Inc. | Financial | Financial Services | Investment Brokerage – National |
| SCHW | Charles Schwab Corp. | Financial | Financial Services | Investment Brokerage – National |
| RJF | Raymond James Financial, Inc. | Financial | Financial Services | Investment Brokerage – Regional |
| AFL | Aflac Inc. | Financial | Insurance | Accident & Health Insurance |
| AIZ | Assurant Inc | Financial | Insurance | Accident & Health Insurance |
| UNM | Unum Group | Financial | Insurance | Accident & Health Insurance |
| AJG | Arthur J. Gallagher & Co. | Financial | Insurance | Insurance Brokers |
| AON | Aon plc | Financial | Insurance | Insurance Brokers |
| MMC | Marsh & McLennan Cos., Inc. | Financial | Insurance | Insurance Brokers |
| WLTW | Willis Towers Watson Public Limited Co | Financial | Insurance | Insurance Brokers |
| LNC | Lincoln National Corp. | Financial | Insurance | Life Insurance |
| MET | Metlife Inc | Financial | Insurance | Life Insurance |
| PFG | Principal Financial Group Inc | Financial | Insurance | Life Insurance |
| PRU | Prudential Financial Inc. | Financial | Insurance | Life Insurance |
| AIG | American International Group Inc | Financial | Insurance | Property & Casualty Insurance |
| ALL | Allstate Corp (The) | Financial | Insurance | Property & Casualty Insurance |
| BRK.B | Berkshire Hathaway Inc. | Financial | Insurance | Property & Casualty Insurance |
| CB | Chubb Corp. | Financial | Insurance | Property & Casualty Insurance |
| CINF | Cincinnati Financial Corp. | Financial | Insurance | Property & Casualty Insurance |
| HIG | Hartford Financial Services Group Inc. | Financial | Insurance | Property & Casualty Insurance |
| L | Loews Corp. | Financial | Insurance | Property & Casualty Insurance |
| PGR | Progressive Corp. | Financial | Insurance | Property & Casualty Insurance |
| RE | Everest Re Group Ltd | Financial | Insurance | Property & Casualty Insurance |
| TRV | Travelers Companies Inc. | Financial | Insurance | Property & Casualty Insurance |
| CBRE | CBRE Group Inc | Financial | Real Estate | Property Management |
| AMT | American Tower Corp. | Financial | Real Estate | REIT – Diversified |
| VNO | Vornado Realty Trust | Financial | Real Estate | REIT – Diversified |
| HCP | HCP Inc | Financial | Real Estate | REIT – Healthcare Facilities |
| VTR | Ventas Inc | Financial | Real Estate | REIT – Healthcare Facilities |
| WELL | Welltower Inc | Financial | Real Estate | REIT – Healthcare Facilities |
| HST | Host Hotels & Resorts Inc | Financial | Real Estate | REIT – Hotel/Motel |
| DRE | Duke Realty Corp | Financial | Real Estate | REIT – Industrial |
| EXR | Extra Space Storage Inc. | Financial | Real Estate | REIT – Industrial |
| PLD | Prologis Inc | Financial | Real Estate | REIT – Industrial |
| ARE | Alexandria Real Estate Equities Inc. | Financial | Real Estate | REIT – Office |
| BXP | Boston Properties, Inc. | Financial | Real Estate | REIT – Office |
| DLR | Digital Realty Trust Inc | Financial | Real Estate | REIT – Office |
| AIV | Apartment Investment & Management Co. | Financial | Real Estate | REIT – Residential |
| AVB | Avalonbay Communities Inc. | Financial | Real Estate | REIT – Residential |
| EQR | Equity Residential Properties Trust | Financial | Real Estate | REIT – Residential |
| ESS | Essex Property Trust, Inc. | Financial | Real Estate | REIT – Residential |
| MAA | Mid-America Apartment Communities, Inc. | Financial | Real Estate | REIT – Residential |
| UDR | UDR Inc | Financial | Real Estate | REIT – Residential |
| FRT | Federal Realty Investment Trust | Financial | Real Estate | REIT – Retail |
| KIM | Kimco Realty Corp. | Financial | Real Estate | REIT – Retail |
| MAC | Macerich Co. | Financial | Real Estate | REIT – Retail |
| O | Realty Income Corp. | Financial | Real Estate | REIT – Retail |
| REG | Regency Centers Corporation | Financial | Real Estate | REIT – Retail |
| SLG | SL Green Realty Corp. | Financial | Real Estate | REIT – Retail |
| SPG | Simon Property Group, Inc. | Financial | Real Estate | REIT – Retail |
| ALXN | Alexion Pharmaceuticals Inc. | Healthcare | Drugs | Biotechnology |
| AMGN | AMGEN Inc. | Healthcare | Drugs | Biotechnology |
| BIIB | Biogen Inc | Healthcare | Drugs | Biotechnology |
| CELG | Celgene Corp. | Healthcare | Drugs | Biotechnology |
| GILD | Gilead Sciences, Inc. | Healthcare | Drugs | Biotechnology |
| ILMN | Illumina Inc | Healthcare | Drugs | Biotechnology |
| INCY | Incyte Corp. | Healthcare | Drugs | Biotechnology |
| NKTR | Nektar Therapeutics | Healthcare | Drugs | Biotechnology |
| REGN | Regeneron Pharmaceuticals, Inc. | Healthcare | Drugs | Biotechnology |
| VRTX | Vertex Pharmaceuticals, Inc. | Healthcare | Drugs | Biotechnology |
| IDXX | Idexx Laboratories, Inc. | Healthcare | Drugs | Diagnostic Substances |
| ABBV | Abbvie Inc | Healthcare | Drugs | Drug Manufacturers – Major |
| BMY | Bristol-Myers Squibb Co. | Healthcare | Drugs | Drug Manufacturers – Major |
| JNJ | Johnson & Johnson | Healthcare | Drugs | Drug Manufacturers – Major |
| LLY | Lilly(Eli) & Co | Healthcare | Drugs | Drug Manufacturers – Major |
| MRK | Merck & Co Inc | Healthcare | Drugs | Drug Manufacturers – Major |
| PFE | Pfizer Inc. | Healthcare | Drugs | Drug Manufacturers – Major |
| PRGO | Perrigo Company plc | Healthcare | Drugs | Drug Related Products |
| AGN | Allergan plc | Healthcare | Drugs | Drugs – Generic |
| MYL | Mylan N.V. | Healthcare | Drugs | Drugs – Generic |
| ZTS | Zoetis Inc | Healthcare | Drugs | Drugs – Generic |
| ANTM | Anthem Inc | Healthcare | Health Services | Health Care Plans |
| CI | Cigna Corp. | Healthcare | Health Services | Health Care Plans |
| CNC | Centene Corp. | Healthcare | Health Services | Health Care Plans |
| CVS | CVS Health Corp | Healthcare | Health Services | Health Care Plans |
| HUM | Humana Inc. | Healthcare | Health Services | Health Care Plans |
| UNH | Unitedhealth Group Inc | Healthcare | Health Services | Health Care Plans |
| WCG | Wellcare Health Plans Inc. | Healthcare | Health Services | Health Care Plans |
| HCA | HCA Healthcare Inc | Healthcare | Health Services | Hospitals |
| UHS | Universal Health Services, Inc. | Healthcare | Health Services | Hospitals |
| ABMD | Abiomed Inc. | Healthcare | Health Services | Medical Appliances & Equipment |
| ABT | Abbott Laboratories | Healthcare | Health Services | Medical Appliances & Equipment |
| ALGN | Align Technology, Inc. | Healthcare | Health Services | Medical Appliances & Equipment |
| BSX | Boston Scientific Corp. | Healthcare | Health Services | Medical Appliances & Equipment |
| EW | Edwards Lifesciences Corp | Healthcare | Health Services | Medical Appliances & Equipment |
| HOLX | Hologic, Inc. | Healthcare | Health Services | Medical Appliances & Equipment |
| ISRG | Intuitive Surgical Inc | Healthcare | Health Services | Medical Appliances & Equipment |
| MDT | Medtronic Plc | Healthcare | Health Services | Medical Appliances & Equipment |
| RMD | Resmed Inc. | Healthcare | Health Services | Medical Appliances & Equipment |
| SYK | Stryker Corp. | Healthcare | Health Services | Medical Appliances & Equipment |
| VAR | Varian Medical Systems, Inc. | Healthcare | Health Services | Medical Appliances & Equipment |
| ZBH | Zimmer Biomet Holdings Inc | Healthcare | Health Services | Medical Appliances & Equipment |
| BAX | Baxter International Inc. | Healthcare | Health Services | Medical Instruments & Supplies |
| BDX | Becton, Dickinson And Co. | Healthcare | Health Services | Medical Instruments & Supplies |
| COO | Cooper Companies, Inc. | Healthcare | Health Services | Medical Instruments & Supplies |
| MTD | Mettler-Toledo International, Inc. | Healthcare | Health Services | Medical Instruments & Supplies |
| TFX | Teleflex Incorporated | Healthcare | Health Services | Medical Instruments & Supplies |
| XRAY | DENTSPLY Sirona Inc | Healthcare | Health Services | Medical Instruments & Supplies |
| WAT | Waters Corp. | Healthcare | Health Services | Medical Instruments & Supplies |
| A | Agilent Technologies Inc. | Healthcare | Health Services | Medical Laboratories & Research |
| DGX | Quest Diagnostics, Inc. | Healthcare | Health Services | Medical Laboratories & Research |
| IQV | IQVIA Holdings Inc | Healthcare | Health Services | Medical Laboratories & Research |
| LH | Laboratory Corp. Of America Holdings | Healthcare | Health Services | Medical Laboratories & Research |
| PKI | Perkinelmer, Inc. | Healthcare | Health Services | Medical Laboratories & Research |
| TMO | Thermo Fisher Scientific Inc. | Healthcare | Health Services | Medical Laboratories & Research |
| DVA | DaVita Inc | Healthcare | Health Services | Specialized Health Services |
| NOC | Northrop Grumman Corp. | Industrial Goods | Aerospace/Defense | Aerospace/Defense – Major Diversified |
| TXT | Textron Inc. | Industrial Goods | Aerospace/Defense | Aerospace/Defense – Major Diversified |
| BA | Boeing Co. | Industrial Goods | Aerospace/Defense | Aerospace/Defense Products & Services |
| GD | General Dynamics Corp. | Industrial Goods | Aerospace/Defense | Aerospace/Defense Products & Services |
| HII | Huntington Ingalls Industries Inc | Industrial Goods | Aerospace/Defense | Aerospace/Defense Products & Services |
| LMT | Lockheed Martin Corp. | Industrial Goods | Aerospace/Defense | Aerospace/Defense Products & Services |
| RTN | Raytheon Co. | Industrial Goods | Aerospace/Defense | Aerospace/Defense Products & Services |
| TDG | Transdigm Group Incorporated | Industrial Goods | Aerospace/Defense | Aerospace/Defense Products & Services |
| UTX | United Technologies Corp. | Industrial Goods | Aerospace/Defense | Aerospace/Defense Products & Services |
| LIN | Linde Plc | Industrial Goods | Chemicals | Basic Materials Wholesale |
| AME | Ametek Inc | Industrial Goods | Manufacturing | Diversified Machinery |
| CMI | Cummins Inc. | Industrial Goods | Manufacturing | Diversified Machinery |
| DHR | Danaher Corp. | Industrial Goods | Manufacturing | Diversified Machinery |
| DOV | Dover Corp. | Industrial Goods | Manufacturing | Diversified Machinery |
| ETN | Eaton Corporation plc | Industrial Goods | Manufacturing | Diversified Machinery |
| FLS | Flowserve Corp. | Industrial Goods | Manufacturing | Diversified Machinery |
| GE | General Electric Co. | Industrial Goods | Manufacturing | Diversified Machinery |
| HON | Honeywell International Inc | Industrial Goods | Manufacturing | Diversified Machinery |
| IEX | Idex Corporation | Industrial Goods | Manufacturing | Diversified Machinery |
| IR | Ingersoll-Rand Plc | Industrial Goods | Manufacturing | Diversified Machinery |
| ITW | Illinois Tool Works, Inc. | Industrial Goods | Manufacturing | Diversified Machinery |
| MMM | 3M Co. | Industrial Goods | Manufacturing | Diversified Machinery |
| ROK | Rockwell Automation Inc | Industrial Goods | Manufacturing | Diversified Machinery |
| ROP | Roper Technologies Inc | Industrial Goods | Manufacturing | Diversified Machinery |
| XYL | Xylem Inc | Industrial Goods | Manufacturing | Diversified Machinery |
| CAT | Caterpillar Inc. | Industrial Goods | Manufacturing | Farm & Construction Machinery |
| DE | Deere & Co. | Industrial Goods | Manufacturing | Farm & Construction Machinery |
| AOS | A.O. Smith Corp. | Industrial Goods | Manufacturing | Industrial Electrical Equipment |
| EMR | Emerson Electric Co. | Industrial Goods | Manufacturing | Industrial Electrical Equipment |
| PH | Parker-Hannifin Corp. | Industrial Goods | Manufacturing | Industrial Equipment & Components |
| PNR | Pentair plc | Industrial Goods | Manufacturing | Industrial Equipment & Components |
| SWK | Stanley Black & Decker Inc | Industrial Goods | Manufacturing | Machine Tools & Accessories |
| SNA | Snap-on, Inc. | Industrial Goods | Manufacturing | Small Tools & Accessories |
| MAS | Masco Corp. | Industrial Goods | Materials & Construction | General Building Materials |
| MLM | Martin Marietta Materials, Inc. | Industrial Goods | Materials & Construction | General Building Materials |
| VMC | Vulcan Materials Co. | Industrial Goods | Materials & Construction | General Building Materials |
| PWR | Quanta Services, Inc. | Industrial Goods | Materials & Construction | General Contractors |
| WY | Weyerhaeuser Co. | Industrial Goods | Materials & Construction | Lumber, Wood Production |
| DHI | D.R. Horton Inc. | Industrial Goods | Materials & Construction | Residential Construction |
| LEN | Lennar Corp. | Industrial Goods | Materials & Construction | Residential Construction |
| PHM | PulteGroup Inc | Industrial Goods | Materials & Construction | Residential Construction |
| RSG | Republic Services, Inc. | Industrial Goods | Materials & Construction | Waste Management |
| WM | Waste Management, Inc. | Industrial Goods | Materials & Construction | Waste Management |
| ADS | Alliance Data System | Services | Diversified Services | Business Services |
| BKNG | Booking Holdings Inc | Services | Diversified Services | Business Services |
| CTAS | Cintas Corporation | Services | Diversified Services | Business Services |
| FISV | Fiserv, Inc. | Services | Diversified Services | Business Services |
| FLT | Fleetcor Technologies Inc | Services | Diversified Services | Business Services |
| GPN | Global Payments, Inc. | Services | Diversified Services | Business Services |
| JCI | Johnson Controls International plc | Services | Diversified Services | Business Services |
| MCO | Moody's Corp. | Services | Diversified Services | Business Services |
| ROL | Rollins, Inc. | Services | Diversified Services | Business Services |
| SPGI | S&P Global Inc | Services | Diversified Services | Business Services |
| VRSK | Verisk Analytics Inc | Services | Diversified Services | Business Services |
| HRB | H&R Block Inc. | Services | Diversified Services | Personal Services |
| URI | United Rentals, Inc. | Services | Diversified Services | Rental & Leasing Services |
| ALLE | Allegion plc | Services | Diversified Services | Security & Protection Services |
| PAYX | Paychex Inc. | Services | Diversified Services | Staffing & Outsourcing Services |
| RHI | Robert Half International Inc. | Services | Diversified Services | Staffing & Outsourcing Services |
| JEC | Jacobs Engineering Group, Inc. | Services | Diversified Services | Technical Services |
| EXPE | Expedia Inc. | Services | Leisure | Lodging |
| HLT | Hilton Worldwide Holdings Inc | Services | Leisure | Lodging |
| MAR | Marriott International, Inc. | Services | Leisure | Lodging |
| CCL | Carnival Corp. | Services | Leisure | Resorts & Casinos |
| MGM | MGM Resorts International | Services | Leisure | Resorts & Casinos |
| NCLH | Norwegian Cruise Line Holdings Ltd | Services | Leisure | Resorts & Casinos |
| RCL | Royal Caribbean Cruises Ltd. | Services | Leisure | Resorts & Casinos |
| WYNN | Wynn Resorts Ltd. | Services | Leisure | Resorts & Casinos |
| CMG | Chipotle Mexican Grill | Services | Leisure | Restaurants |
| DRI | Darden Restaurants, Inc. | Services | Leisure | Restaurants |
| MCD | McDonald's Corp | Services | Leisure | Restaurants |
| YUM | Yum Brands Inc. | Services | Leisure | Restaurants |
| SBUX | Starbucks Corp. | Services | Leisure | Specialty Eateries |
| IPG | Interpublic Group Of Cos., Inc. | Services | Media | Advertising Agencies |
| OMC | Omnicom Group, Inc. | Services | Media | Advertising Agencies |
| NWS | News Corp | Services | Media | Broadcasting – TV |
| CHTR | Charter Communications Inc | Services | Media | CATV Systems |
| DISCK | Discovery Inc | Services | Media | CATV Systems |
| DISH | Dish Network Corp | Services | Media | CATV Systems |
| NFLX | NetFlix Inc | Services | Media | CATV Systems |
| CBS | CBS Corp. | Services | Media | Entertainment – Diversified |
| CMCSA | Comcast Corp | Services | Media | Entertainment – Diversified |
| DIS | Walt Disney Co (The) | Services | Media | Entertainment – Diversified |
| FOXA | Twenty-First Century Fox Inc | Services | Media | Entertainment – Diversified |
| VIAB | Viacom Inc. | Services | Media | Entertainment – Diversified |
| GPS | Gap, Inc. | Services | Retail | Apparel Stores |
| JWN | Nordstrom, Inc. | Services | Retail | Apparel Stores |
| LB | L Brands Inc | Services | Retail | Apparel Stores |
| ROST | Ross Stores, Inc. | Services | Retail | Apparel Stores |
| AAP | Advance Auto Parts Inc | Services | Retail | Auto Parts Stores |
| AZO | Autozone Inc. | Services | Retail | Auto Parts Stores |
| ORLY | O'Reilly Automotive, Inc. | Services | Retail | Auto Parts Stores |
| AMZN | Amazon.com Inc. | Services | Retail | Catalog & Mail Order Houses |
| KSS | Kohl's Corp. | Services | Retail | Department Stores |
| M | Macy's Inc | Services | Retail | Department Stores |
| TJX | TJX Companies, Inc. | Services | Retail | Department Stores |
| COST | Costco Wholesale Corp | Services | Retail | Discount, Variety Stores |
| DG | Dollar General Corp. | Services | Retail | Discount, Variety Stores |
| DLTR | Dollar Tree Inc | Services | Retail | Discount, Variety Stores |
| TGT | Target Corp | Services | Retail | Discount, Variety Stores |
| WMT | Walmart Inc | Services | Retail | Discount, Variety Stores |
| WBA | Walgreens Boots Alliance Inc | Services | Retail | Drug Stores |
| BBY | Best Buy Co. Inc. | Services | Retail | Electronics Stores |
| KR | Kroger Co. | Services | Retail | Grocery Stores |
| HD | Home Depot, Inc. | Services | Retail | Home Improvement Stores |
| CPRT | Copart, Inc. | Services | Specialty Retail | Auto Dealerships |
| KMX | Carmax Inc | Services | Specialty Retail | Auto Dealerships |
| TIF | Tiffany & Co. | Services | Specialty Retail | Jewelry Stores |
| EBAY | EBay Inc. | Services | Specialty Retail | Specialty Retail, Other |
| GPC | Genuine Parts Co. | Services | Specialty Retail | Specialty Retail, Other |
| TSCO | Tractor Supply Co. | Services | Specialty Retail | Specialty Retail, Other |
| ULTA | Ulta Beauty Inc | Services | Specialty Retail | Specialty Retail, Other |
| CHRW | C.H. Robinson Worldwide, Inc. | Services | Transportation | Air Delivery & Freight Services |
| EXPD | Expeditors International Of Washington, Inc. | Services | Transportation | Air Delivery & Freight Services |
| FDX | Fedex Corp | Services | Transportation | Air Delivery & Freight Services |
| UPS | United Parcel Service, Inc. | Services | Transportation | Air Delivery & Freight Services |
| AAL | American Airlines Group Inc | Services | Transportation | Major Airlines |
| DAL | Delta Air Lines, Inc. | Services | Transportation | Major Airlines |
| UAL | United Continental Holdings Inc | Services | Transportation | Major Airlines |
| CSX | CSX Corp. | Services | Transportation | Railroads |
| KSU | Kansas City Southern | Services | Transportation | Railroads |
| NSC | Norfolk Southern Corp. | Services | Transportation | Railroads |
| UNP | Union Pacific Corp. | Services | Transportation | Railroads |
| WAB | Westinghouse Air Brake Technologies Corp | Services | Transportation | Railroads |
| ALK | Alaska Air Group Inc. | Services | Transportation | Regional Airlines |
| LUV | Southwest Airlines Co | Services | Transportation | Regional Airlines |
| JBHT | J.B. Hunt Transport Services, Inc. | Services | Transportation | Trucking |
| ABC | Amerisource Bergen Corp. | Services | Wholesale | Drugs Wholesale |
| CAH | Cardinal Health, Inc. | Services | Wholesale | Drugs Wholesale |
| MCK | Mckesson Corporation | Services | Wholesale | Drugs Wholesale |
| SYY | Sysco Corp. | Services | Wholesale | Food Wholesale |
| FAST | Fastenal Co. | Services | Wholesale | Industrial Equipment Wholesale |
| GWW | W.W. Grainger Inc. | Services | Wholesale | Industrial Equipment Wholesale |
| HSIC | Henry Schein Inc. | Services | Wholesale | Medical Equipment Wholesale |
| NTAP | Netapp Inc | Technology | Computer Hardware | Data Storage Devices |
| STX | Seagate Technology Plc | Technology | Computer Hardware | Data Storage Devices |
| WDC | Western Digital Corp. | Technology | Computer Hardware | Data Storage Devices |
| ANET | Arista Networks Inc | Technology | Computer Hardware | Diversified Computer Systems |
| HPE | Hewlett Packard Enterprise Co | Technology | Computer Hardware | Diversified Computer Systems |
| HPQ | HP Inc | Technology | Computer Hardware | Diversified Computer Systems |
| CSCO | Cisco Systems, Inc. | Technology | Computer Hardware | Networking & Communication Devices |
| JNPR | Juniper Networks Inc | Technology | Computer Hardware | Networking & Communication Devices |
| ADBE | Adobe Inc. | Technology | Computer Software & Services | Application Software |
| ANSS | Ansys Inc. | Technology | Computer Software & Services | Application Software |
| CDNS | Cadence Design Systems, Inc. | Technology | Computer Software & Services | Application Software |
| CRM | Salesforce.Com Inc | Technology | Computer Software & Services | Application Software |
| DXC | DXC Technology Co | Technology | Computer Software & Services | Application Software |
| FTNT | Fortinet Inc | Technology | Computer Software & Services | Application Software |
| INTU | Intuit Inc | Technology | Computer Software & Services | Application Software |
| ORCL | Oracle Corp. | Technology | Computer Software & Services | Application Software |
| ADP | Automatic Data Processing Inc. | Technology | Computer Software & Services | Business Software & Services |
| CTSH | Cognizant Technology Solutions Corp. | Technology | Computer Software & Services | Business Software & Services |
| CTXS | Citrix Systems, Inc. | Technology | Computer Software & Services | Business Software & Services |
| FFIV | F5 Networks, Inc. | Technology | Computer Software & Services | Business Software & Services |
| IRM | Iron Mountain Inc. | Technology | Computer Software & Services | Business Software & Services |
| JKHY | Jack Henry & Associates, Inc. | Technology | Computer Software & Services | Business Software & Services |
| MSFT | Microsoft Corporation | Technology | Computer Software & Services | Business Software & Services |
| CERN | Cerner Corp. | Technology | Computer Software & Services | Healthcare Information Services |
| BR | Broadridge Financial Solutions, Inc. | Technology | Computer Software & Services | Information & Delivery Services |
| LDOS | Leidos Holdings Inc | Technology | Computer Software & Services | Information & Delivery Services |
| NLSN | Nielsen Holdings plc | Technology | Computer Software & Services | Information & Delivery Services |
| ACN | Accenture plc | Technology | Computer Software & Services | Information Technology Services |
| FIS | Fidelity National Information Services, Inc. | Technology | Computer Software & Services | Information Technology Services |
| IBM | International Business Machines Corp. | Technology | Computer Software & Services | Information Technology Services |
| IT | Gartner, Inc. | Technology | Computer Software & Services | Information Technology Services |
| XRX | Xerox Corp | Technology | Computer Software & Services | Information Technology Services |
| ATVI | Activision Blizzard Inc | Technology | Computer Software & Services | Multimedia & Graphics Software |
| EA | Electronic Arts, Inc. | Technology | Computer Software & Services | Multimedia & Graphics Software |
| TTWO | Take-Two Interactive Software, Inc. | Technology | Computer Software & Services | Multimedia & Graphics Software |
| SYMC | Symantec Corp. | Technology | Computer Software & Services | Security Software & Services |
| ADSK | Autodesk Inc. | Technology | Computer Software & Services | Technical & System Software |
| APH | Amphenol Corp. | Technology | Electronics | Diversified Electronics |
| GLW | Corning, Inc. | Technology | Electronics | Diversified Electronics |
| TEL | TE Connectivity Ltd | Technology | Electronics | Diversified Electronics |
| FLIR | Flir Systems, Inc. | Technology | Electronics | Scientific & Technical Instruments |
| FTV | Fortive Corp | Technology | Electronics | Scientific & Technical Instruments |
| GRMN | Garmin Ltd | Technology | Electronics | Scientific & Technical Instruments |
| KEYS | Keysight Technologies Inc | Technology | Electronics | Scientific & Technical Instruments |
| AMD | Advanced Micro Devices Inc. | Technology | Electronics | Semiconductor – Broad Line |
| AVGO | Broadcom Inc | Technology | Electronics | Semiconductor – Broad Line |
| INTC | Intel Corp. | Technology | Electronics | Semiconductor – Broad Line |
| MCHP | Microchip Technology, Inc. | Technology | Electronics | Semiconductor – Broad Line |
| MXIM | Maxim Integrated Products, Inc. | Technology | Electronics | Semiconductor – Broad Line |
| QRVO | Qorvo Inc | Technology | Electronics | Semiconductor – Broad Line |
| TXN | Texas Instruments Inc. | Technology | Electronics | Semiconductor – Broad Line |
| ADI | Analog Devices Inc. | Technology | Electronics | Semiconductor – Integrated Circuits |
| SWKS | Skyworks Solutions, Inc. | Technology | Electronics | Semiconductor – Integrated Circuits |
| XLNX | Xilinx, Inc. | Technology | Electronics | Semiconductor – Integrated Circuits |
| NVDA | NVIDIA Corp | Technology | Electronics | Semiconductor – Specialized |
| AMAT | Applied Materials Inc. | Technology | Electronics | Semiconductor Equipment & Materials |
| IPGP | IPG Photonics Corp | Technology | Electronics | Semiconductor Equipment & Materials |
| KLAC | Kla-Tencor Corp. | Technology | Electronics | Semiconductor Equipment & Materials |
| LRCX | Lam Research Corp. | Technology | Electronics | Semiconductor Equipment & Materials |
| SNPS | Synopsys, Inc. | Technology | Electronics | Semiconductor Equipment & Materials |
| MU | Micron Technology Inc. | Technology | Electronics | Semiconductor- Memory Chips |
| AKAM | Akamai Technologies Inc | Technology | Internet | Internet Information Providers |
| FB | Facebook Inc | Technology | Internet | Internet Information Providers |
| GOOG | Alphabet Inc | Technology | Internet | Internet Information Providers |
| INFO | IHS Markit Ltd | Technology | Internet | Internet Information Providers |
| TRIP | TripAdvisor Inc. | Technology | Internet | Internet Information Providers |
| TWTR | Twitter Inc | Technology | Internet | Internet Information Providers |
| VRSN | Verisign Inc. | Technology | Internet | Internet Information Providers |
| EQIX | Equinix Inc | Technology | Internet | Internet Software & Services |
| MSI | Motorola Solutions Inc | Technology | Telecommunications | Communication Equipment |
| QCOM | Qualcomm, Inc. | Technology | Telecommunications | Communication Equipment |
| CCI | Crown Castle International Corp | Technology | Telecommunications | Diversified Communication Services |
| SBAC | SBA Communications Corp | Technology | Telecommunications | Diversified Communication Services |
| CTL | CenturyLink Inc | Technology | Telecommunications | Telecom Services – Domestic |
| VZ | Verizon Communications Inc | Technology | Telecommunications | Telecom Services – Domestic |
| TMUS | T-Mobile US Inc | Technology | Telecommunications | Wireless Communications |
| ES | Eversource Energy | Utilities | Utilities | Diversified Utilities |
| EXC | Exelon Corp. | Utilities | Utilities | Diversified Utilities |
| NI | Nisource Inc. (Holding Co.) | Utilities | Utilities | Diversified Utilities |
| NRG | NRG Energy Inc. | Utilities | Utilities | Diversified Utilities |
| PEG | Public Service Enterprise Group Inc. | Utilities | Utilities | Diversified Utilities |
| SRE | Sempra Energy | Utilities | Utilities | Diversified Utilities |
| AEE | Ameren Corp. | Utilities | Utilities | Electric Utilities |
| AEP | American Electric Power Company Inc. | Utilities | Utilities | Electric Utilities |
| AES | AES Corp. | Utilities | Utilities | Electric Utilities |
| CMS | CMS Energy Corporation | Utilities | Utilities | Electric Utilities |
| D | Dominion Energy Inc | Utilities | Utilities | Electric Utilities |
| DTE | DTE Energy Co. | Utilities | Utilities | Electric Utilities |
| DUK | Duke Energy Corp. | Utilities | Utilities | Electric Utilities |
| ED | Consolidated Edison, Inc. | Utilities | Utilities | Electric Utilities |
| EIX | Edison International | Utilities | Utilities | Electric Utilities |
| ETR | Entergy Corp. | Utilities | Utilities | Electric Utilities |
| EVRG | Evergy Inc | Utilities | Utilities | Electric Utilities |
| FE | Firstenergy Corp. | Utilities | Utilities | Electric Utilities |
| LNT | Alliant Energy Corp. | Utilities | Utilities | Electric Utilities |
| NEE | NextEra Energy Inc | Utilities | Utilities | Electric Utilities |
| PNW | Pinnacle West Capital Corp. | Utilities | Utilities | Electric Utilities |
| PPL | PPL Corp | Utilities | Utilities | Electric Utilities |
| SO | Southern Company | Utilities | Utilities | Electric Utilities |
| WEC | WEC Energy Group Inc | Utilities | Utilities | Electric Utilities |
| XEL | Xcel Energy, Inc. | Utilities | Utilities | Electric Utilities |
| ATO | Atmos Energy Corp. | Utilities | Utilities | Gas Utilities |
| CNP | Centerpoint Energy Inc. | Utilities | Utilities | Gas Utilities |
| OKE | Oneok Inc. | Utilities | Utilities | Gas Utilities |
| AWK | American Water Works Co. Inc. | Utilities | Utilities | Water Utilities |