Trade The Pool is a powerhouse prop firm that's one of the best options for stock traders today. Considering all of its features, I've ranked this up-and-coming firm a solid 4.2 out of 5. With up to 80% profit splits, unlimited buying power, and an impressive selection of over 12,000 stocks, it's a serious player for any stock trader seeking a trustworthy firm.
So if you're a stock trader with an appetite for more capital and less risk, buckle up! I'll be serving up my candid thoughts on Trade The Pool, detailing its strengths, weaknesses, and how it measures up against competitors. By the time you've finished this Trade The Pool review, you'll have a clear understanding of whether this prop firm is the perfect fit for your needs. Ready to take the plunge? Let's dive in!
What is Trade The Pool?
Trade The Pool is a brainchild of the creative geniuses at Five Percent Online Ltd., a titan in the online prop firm industry since its inception in 2016.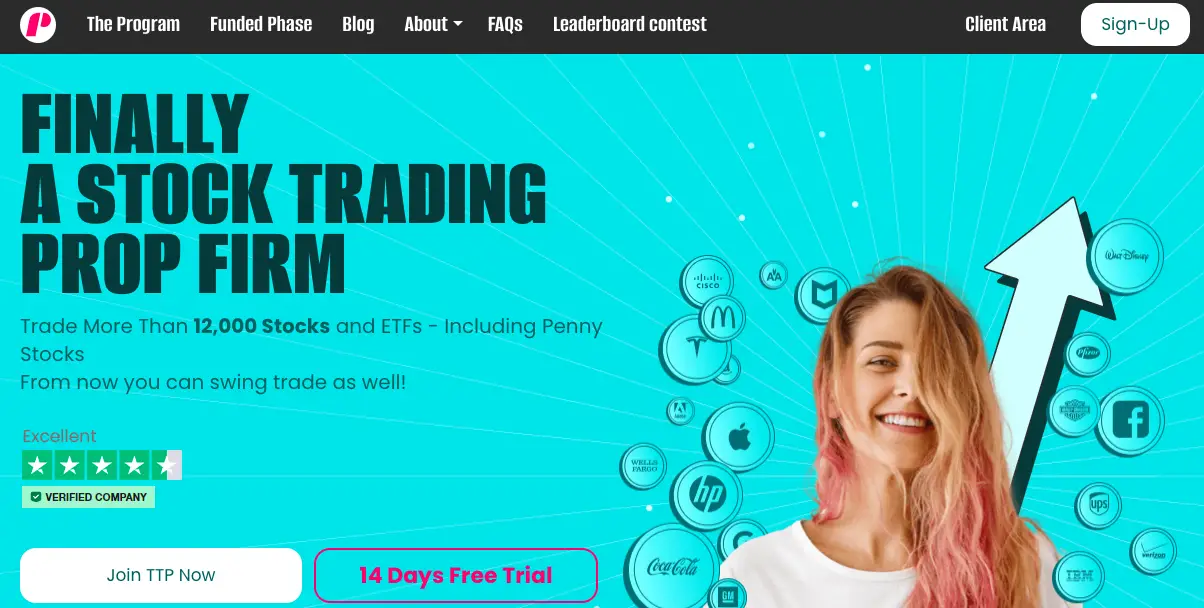 Gil Ben Hur, an independent forex trader, is the founder of Trade The Pool. His visionary concept for a fair, transparent platform was the catalyst for the firm's inception. Hur's ultimate mission? To offer a trading space where you don't have to worry about hidden fees or sneaky practices.
So, are you ready to dive into the pool of stock trading with Trade The Pool? With this prop firm, you'll never have to worry about murky waters!
Tradable Assets
Trade The Pool is your ultimate destination for stock trading, boasting an impressive portfolio of over 12,000 stocks, penny stocks, CDFs, and ETFs. This powerhouse firm equips prop traders with a real-time data feed straight from the NYSE and CBOE, ensuring you always trade with the most precise bid and ask prices.
Here's just a sneak peek at some of the symbols you can trade with TTP: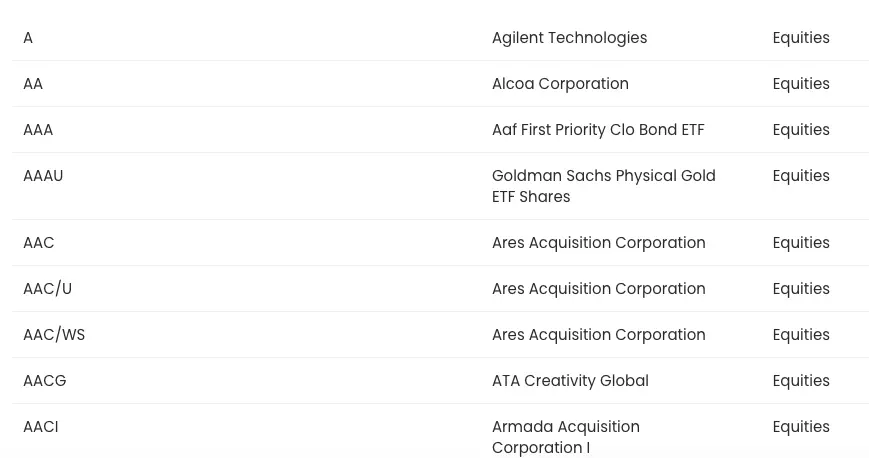 For a more comprehensive list (which you'll find is very long), I recommend checking out TTP's Market Page.
Key Features of Trade The Pool
Now I'll jump into TTP's standout features that set it apart!
Unlimited Buying Power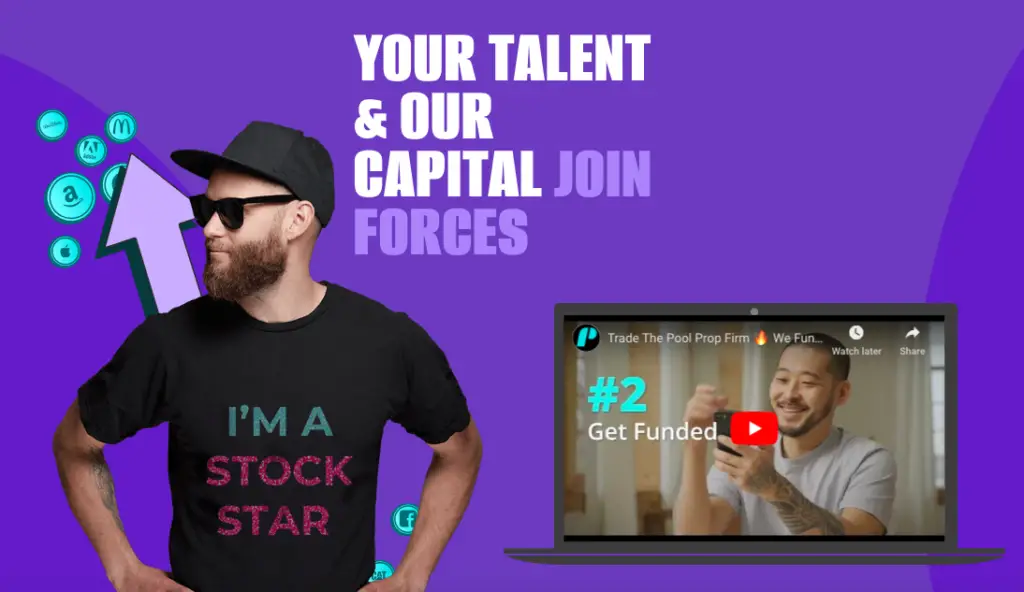 Trade The Pool offers an unlimited scale-up plan. It's a game-changer that allows you to multiply your earnings as you embrace more risk. The best part? You're not risking your hard-earned capital. You'll never have to worry about covering losses.
50-80% Profit Splits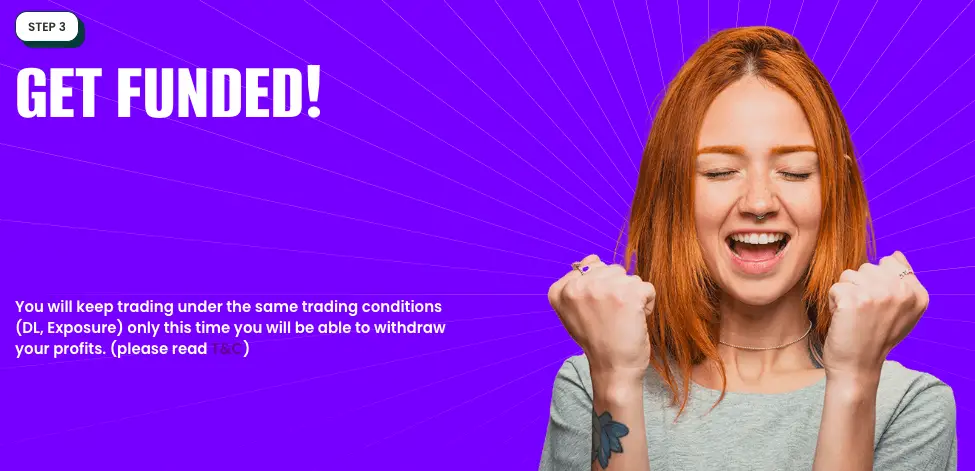 With a tiered subscription model, you have the potential to keep up to a whopping 80% of your profits! Trade The Pool offers four plans to pick from with profit splits of 50%, 60%, 70%, and 80%.
If you're serious about trading and select the highest tier plan, it's a pretty good deal, though the entry-level plan profit split could be more generous.
Single-Phase Evaluation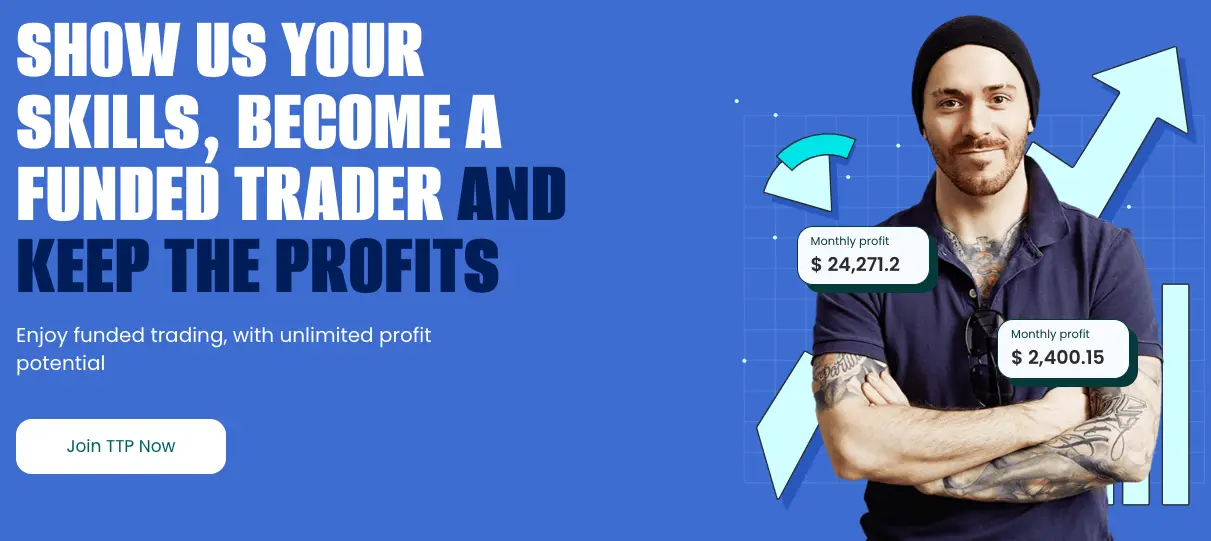 Trade The Pool doesn't believe in making you jump through endless hoops to get your trading game on. Instead, they offer a one-step evaluation process. Yes, you read that right. Just one step!
And if you ever need to start over, you can do so with a simple click of a button (for a small fee, of course). Just stick to the rules, ace the evaluation, and bam – real capital is at your fingertips, ready to be traded.
14-Day Free Trial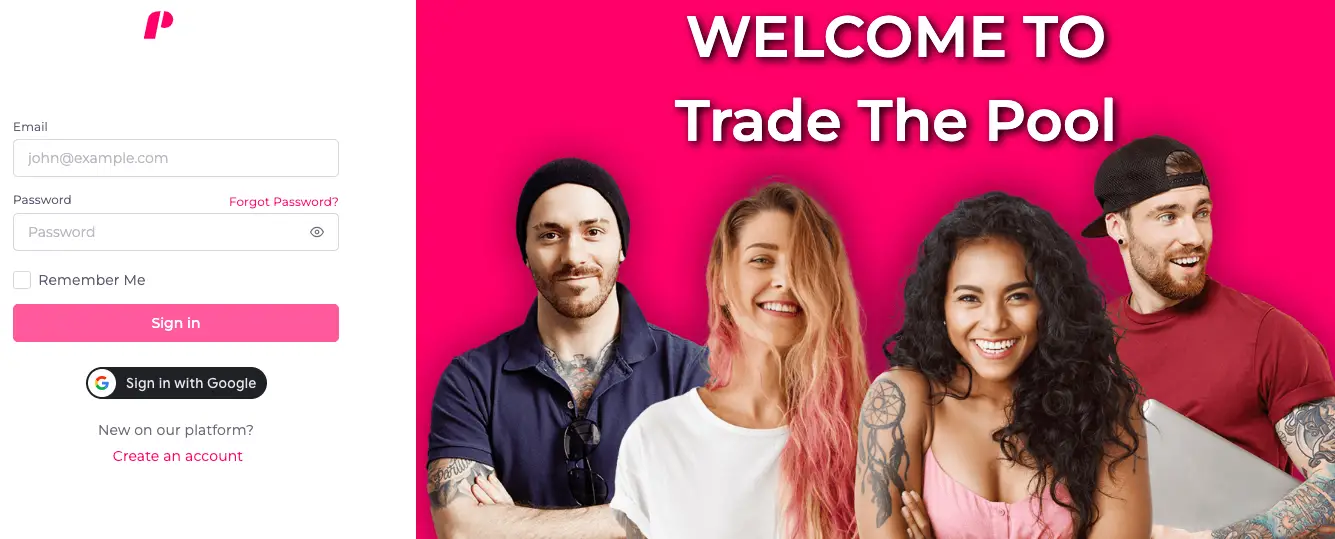 Not sure if Trade The Pool is the best fit for your trading needs? Wondering how easy it is to navigate the Trader's Hub Dashboard? The good news is that Trade The Pool offers new users a 14-day free trial to check it out.
I appreciate this feature, as it gives you a taste of the platform before you commit your hard-earned cash. It's a risk-free opportunity to ensure TTP matches your trading style and needs.
Leaderboard Contests

Traders can also compete in thrilling trading contests to earn extra capital and get featured as a Top Performer on the site. This feature helps build community among fellow traders and incentivizes you to master your risk management skills. You can also join their Discord channel to connect with fellow traders and stay up-to-date on community happenings. 
But that's not all- Trade The Pool also offers workshops to help enhance your trading skills. Simultaneously, you'll be equipped with useful tools from industry leaders like TraderSync, TraderVue, Stock Traders Daily, and more! It's clear that this stock prop firm wants its community of traders to find success in the stock market. 
How Trade The Pool Works
At Trade The Pool, you'll find four account sizes crafted to match your trading skills and needs. Accounts start at a modest $20K buying power and escalate to a whopping $260K at the apex.
However, before you can tap into this funding, there's a hurdle to clear – the evaluation process. This is where you'll need to flex your risk management muscles and prove your skills.
Evaluation Process
Here are the rules of the evaluation process you'll need to follow to secure funding:
Reach a profit target of 2x the maximum daily drawdown
Make a minimum of 30 trades (risking no more than 30% of your daily loss per trade)
Do not exceed the maximum drawdown
Place trades for a 45-day trading period

Overall, I'd say the evaluation process is a fair challenge that isn't designed to make you fail. But allow me to share a few nuggets of wisdom that could help you ace the evaluation:
Aim for consistency (don't just try to get lucky with one successful trade)
Immerse yourself in premarket prep
Take advantage of the Prop Trading Space to learn valuable trading tips

Trade The Pool Plans and Pricing
TTP offers four trading plans at various price points, each with unique rules and advantages. The plans are Mini Buying Power, Super Buying Power, Extra Buying Power, and Ultimate Buying Power.
Check out the screenshot below to see which TTP plan is the best option for you: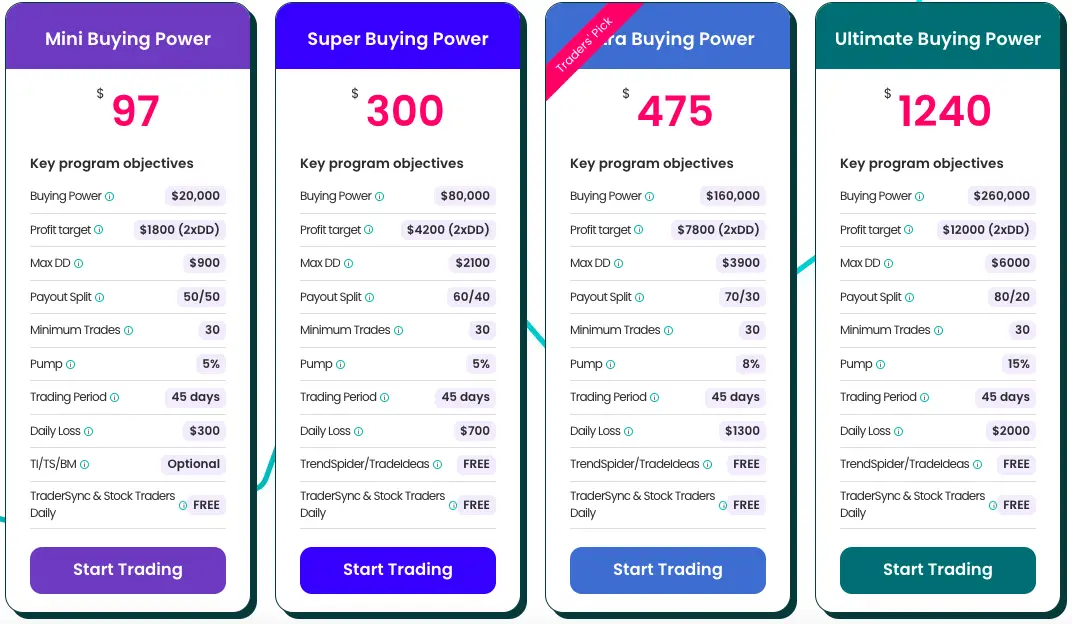 Trade The Pool Pros and Cons
After putting TTP to the test, I've come up with a list of pros and cons to help guide your decision. Let's check them out!
Pros
14-day free trial
Relaxed trading rules (short penny stocks and trade pre/after market)
One-step evaluation process
Excellent customer support + Discord channel
Over 12,000 tradable stocks and ETFs
Cons
Mediocre profit split depending on program
Tradable assets are primarily limited to stocks and ETFs
But don't just take my word for it- it's important to see what other users think of this stock prop firm!
User Reviews for Trade The Pool
With a solid 4.4 TrustPilot score and buzz brewing on Reddit, traders have a lot to say about their experience with Trade The Pool.
Positive Reviews
Take it from Vince Osayande, who believes that TTP is the perfect platform to experiment with your trading strategies and discover what truly brings in the cash.


Reddit user SupermarketNo3773 also endorses Trade the Pool for stock traders, explaining it's a credible choice that won't disappoint you.

Negative Reviews
But not everyone has been thrilled with Trade The Pool; check out Petr Sulc's review, where he complains about TTP's trading layout and customer service team.

Now take a look at what Pirun Sirimangkalo has to say: he's not a fan of the TTP's wide spreads, which he claims make it difficult to beat the market.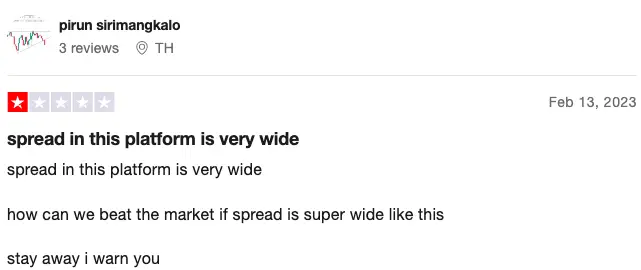 Alternatives to Trade The Pool
After learning more about TTP, you're likely closer to knowing if this prop firm aligns with your needs. But if you still have doubts, I recommend checking out these other firms that offer more tradable assets:
The 5%ers
Fidelcrest
FTMO
TheFundedTrader
SurgeTrader
Topstep
And if you're on the hunt for other stock prop firms specifically, I recommend diving into my review of the Best Prop Stock Trading Firms on the market today.
My Personal Opinion of Trade The Pool
I was curious to see how Trade The Pool would stack up against other prop firms. After researching, I found that Trade The Pool stands out by offering clear, straightforward trading rules and a 14-day free trial. I also appreciate that you can get unlimited buying power; it's an excellent choice for traders seeking substantial capital without risking their own.
But there's always room to level up. For one, they could rethink their profit splits, as most prop firms are dishing out a larger piece of the profit pie. And finally, I'd love to see them diversify their asset types. Their primary focus is on stocks, but it'd be game-changing for them to venture into other markets (like crypto).
In short, Trade The Pool offers a compelling platform for traders. With a few tweaks, they could be a force to be reckoned with within the prop trading arena.
Conclusion: Is Trade The Pool Right For You?
Are you the right fit for Trade The Pool? If you're a stock trader seeking capital without the burden of excessive risk, this prop firm could be your golden ticket. With its clear-cut guidelines and limitless buying power, it equips you with the tools to enhance your skills and earn a living, regardless of whether you're a day trader or a swing trader.

Now, it might not be the ideal solution for everyone (if you're looking to trade anything other than stocks, you'll need to look elsewhere). However, for stock traders craving a trustworthy prop trading firm that will champion their success and deliver first-class customer service, Trade The Pool stands out as a solid choice.

So, don't let this opportunity slip through your fingers – sign up with Trade The Pool and kick-start your stock trading career with a fully funded account!