Calling all traders and quantitative analysts! Are you searching for the perfect market data provider that understands your unique requirements? The quest for the ideal market data platform can be treacherous, with inaccurate data and exorbitant fees lurking around every corner. These pitfalls can wreak havoc on traders who rely on accurate and affordable market data to improve their trading game.
But fear not, fellow market enthusiasts! As a seasoned expert with 15 years of experience in algo-trading, I've stumbled upon the hidden gem that is Twelve Data. In this in-depth Twelve Data review, I'll reveal why this data company could be the solution you've been longing for, and how it can catapult your trading results to unparalleled heights of success.
Twelve Data Key Features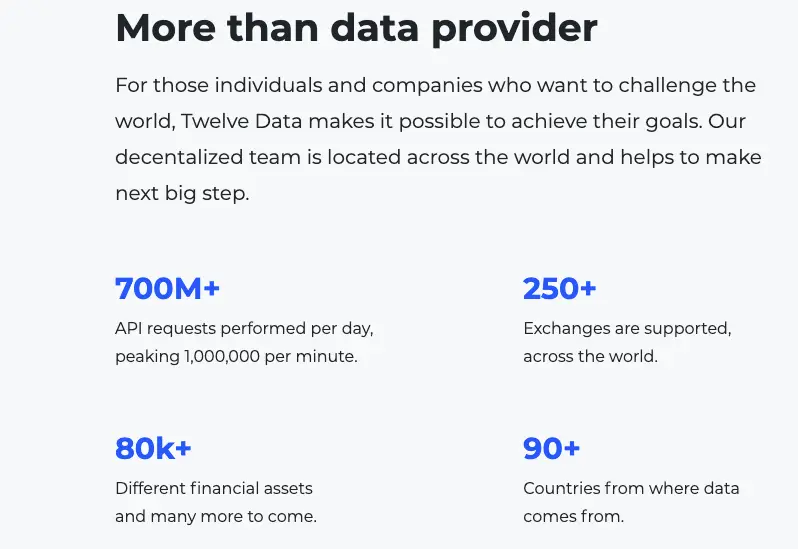 Discover the astonishing capabilities of Twelve Data and prepare to be dazzled by these standout features:
High-quality data for over 100,000 instruments: Twelve Data offers real-time and historical stock, forex, crypto, indices, ETFs, and fundamental market data to keep you ahead of the game.
Access to multiple APIs and add-ins: Seamlessly integrate APIs, Websockets, and SDKs to supercharge your data research process.
An arsenal of educational resources: Empower your decision-making skills and reap the rewards of increased profits.
If you want to learn more about how I ranked and evaluated market data APIs, I invite you to check out our comprehensive Market Data API Buying Guide. It provides detailed insights into the criteria and factors that influenced my assessment, helping you make informed decisions based on your needs and requirements.
Welcome to the next level of data-driven success – Are you ready to take the plunge?
Twelve Data's API Integrations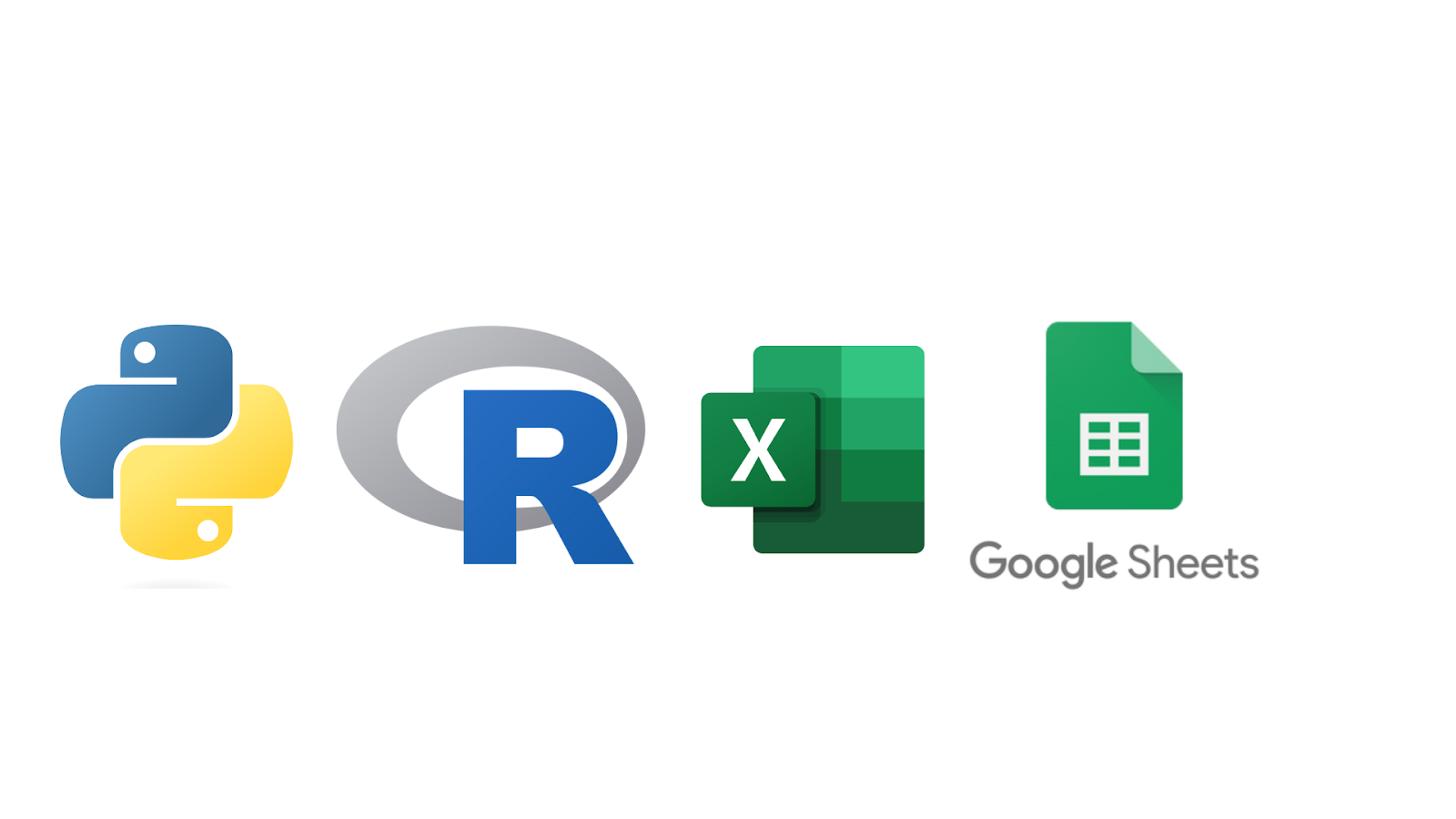 Twelve Data gives users the option to integrate with supported APIs and plug-ins, including:
Excel
Google Sheets
Python
R
C++
C#
Java
WebSocket
CSV formats
JSON formats
How Twelve Data Leaves Competition in the Dust
Twelve Data outshines its competitors by boasting impressive usability, featuring intuitive interfaces that feel fun and engaging. Navigating the website is a breeze, effortlessly guiding users to the tools and information they need.
Moreover, the API extensions and plug-ins deliver utmost convenience, empowering you to access your data on various platforms such as Google Sheets, Excel, Python, and beyond. This unparalleled accessibility and user-centric design catapult Twelve Data to the top, making it the ultimate choice for traders and quantitative analysts seeking inspiration and efficiency.
Expert Opinions on Twelve Data from Industry Pros
But I'm not alone in my admiration for Twelve Data as a top-tier market data provider. Countless industry professionals have shared their positive experiences with Twelve Data's services.
Case in point? Niuton co-founder Runar Bogen has relied on Twelve Data for years and can't fathom operating his algo-trading firm without it.

Salt's co-founder, Anshul Mittal, wholeheartedly agrees with this perspective. He shares that ever since partnering with Twelve Data, there's been a remarkable surge in his company's user base.

Of course, every rose has its thorns – Twelve Data boasts a unique blend of advantages and disadvantages worth looking into.
Twelve Data Pros and Cons
Let's examine the crucial pros and cons every trader must consider before deciding to take the plunge!
Twelve Data Pros
Satisfactory market data coverage: Twelve Data offers both realtime and historical data for stock, forex, crypto, indices, ETFs, fundamental market data, and over 100 technical indicators to keep you ahead of the game.
Seamless API-integration: Use APIs, Websocket, and SDKs on one single platform.
User-friendly design: Twelve Data features an intuitive, engaging user interface that makes analyzing data a walk in the park.
Excellent customer support: Receive prompt answers from the customer support team with their convenient live chat feature.
Ultra-low latency: Stream real-time data via Websocket at an impressive ~170 ms average for all instruments.
Twelve Data Cons
Restrictive default limit: The default limit is eight calls per minute, which is slightly lacking compared to other market data providers.
No advanced features without paid subscription: Only users who sign up for paid subscriptions can access premium market data coverage.
Small community: Twelve Data only has 53 subscribers on Telegram and 369 followers on Twitter.
After carefully considering its pros and cons, I've given Twelve Data a rating of 4.4 out of 5. This score reflects its solid features and capabilities while acknowledging potential improvement areas.
Pricing: Picking the Perfect Plan
Discover a range of pricing options tailored to your needs, ensuring you get the valuable data you crave at a cost that fits your budget. Together, let's find the perfect subscription plan for you:
Free Basic Plan: 800 API credits per day, 8 WS credits, and access to historical, US market data, forex, and crypto
Grow Plan: All Basic features, Level A stocks, ETFs, indices, and starter fundamentals
Pro Plan: All Grow features, Level B stocks, ETFs, indices, and essential fundamentals
Enterprise Plan: All Pro features, Level C stocks, all fundamentals, and 99.95% uptime SLA
Custom Plan: All Enterprise features, extended API and WS credits, plus flexible support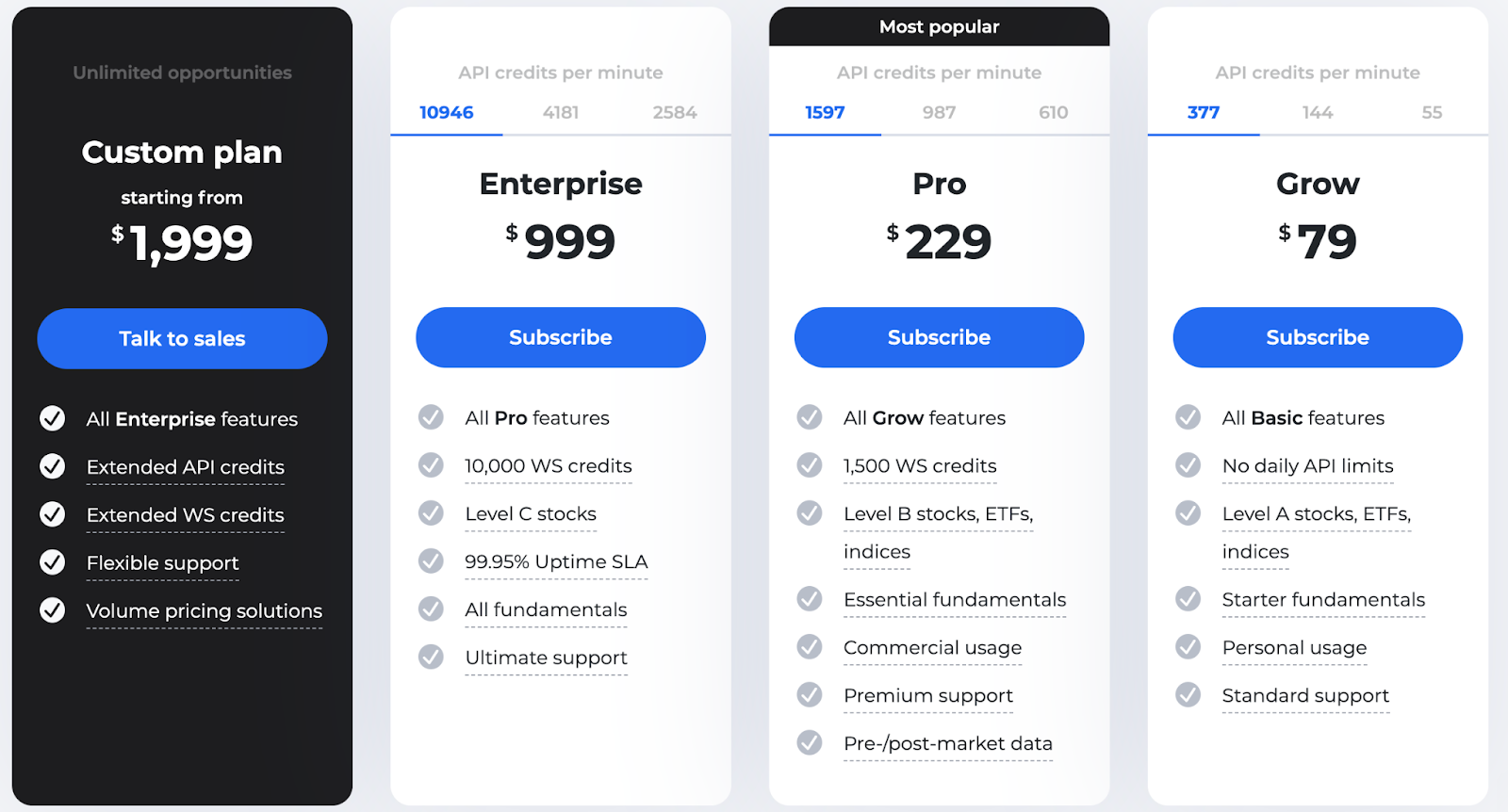 A Guide to Getting Started with Twelve Data
If you're interested in signing up for Twelve Data but unsure where to begin, don't worry! Our twelve data python tutorial is here to help. I'll be your guide as we explore the process of using the Twelve Data API with Python.
Together, we'll cover setting up the library, installing Twelve Data, and fetching crucial financial data that can enhance your trading decisions. With a step-by-step breakdown, this tutorial equips you with the tools necessary to seamlessly integrate Twelve Data into your trading strategies, empowering your financial analysis along the way.
Twelve Data Customer Support and Resources
When it comes to customer support, Twelve Data goes above and beyond to ensure their users get the assistance they need. They offer a dedicated contact page, inviting users to connect with their sales team, seek customer support, or explore the help center for answers to common queries. But their live-chat feature truly sets Twelve Data apart, enabling users to engage in real-time conversations with the team.

But that's not where it ends! Twelve Data goes the extra mile by offering comprehensive guides to empower traders in mastering their software and honing their trading skills.
And after exploring the Education tab on their website, I was thrilled to discover their dedication to supporting students. They provide personal API keys and essential resources to college classrooms, hoping to empower students in the competitive world of financial markets.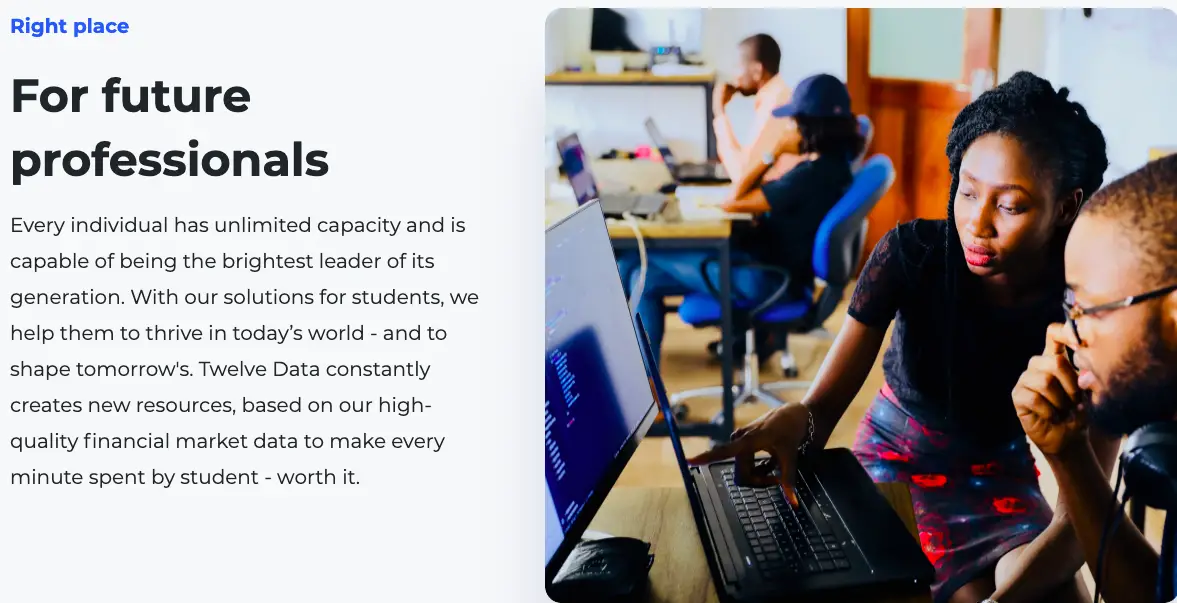 Another aspect I admire about Twelve Data is their unwavering emphasis on fostering a strong community. By subscribing to Twelve Data's Telegram channel, following them on Twitter, or diving into their Github discussions, you can connect with fellow traders or analysts who share your passion and drive.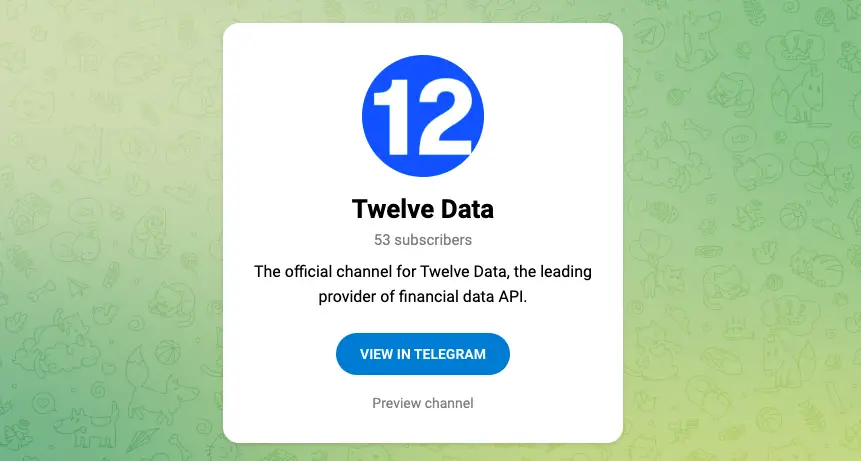 Community Insights: Real Experiences from Twelve Data's Users
Now that we've delved into the ins and outs of Twelve Data, let's dive into the real-world experiences of users who've tried this market data provider!
A thrilled member of the r/AlgoTrading subreddit praised Twelve Data, highlighting the company's complimentary APIs and comprehensive documentation as standout features.

But it's not just traders who benefit from partnering with Twelve Data – quantitative developer Wei Zhang Lee praises this market data company for its superior data quality and affordable prices.

Of course, not everyone is ready to jump on the bandwagon! Some users criticize the eight API calls per minute rule, saying that it limits their ability to retrieve data quickly and efficiently.

Every company has its imperfections, and the same goes for Twelve Data. But here's the thing: when you consider the bigger picture and balance the pros and cons, I believe that the advantages of using Twelve Data shine through.
Special Offer: Enhance Your Success with Twelve Data
So, don't hesitate to join Twelve Data now, or opt for the Basic Plan to enjoy a free trial and see if it's the perfect fit for you.
But wait, there's more! Are you a student or part of a budding start-up? Twelve Data has your back, offering a generous 20% discount to help you kickstart your journey. There's no better time than the present to seize this incredible opportunity!
Frequently Asked Questions (FAQ)
Now let's dive into some frequently asked questions that traders often have about Twelve Data!
What are the Twelve Data intervals?
What are the Twelve Data intervals?
1 min
5 min
15 min
30 min
45 min
1 hour
2 hours
4 hours
8 hours
1 day
1 week
1 month
What are Twelve Data's Level A, B, and C markets?
Level A provides access to the most popular markets, Level B includes markets from Level A plus international markets, and Level C provides end-of-day data from even more exchanges.
Does Twelve Data let you purchase only one dataset?
No, Twelve Data doesn't allow users to buy datasets separately. Their plans include access to every dataset.
What are the API and WebSocket credits?
Credits serve as the fundamental metric for accessing and streaming data. A standard request consumes 1 API credit, allowing you to request 610 symbols per minute on the Pro 610 plan. Steaming data for 300 symbols would require 300 WebSocket credits.
Where is Twelve Data located?
Twelve Data is located in Singapore, Singapore.
Market Data Industry: How Twelve Data Adapts to Trends & Challenges
The market data industry is constantly transforming to embrace new trends and tackle fresh challenges. One of the most groundbreaking shifts in recent times has been the meteoric rise of cryptocurrency in trading and investing. Market data providers have had to nimbly adapt to the demands of these uncharted territories.
Twelve Data has skillfully conquered this trend by incorporating coverage for the most popular digital currencies, such as Bitcoin, Coinbase, BitStamp, and much more. With Twelve Data, users can tap into a staggering 180+ cryptocurrency exchanges, offering a whopping 10,000+ exchange rates in total.
And to guarantee top-notch data, Twelve Data uses cutting-edge AI algorithms to scrutinize all information, eradicating any distortions. This unwavering commitment to staying ahead of the curve and tackling industry challenges showcases Twelve Data's devotion to equipping users with the most pertinent and precise market data.
But Twelve Data's relentless pursuit of excellence doesn't stop there. They continuously update their offerings to encompass new markets and instruments, ensuring users always have their finger on the pulse of the most current, all-encompassing market data. This proactive approach empowers users to make savvy trading decisions and outpace the competition, leaving them in the dust.
Conclusion: Become a Better Trader with Twelve Data
In the pursuit of the ultimate data providers, traders and quantitative analysts must ensure they find an option where they can receive data through an intuitive interface at a competitive price. Twelve Data triumphs in these aspects, positioning itself as a top contender for anyone striving to excel in the financial markets.
As someone who has tried Twelve Data firsthand, alongside numerous other data providers, I can assert with confidence that Twelve Data is an exceptional choice with the potential to elevate your trading performance and guide you toward financial success.
Don't hesitate – join Twelve Data today to discover the buzz and revolutionize your trading journey!