As a trader or quantitative analyst, your success hinges on having access to accurate market data APIs. However, with various options available, finding the perfect data provider can be daunting.
But don't worry! With 15 years of experience in trading and data analysis, I'm here to guide you through an in-depth review of Finnhub, a real-time API committed to democratizing financial data.
In this Finnhub review, I'll dissect every aspect of this service, from the excellence of its API to the precision of its data. Stay tuned to unearth crucial insights that will help you determine if Finnhub is the ideal match for your data requirements!
Finnhub Key Features

First, let's dive into Finnhub's key features to unravel the true potential of this data API powerhouse:
Real-time and historical U.S. stock data, 15-minute delayed and EOD data for international markets, 10+ forex brokers, and 15+ crypto brokers: Finnhub grants you exclusive access to various asset types across the U.S. and global markets.
Accessible API Integration: Finnhub provides a treasure trove of user-friendly APIs, including KYC, KYB, and PEB & Sanctions solutions
Option to access free data: Finnhub offers users a free plan where they can access U.S. market with real-time updates entirely free of charge
After thoroughly exploring its features, I awarded Finnhub a solid 4.4 out of 5 stars. This rating reflects the numerous advantages of using Finnhub, such as its exceptional APIs, while acknowledging areas that could be upgraded.
To better understand how I evaluate market data APIs, check out my all-inclusive Market Data API Buying Guide!
 In this essential resource, I delve into the criteria that influence the overall score, empowering you to select the ideal market data provider for your needs.
Finnhub API Integrations & Plugins

When it comes to market data APIs, Finnhub has a lot to offer! This powerhouse provides access to various APIs, all seamlessly organized around REST. Their API boasts resource-oriented URLs, accepts form-encoded request bodies, delivers JSON-encoded responses, and utilizes standard HTTP response codes and authentication.
Check out the remarkable API integrations and plugins that Finnhub offers:
Python
Go
JavaScript
Ruby
Kotlin
PHP
KYC (Know Your Customer)
KYB (Know Your Business)
Pep & Sanctions
Filings Search API
Excel
Google Sheets
WebSocket
With Finnhub's stellar API integrations, you'll be able to make smarter trading decisions and analyze data with ease.
Finnhub Pros & Cons
I recently had the opportunity to test Finnhub's market data API, and I must say, I'm impressed! Let's discuss the pros and cons I discovered while exploring this financial data provider.
Finnhub Pros
Amazing APIs: Discover an easy-to-use interface boasting some of the industry's most all-encompassing market data APIs.
NBBO-compliant data: Leverage data supported by the National Best Bid and Offer (NBBO) to ensure precise and dependable market insights, which are vital for making well-informed trading choices.
Access to free market data: Jumpstart your journey with Finnhub for free! Experience real-time updates and stay ahead without spending a dime.
Impressive scalability: Pick the All-In-One plan to access 900 API calls per minute for market data and 300 API calls per minute for fundamental data.
Survivorship-bias-free data: Benefit from high-quality data without pesky survivorship-bias.
Finnhub Cons
Data accuracy could be better: While Finnhub boasts its use of NBBO-backed data, some argue that the information provided might not be the most precise in the market.
All-In-One API plan is expensive: While Finnhub provides complimentary data, those seeking the comprehensive all-in-one package must be prepared to invest $2,000 per month.
Small community: Finnhub's Reddit only has 57 followers and its Github has 26.
How Finnhub Stays Ahead of the Competition
Finnhub outshines its rivals by providing some of the most outstanding and all-encompassing APIs available today. These cutting-edge APIs are crucial in the platform's seamless interface, making it incredibly approachable for users with diverse skill levels. Thanks to its intuitive design and extensive features, I've awarded Finnhub a whopping 4.8 in terms of usability.
Another way Finnhub surpasses the competition is by offering a free data package, granting users access without shelling out a single dime. This exceptional feature sets it apart from other market data providers that may not offer any perks without a financial commitment. As a result, I've awarded Finnhub a 4.5 for its competitive pricing and the value it provides to users.
Expert Views on Finnhub: Insights from Industry Leaders
But how do other industry experts rank Finnhub? Well, take a look at this tweet from PyQuant News, where they've featured Finnhub in a thread of 20 Python libraries for market data APIs that everyone should know: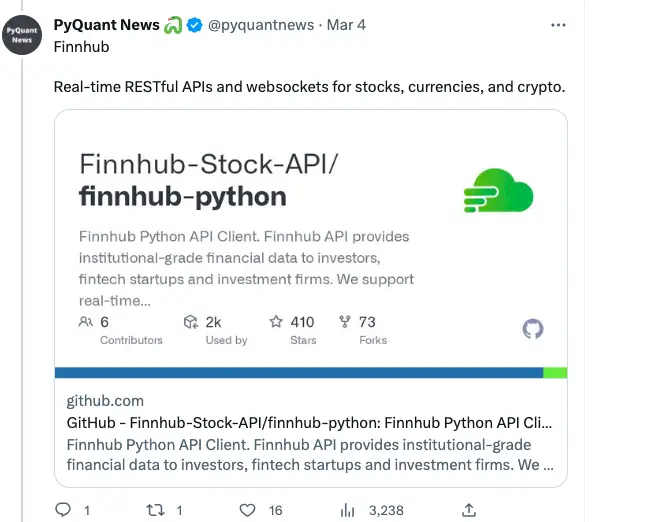 Yazin Sai, the founder of Amal Invest, also speaks in favor of Finnhub, revealing that he uses its amazing API for his own company.

So, are you convinced about Finnhub's potential yet? There's still more to discuss – let's dive into their pricing structure next!
Pricing: Free vs. Premium Package
Finnhub offers multiple data packages with real-time and historical data:
Free: 60 API calls per minute, U.S. coverage, one year and real-time updates for fundamental data, 50 WebSocket symbols, and more
All-In-One: 900 API calls per minute for market data, global coverage, 300 API calls per minute with fundamental data, 20 years and real-time updates, unlimited WebSocket symbols, and more
EFTs, Funds, and Indices: 300 API calls per minute, U.S. coverage, one year of data with daily updates
EFts2: 300 API calls per minute, U.S. coverage, full history from 2011 with daily updates
Global Economic Data: 150 API calls per minute, global coverage, up to 50 years of economic data
Overall, I must say I'm impressed by Finnhub's pricing model – it's not every day you come across a platform that offers data entirely free of charge. Of course, it's crucial to remember that the All-In-One package comes with a $2,000 monthly price tag, which may seem steep for some. In the end, the true value of the premium package hinges on your specific requirements.
Check out the pricing plans from the Finnhub website below to pinpoint exactly what each offers and for how much:



A Guide to Getting Started with Finnhub
Struggling to make sense of Finnhub's API documentation? You're not alone. While it may be comprehensive, it's missing one crucial element: real-world examples that bring it all to life. But don't worry, I've got your back!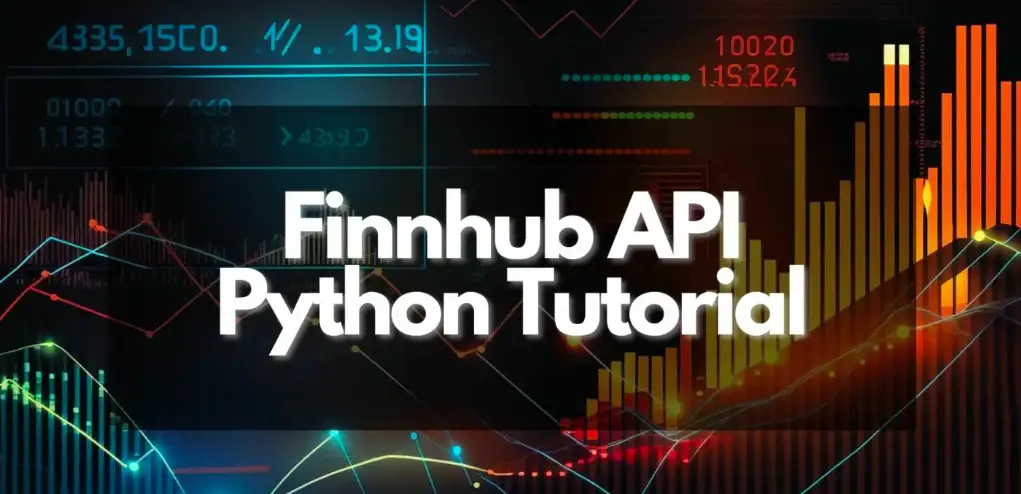 As an expert in Python and Finnhub, I've crafted a Finnhub API: Step-by-Step Python Tutorial to streamline the process and demonstrate how to use Finnhub in Python. By the time you finish this tutorial, you'll be well-equipped to create dynamic Python applications that revolutionize your financial data analysis.
Finnhub's Customer Support and Resources
Looking for further assistance from the Finnhub team themselves?
Finnhub provides 24/7 customer support 365 days a year for its enterprise clients. If you have any technical issues, you can email the customer support team at support@finnhub.io. Finnhub also provides dedicated email addresses at the bottom of their site for clients experiencing billing issues or needing to contact sales.

While I appreciate the ease of contacting Finnhub via email, I wish they'd also offer a live chat feature like some top-tier market data providers. It'd be nice to connect with customer support in real-time, especially when you're grappling with API issues and missing out on potential trading opportunities.
As far as resources go, I appreciate that Finnhub provides an opportunity for its users to connect. Finnhub encourages collaboration and connection between traders and analysts by offering access to its GitHub and Reddit platforms. While these communities may be modest in size, the effort to cultivate camaraderie within the market data API sphere is something that I can get behind.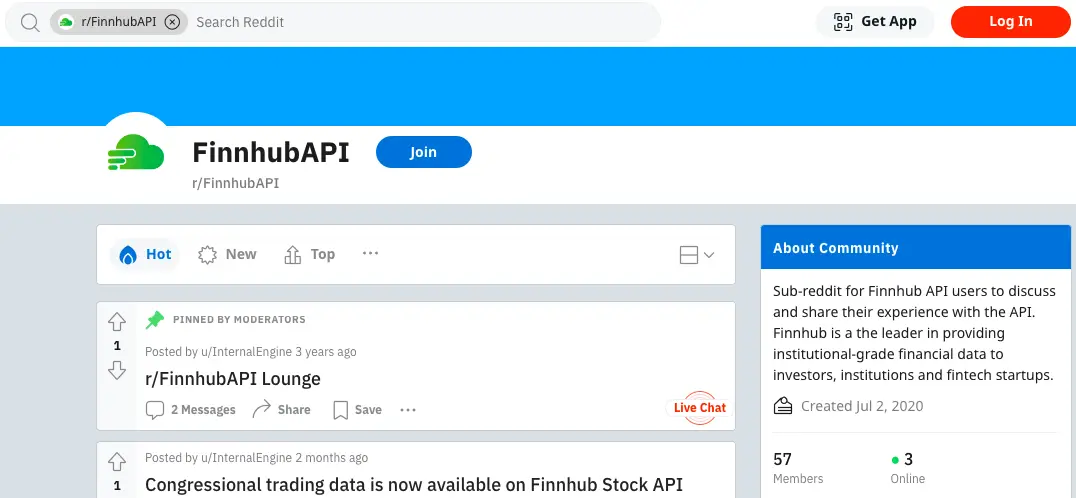 Community Insights: Real Experiences from Finnhubs Users
But I'm not the only one with thoughts about Finnhub! Let's dive into reviews from fellow Finnhub users, like this Redditor who applauds the platform's awesome API and scalability.

One Twitter user also recently raved about Finnhub's free API, sharing their experience of effortlessly integrating it with Python and using it to write code.

However, Finnhub has also faced its share of criticism. Take, for instance, this Reddit user who thinks the platform's financial data is not the most accurate.

Another Reddit user echoed this sentiment, sharing that they too have encountered discrepancies in Finnhub's data.

Of course, I've noticed an improvement in the platform's data quality since these reviews were written. But in my opinion, it's Finnhub's unrivaled API that truly sets it apart, making it one of the most outstanding choices available in today's market.
Level Up Your Trades with Finnhub's API
So if you're on the hunt for a top-notch market data API, look no further than Finnhub! With its cutting-edge REST API and a fantastic free plan, there's no time to waste.
Elevate your trading game with real-time, high-quality data that keeps you ahead of the curve. Just sign up with Finnhub, choose the data package tailored to your needs, and dominate the financial markets like never before!
Frequently Asked Questions (FAQ)
Now let's dive into frequently asked questions about Finnhub's API and its inner workings!
Is Finnhub API free?
Finnhub provides free real-time APIs for stock prices, forex, and crypto.
What is the free limit on Finnhub?
The limit for the free plan on Finnhub is 60 API calls per minute.
Where does Finnhub get their data?
Finnhub's market data is sourced from exchanges like ASX, ActivFinancial, EDI, and QuoteMedia. Finnhub sources EFTs data from Issuers' filing and public sites.
Does Finnhub have cryptocurrency data?
Yes, Finnhub provides data for 15+ crypto brokers.
Market Data Industry: Finnhub's Response to Trends & Challenges
As the market data industry surges forward, data providers must tackle the challenge of embracing new trends and satisfying their customers' ever-evolving needs. One notable trend is the rise of digital assets and cryptocurrencies. Additionally, clients are increasingly craving access to global data spanning all corners of the world.
Luckily, Finnhub nimbly adapts to change, as demonstrated by their seamless integration of cryptocurrency data. This guarantees users maintain a competitive edge in the realm of digital assets. Furthermore, Finnhub offers its premium users access to international market data, catering to the surging demand for all-encompassing global coverage.
Finnhub is also revolutionizing the market data industry in a groundbreaking way: by offering a free plan, they make detailed financial statements accessible to everyone, regardless of their financial means. This data democratization empowers a broader range of users to benefit from Finnhub's services, enabling them to make well-informed decisions based on accurate market intelligence.
By staying at the forefront of innovation and adjusting to industry trends and challenges, Finnhub cements its position as a trailblazing market data API provider.
Conclusion: Become a Better Trader with Finnhub
Overall,  Finnhub's market data API solution is a game-changer for traders and analysts seeking top-notch performance. Boasting unrivaled REST API integration, a free plan that democratizes financial data access, and coverage of crypto and international markets, Finnhub secures its position among the industry's elite data providers.
Of course, there's always room to grow, and I hope to see Finnhub enhance its accuracy, latency, and scalability even further. Still, I am genuinely impressed with their market data APIs and admire their commitment to making financial data accessible for all budgets. If you're a trader or analyst craving easy access to invaluable financial insights, Finnhub is a brilliant choice to elevate your market performance.