Are you a passionate trader or a savvy analyst searching for a market data provider that caters to your unique requirements? With countless options at your fingertips, finding the perfect partner that delivers exceptional market coverage and top-notch data can seem daunting.
That's why I'm here to guide you! Boasting over a decade of trading and investing experience, I am excited to unveil Nasdaq Data Link, a market data titan that positions itself as the go-to source for financial, economic, and alternative datasets, and one that I use in my own algorithms.
In this comprehensive Nasdaq Data Link review, I'll dive deep into the essential aspects you must know about this powerhouse, from its extensive market data arsenal to its adaptable infrastructure.
Stay with me to uncover all the critical information necessary to decide if Nasdaq Data Link is the revolutionary resource you need to skyrocket your endeavors.
Nasdaq Data Link Key Features

Discover the power of Nasdaq Data Link and open up a treasure trove of exceptional features:
Access to a variety of market data: Unlock access to U.S. stocks and options, US and European commodities, Canadian equities data, and forex exchange rates for multiple currencies.
Accurate, dependable data: Gain access to the most accurate, up-to-date data in the market, empowering you to make lightning-fast, knowledgeable trading decisions.
Powerful API integration: Seamlessly integrate real-time data with a comprehensive suite of streaming and REST APIs.
After a thorough evaluation of these features (and more!), I've awarded Nasdaq Data Link an impressive 4.7 out of 5 stars.
This near-perfect score highlights the platform's exceptional capabilities while acknowledging its minor shortcomings. If you're seeking access to high-quality data from a top-tier marketplace, you'll want to check out Nasdaq's free and premium offerings right from their search page!
Curious about the nitty-gritty details of my best API for market data assessments? Dive into my all-encompassing Market Data API Buying Guide! It's packed with invaluable insights on the criteria and factors that shaped my evaluation, empowering you to make well-informed decisions tailored to your needs and preferences.
Nasdaq Data Link's API Integrations

Explore the API integrations employed by Nasdaq Data Link for seamless access:

Python
Quandl API
R
Excel
Ruby
How Nasdaq Sets Itself Apart from Competitors
Nasdaq Data Link stands out as a premier data marketplace, providing access to exceptional data that surpasses competitors in virtually every aspect, especially in terms of data coverage.
Through partnerships with thousands of databases, including industry leaders such as Sharadar (my personal choice for daily price and stock fundamental data), BarChart, and Zacks Investment Research, Nasdaq Data Link offers an extensive range of data.
Their databases provide comprehensive market coverage and propel Nasdaq Data Link to the forefront, making it the ultimate choice for discerning traders and analysts.
The data's remarkable latency and scalability also set a high benchmark in the market data industry. Offering lightning-fast access to the latest information, users can stay informed with minimal delay. Built to handle enormous volumes effortlessly, this robust infrastructure enables seamless processing of vast amounts of data without any issues.
It's rare to find a data marketplace that excels in all three critical categories – extensive market coverage, ultra-low latency, and unparalleled scalability. Nasdaq Data Link rises to the challenge and delivers impeccably, solidifying its position as a top contender for the best data marketplace.
Expert Opinions on Nasdaq Data from Industry Pros
But let's see what other financial experts think of Nasdaq Data and its offerings!
Take a look at Bedrock AI, a Toronto-based fintech firm that commends Nasdaq Data Link's Python modules and datasets, highlighting their benefits for professionals in the industry.

QuantInsti, an algorithmic trading education platform, also praises Nasdaq for offering clean data ideal for backtesting trading strategies.

Nasdaq Data Link Pros and Cons
Now let's dive into the essential pros and cons every trader must weigh before jumping on board with Nasdaq Data Link:
Nasdaq Data Link Pros
Unbeatable market coverage: Nasdaq Data Link is a marketplace that provides data unrivaled in coverage, delivering an extensive range of assets, countries, currencies, and alternative data.
Top-notch data quality: Harnessing the power of cutting-edge technology, Nasdaq boasts some of the industry's most reliable, real-time data.
Highly scalable APIs: Nasdaq Data Link uses powerful market data APIs, masterfully engineered to provide large volumes of real-time exchange data with unparalleled scalability.
Super low latency: Nasdaq showcases data with low latency to fuel your trading strategies with unmatched precision and accuracy.
Accessible interface: Nasdaq Data Link features a user-friendly interface that most traders and analysts will find easy to navigate.
Nasdaq Data Link Cons
Higher prices: Nasdaq Data Link ranks among the more expensive options in the data marketplace arena.
Limited customer support: With no live chatbot or call features, users can only get in contact with the Nasdaq Data Link team via email.
No master database: If you're using multiple Nasdaq Data Link databases, you'll need to create your own master list.
Pricing: Choosing the Right Dataset
Nasdaq Data Link offers a wide range of data access options for users. Their pricing structure is designed to cater to various needs, ensuring flexibility and convenience:
Free Datasets: Nasdaq Data Link offers a variety of free data sets on their website, allowing users to filter by asset class, data type, region, and publisher. Free datasets include real estate data, federal reserve data, consumer sentiment data, and much more.
Premium Datasets: Nasdaq also provides premium data sets that can be sorted using the same filters. The pricing varies depending on your chosen database. Premium datasets include retail trading data, Sharadar equity prices data, global economic data, and more.
See below to check out how their library of free and premium databases looks: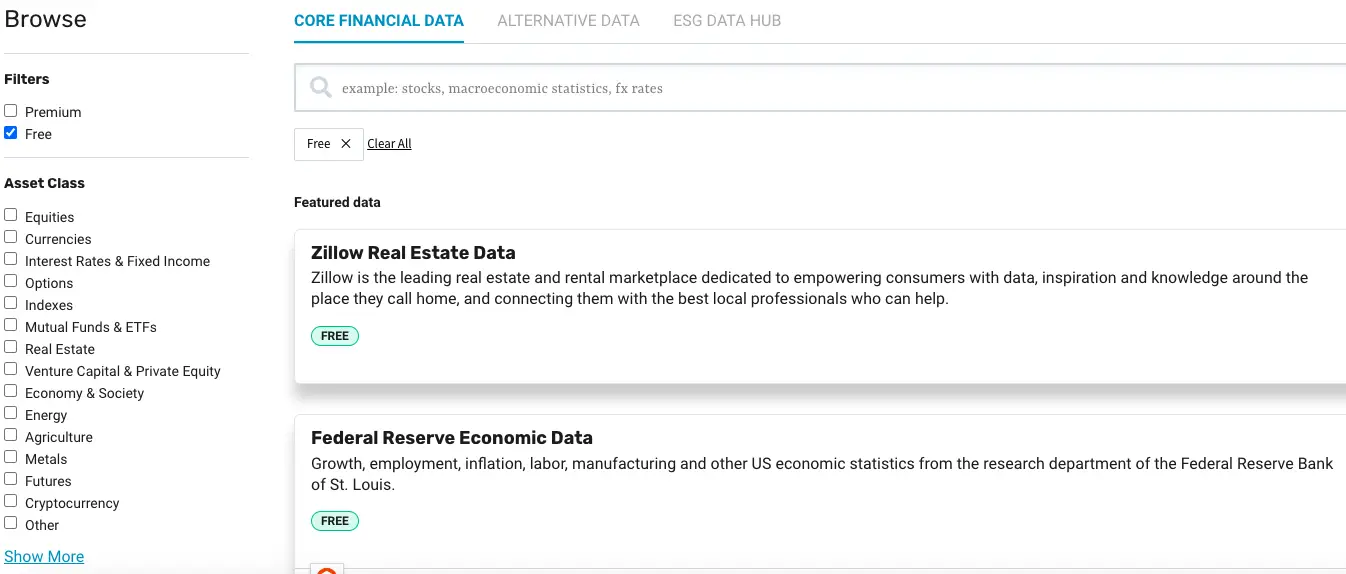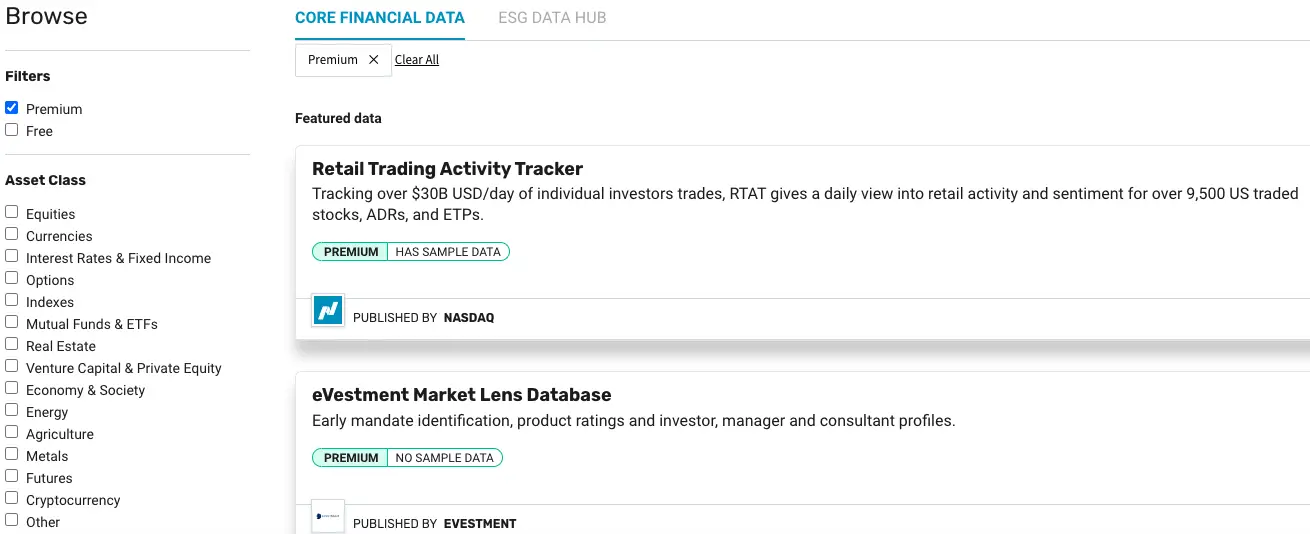 A Guide to Getting Started with Nasdaq Data Link
Are you interested in harnessing the power of Nasdaq to tap into Sharadar's top-notch data, but feel lost about where to begin? Fear not! My Nasdaq Data Link | Quandl Python API Guide is here to save the day. I'll be your trusty companion as we delve into the world of Nasdaq Data Link API, revealing how I expertly utilize data from the Sharadar database to supercharge my analysis.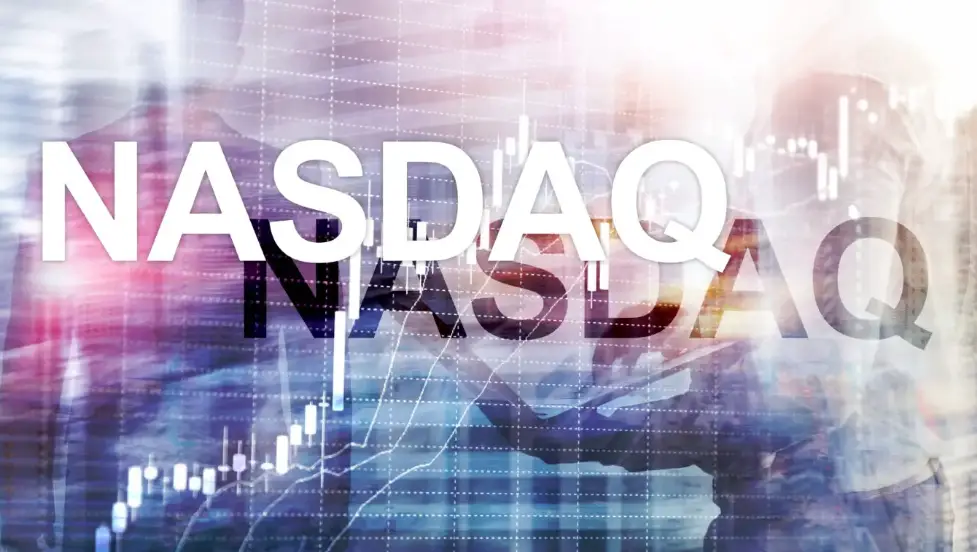 Together, we'll explore the advantages and drawbacks of using this powerful API, unravel the installation process, and give you a step-by-step walkthrough on navigating the treasure trove of available data sets.
By the time we're done, you'll be armed with the knowledge and tools to seamlessly integrate this data into your market research, propelling you toward trading mastery.
Nasdaq Data Link's Customer Support and Resources
Nasdaq Data Link offers a dedicated contact page, featuring their email address for users who may have inquiries or concerns. You can anticipate a thoughtful response from their customer support team in about two days.

The reason it takes a little longer than other platforms is that it's a data marketplace and often has to get in contact with the data provider to resolve issues.
And even though they say two business days, my tickets typically take less than a day.
See my support ticket from 2020 asking for Sharadar's corrections schedule. Overall, it was a fantastic experience.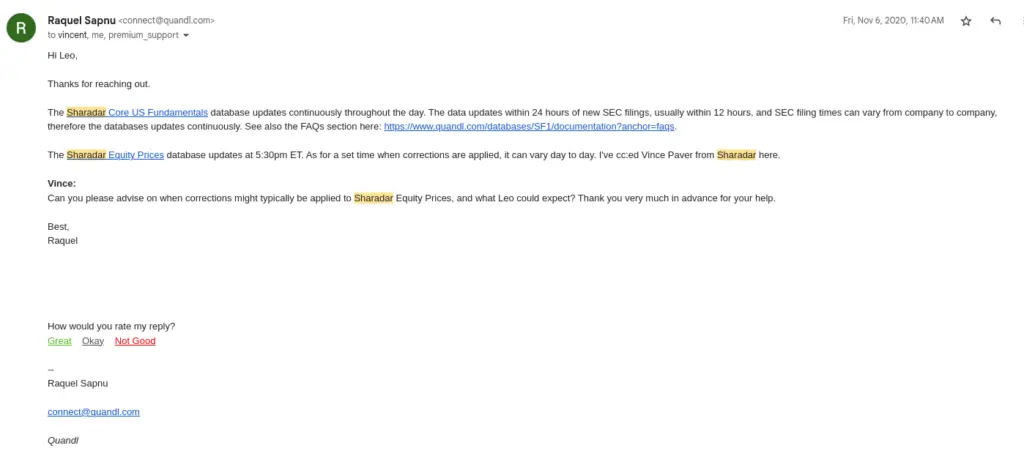 However, Nasdaq Data Link also provides a comprehensive Docs & Help page, where you can access detailed API documentation, dive into the Help Center for answers to common questions, or contact the sales team about pricing and subscriptions.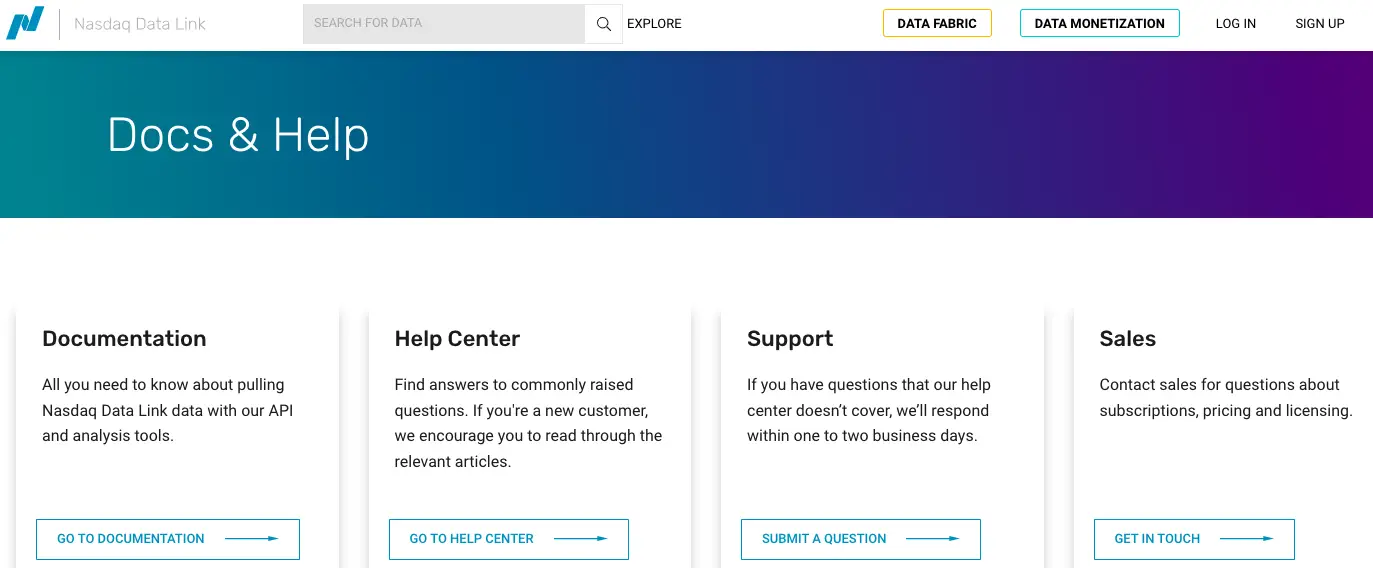 But wait, there's more! Traders can also dive into Nasdaq Data Link's Resource Hub, where the team has curated a treasure trove of vital information on crucial topics.
While customer support might seem somewhat limited, it's refreshing to see that Nasdaq Data Link compensates with a wealth of valuable resources to empower users.
But if I were to suggest one area for improvement, it would be for Nasdaq to cultivate more of a community among their traders and quantitative analysts.
Imagine the possibilities if they launched a Discord channel or a similar platform for networking and collaboration. Nonetheless, I'm impressed with the wealth of resources this company provides its customers.
Community Insights: Real Experiences from Nasdaq's Users
Now let's explore the real-life experiences of users who've harnessed the power of this cutting-edge market data platform!
One Reddit trader recently raved about Sharadar data on Nasdaq Data Link, calling it a massive, comprehensive treasure trove free from survivorship bias.

Arjun on Twitter also appreciates Nasdaq's databases, placing them at the top of his list for ML projects.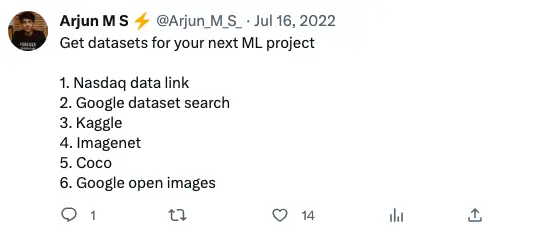 While Nasdaq Data Link has its merits, it's not without some hiccups. One Reddit user shared their struggles with obtaining subscription price quotes for an extended period. Fortunately, they managed to connect with a sales rep who swooped in to save the day and resolve their issues.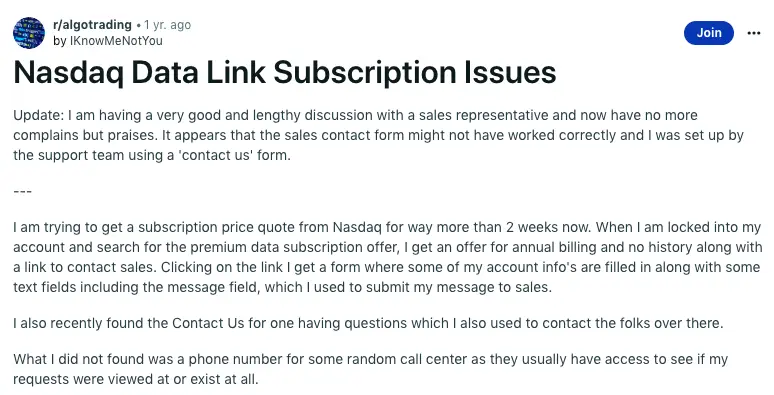 While no market data company is flawless, Nasdaq Data Link appears to be remarkably close!
Elevate Your Trades with Nasdaq Data Link
So why wait any longer? Elevate your trading game by checking out the Nasdaq Data Link marketplace today to find some of the fastest, most comprehensive market data in the industry.
Or are you still unsure if Nasdaq Data Link is the perfect option for you? No worries! Sign up for a free trial and explore the possibilities before taking the plunge!
Frequently Asked Questions (FAQ)
Now let's answer some burning questions traders frequently ask about Nasdaq Data Link!
Is Nasdaq Data Link free?
Nasdaq Data Link offers a free-to-use Python package, granting users access to all free datasets. Just load the Nasdaq Data Link Data directly into Python and gain insights into the complementary financial and economic database.
How can I get real-time data from Nasdaq?
Does Nasdaq Data Link cover delisted stocks?
The U.S. Sharadar Equity Prices and International Stock data feeds cover delisted stocks.
Does Nasdaq Data Link have Bitcoin or blockchain data?
Yes, Nasdaq Data Link provides data feeds for Bitcoin and other cryptocurrencies. They offer free and premium data sourced from blockchain technology.
Where can I find my Nasdaq Data Link API Key?
If you have a Nasdaq Data Link account, you can locate your API key by signing in and navigating to your Account Settings.
Market Data Industry: How Nasdaq Adapts to Trends & Challenges
The market data landscape is in a constant state of flux, with emerging trends and challenges pushing market data marketplaces to evolve and innovate. Customers now crave extensive global market data, lightning-fast speeds, and coverage of burgeoning digital assets like cryptocurrency.
Nasdaq Data Link has risen to these challenges, offering unparalleled global market coverage and blazing-fast data delivery that leaves competitors in the dust. This potent combination of comprehensive data and low latency has cemented Nasdaq Data Link as the go-to choice for discerning traders and analysts seeking reliable, up-to-the-minute market information.
But Nasdaq Data Link doesn't stop there; they've also embraced the cryptocurrency revolution, providing crucial data on digital assets to satisfy the growing appetite for crypto insights. This ensures traders and analysts can access all the data they need on traditional and digital assets, all in one convenient platform.
By masterfully adapting to industry trends and challenges, Nasdaq Data Link has established itself as a vanguard in the market data realm, delivering an unrivaled data source for traders and analysts across the globe.
I mean they're owned by Nasdaq, right?
Conclusion: Elevate Your Game with Nasdaq Data Link
As a seasoned Quandl, now rebranded to Nasdaq Data Link, user I can vouch for its exceptional performance in delivering access to vital company fundamentals through Sharadar. After thoroughly examining numerous market databases, I've found that Sharadar outshines competitors, providing accurate and comprehensive financial data.
Offering access to data with unbeatable market coverage, lightning-fast speeds, and unwavering data precision, Nasdaq Data Link stands as a premier marketplace for traders and quant analysts seeking trustworthy information. Get ready to be inspired and energized by the unparalleled insights Nasdaq Data Link has to offer!
Don't wait another minute – join Nasdaq Data Link now, and ignite your trading journey with the best in the business!