Are you a trader or quant analyst searching for the freshest market data without breaking the bank? It's a real jungle out there, with every market data API claiming to be the best. So, how do you navigate this labyrinth and find the one that truly fits your needs?
Fear not, for I'm here to guide you! With over a decade of trading and investing, I've tested the top market data APIs to unearth the real gems.
In this Alpha Vantage review, we'll delve into the heart of this data provider, dissecting its pros, cons, and most notable features. Stay tuned for a thrilling deep dive into Alpha Vantage, and get ready to elevate your trading game to unimaginable levels!
Alpha Vantage Key Features

First, let's dive into Alpha Vantage's stand-out features:
All U.S. stocks plus hundreds of forex, commodity, and cryptocurrency data feeds: Alpha Vantage provides easy access to multiple financial databases featuring a range of information on essential assets.
Real-time and historical market data APIs: This platform offers financial market data via high-quality, user-friendly data APIs and spreadsheets.
Affordable pricing and free access: Alpha Vantage allows traders and analysts to access most of their API endpoints at no cost.
After a thorough evaluation of these features (and more that we'll discuss), I've ranked Alpha Vantage with a score of 4.4 out of 5. This decent score reflects the provider's stellar API and unbeatable cost-effectiveness while acknowledging room for growth.
Are you curious about how I dissect and rank data providers? Dive into Analyzing Alpha's Market Data API Buying Guide, where I explain the categories I scrutinize to uncover the market's most outstanding APIs.
Alpha Vantage API Integration
So what sticks out about Alpha Vantage APIs? Well, first off, Alpha Vantage's powerful stock API is grouped into the following convenient categories:
Core time series stock data APIs
Alpha Intelligence
Fundamental data
Physical and digital cryptocurrencies
Commodities
Economic indicators
Technical indicators
They've crafted a suite of Alpha Vantage APIs, each delivering a range of data – daily, weekly, monthly, or intraday, spanning the globe. Their official API documentation page is a treasure trove of information, detailing every one of their API offerings, including but not limited to:
And what's more is, their open-source API community has created over 600 wrappers and libraries, which I highly recommend checking out. Plus, Alpha Vantage offers dynamic spreadsheet plugins for those who prefer to analyze their data through Excel or Google Sheets.
Overall, I've found that Alpha Vantage's market data REST API isn't just user-friendly; it's a game-changer that caters to all types of traders and analysts.
Alpha Vantage Pros & Cons
While testing Alpha Vantage, I've compiled a comprehensive list of its strengths and weaknesses. Let's dive in!
Alpha Vantage Pros
Fantastic stock APIs: Discover the power of cutting-edge APIs, effortlessly delivered in intuitive JSON and CSV formats.
Access to free market data: Thanks to Alpha Vantage's generous free datasets, you don't need to spend a dime to tap into essential financial data.
Great scalability: Make 5 API requests every minute, or even 500 API requests daily. If you need more, upgrade to the premium plan and unlock the API's full potential.
Helpful educational resources: Learn how to interpret financial data and navigate stock portfolio construction with the Alpha Academy.
Access to cryptocurrency data: Stay ahead of the curve and seize the latest data on your beloved digital assets, including Bitcoin.
Alpha Vantage Cons
Not the fastest speeds: Other data market APIs have lower latencies, which means Alpha Vantage doesn't retrieve data as quickly as some competitors.
Limited market coverage: While you can access data for multiple asset classes, some limitations exist.
Data accuracy needs improvement: Alpha Vantage has competitors who offer more accurate, up-to-date financial data.
How Alpha Vantage Separates Itself From Competitors
Despite its flaws, Alpha Vantage stands out in the crowded market data API landscape by offering a treasure trove of free data. This exceptional feature is a game-changer, which is why I've rated Alpha Vantage a well-deserved 4.8 for pricing. Compare it to other market data providers like Nasdaq Data Link, who offer high-quality data but at a price that'll hurt your wallet.
But it doesn't stop there. Alpha Vantage also delivers some of the highest-quality APIs, earning itself another impressive 4.8 rating for usability. These APIs aren't just user-friendly; they're available in highly intuitive JSON and CSV formats, making it a breeze for users to integrate the data into their applications or analysis tools.
It's not every day you find such seamless API integration paired with groundbreaking prices. This unbeatable combination of affordability and top-notch APIs positions Alpha Vantage as a truly unique and invaluable resource for individuals in need of financial market data.
Expert Views on Alpha Vantage: Opinions from Industry Pros
But do industry experts agree that Alpha Vantage is a solid choice? The answer is yes!
Take it from Ayush Thakur, a web developer who passionately champions Alpha Vantage as the unrivaled leader among free APIs.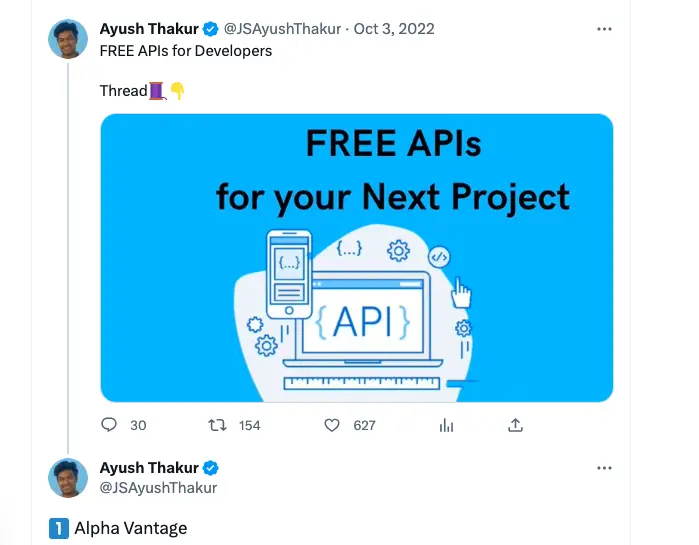 Clearly, Alpha Vantage stands out even among professionals who need to access critical data daily.
Pricing: Get Free Data with Alpha Vantage
As I've mentioned, most of Alpha Vantage's data is yours to explore free of charge. But if you need more API requests than the free API key permits, I recommend choosing one of their premium monthly plans.
The premium packages are priced from $49.99 to $249.99. As shown in the image below, each tier features a unique suite of benefits and extensive databases: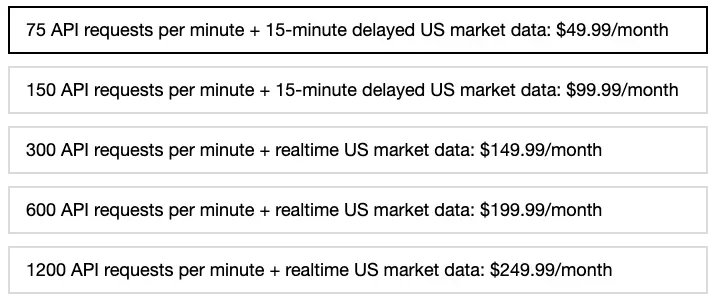 But there's more! Users can also sign up for Alpha X Terminal, a proprietary browser-based platform designed to help them visualize market trends and stay in the know about economic news. And the great news? It's free to anyone who signs up!
Overall, I've found that Alpha Vantage's competitive pricing is hard to beat, especially with the option to access most types of data for free.
A Guide to Getting Started with Alpha Vantage
Are you ready to dive into Alpha Vantage but hitting a few roadblocks? Fear not! I've tested Alpha Vantage with Python myself to see exactly how this API works. And for your convenience, I've made a comprehensive Alpha Vantage API Python Tutorial to guide you through your journey.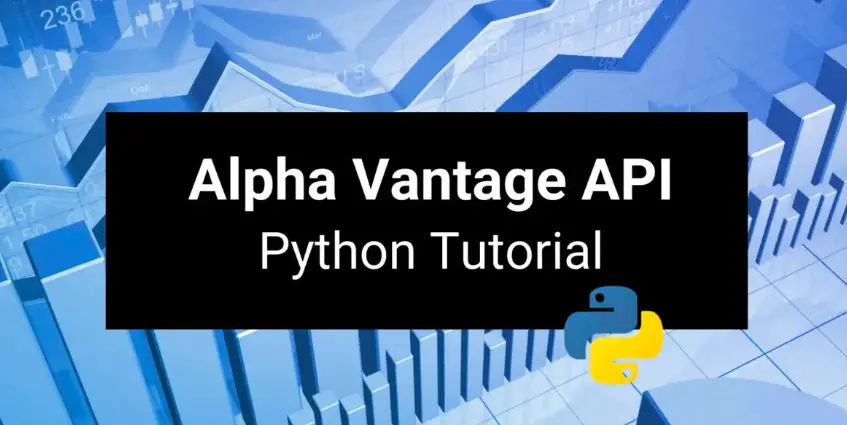 In the tutorial linked above, we'll unravel the mysteries of Vantage's API endpoints, explain how to access your API key, and master the art of data retrieval. By the end, you'll be weaving through Alpha Vantage's API and dissecting data like a seasoned pro!
Alpha Vantage's Customer Support and Resources
Still have questions about how to master Alpha Vantage's API? You're in luck! Their customer support page guides you on how to access API keys and tackles users' frequently asked questions.

And if you ever need to contact the Alpha Vantage team directly, you can email them at  support@alphavantage.co. I appreciate that this platform provides a way to connect with the team for specific inquiries, but I also wish they offered a phone number or live chat feature for instant responses.
But now let's talk about this company's educational resources! Alpha Vantage offers the Alpha Academy – a constantly growing treasure trove of educational content. Whether you're a savvy trader or a brilliant quantitative analyst, the Alpha Academy has you covered.

You can dive into blogs about quantitative trading and investing, machine learning, software development, and blockchain technology, all brought to you by industry gurus. The Academy is a feature I really appreciate about Alpha Vantage, as it offers more educational content than many other data providers on the market.
Community Insights: Real Experiences from Alpha Vantage Users
But I'm not the only one with insights on Alpha Vantage. Let's dive into the minds of other traders and researchers to see their take on this market data API!
One Reddit user appreciates Alpha Vantage's data trove, mentioning the convenience of accessing European stock prices.

Another Reddit user recently praised Alpha Vantage for helping them with their project, citing the accuracy of the data and the seamless configuration process. However, they did have some questions about its integration with Google Sheets.

Naturally, not every review is positive. One discerning Reddit user highlights that Alpha Vantage data isn't always spot-on.

Another Reddit user expressed disappointment over a trend they've noticed – previously free APIs are now tucked away behind premium plans.

Of course, choosing the ultimate data provider is all about weighing the various pros and cons. But if you're hunting for free access to core data and crave the smooth operation of seamless APIs, I find that Alpha Vantage remains a solid choice.
Experience High-Quality APIs with Alpha Vantage
Intrigued by Alpha Vantage? I know the feeling! Grab your free API key today or level up with premium data today.
You'll marvel at the seamless, cost-effective data access this platform provides. Register now and say goodbye to overpriced data forever!
Frequently Asked Questions (FAQ)
Now, let's tackle users' most common questions about this API to help you decide if it's your perfect match!
What are the usage/frequency limits for Alpha Vantage's API?
Free users can make 5 API requests per minute and 500 per day. You can also sign up for premium membership for a larger API call volume.
How far back does Alpha Vantage historical data go?
Alpha Vantage provides 20+ years of historical data.
Is Alpha Vantage completely free?
Most of the data is available at no cost, however, users can subscribe to a premium plan for access to additional data and an increased number of requests.
Is Alpha Vantage safe?
Yes, Alpha Vantage's realtime and 15-minute delayed U.S. data is regulated by FINRA and the SEC.
Market Data Industry: Alpha Vantage vs. Trends & Challenges
As industries evolve, companies must stay on their toes, adapting to fresh trends and hurdles to remain competitive. The market data API industry is no exception, and Alpha Vantage is nailing the art of evolution.
One significant trend shaking the financial world is the explosive rise of digital assets, most notably cryptocurrency. This digital gold rush has rewritten the rules of finance, and Alpha Vantage has been quick to respond. They've woven crypto databases into their offering, empowering users to analyze crypto data easily. It's a golden ticket in this rapidly changing financial landscape.
But where Alpha Vantage really shines is its masterful development of top-tier APIs, allowing users to mesh Alpha Vantage's data with a range of extensions and plugins. And the best part? Most of these services won't cost you a dime. This is a rare gem in the industry and a testament to how Alpha Vantage is not just keeping pace but blazing trails in reshaping the market data API industry.
Conclusion: Strengthen Your Trades with Alpha Vantage
Overall, I've found that Alpha Vantage's market data APIs are some of the best in the industry. Their flawless integration and budget-friendly options make this data platform a top-notch choice for traders and analysts searching for core data.
Leveraging Alpha Vantage has helped keep me in tune with the pulse of the market, empowering me to execute trades based on insightful, data-driven trends. It's like having a secret weapon in my trading arsenal, fueling my decisions and igniting my success.
However, I'd be thrilled to see them expand their market coverage and offer lower latency; if speed in data access is your top priority, then Alpha Vantage might not hit the mark. Yet, in my opinion, the value they currently offer is truly impressive. So, don't just sit there! Seize this opportunity to sign up for Alpha Vantage and tap into incredible APIs.