Choosing the right data provider is crucial for traders and analysts seeking high-quality, lightning-fast market data. But with countless options out there, all boasting impressive features and varied pricing, it's not easy to find the perfect one for you.
Well, don't worry! As a seasoned trader with 15 years of experience, I've tested the top market data APIs to identify the cream of the crop. And in this IEX Cloud review, we'll explore what sets this data-providing powerhouse apart from the competition.
Get ready for an in-depth analysis of IEX Cloud's robust API infrastructure, jaw-dropping low latency, and more! By the end of this IEX Cloud review, you'll clearly understand whether or not IEX Cloud lives up to the hype.
IEX Cloud Key Features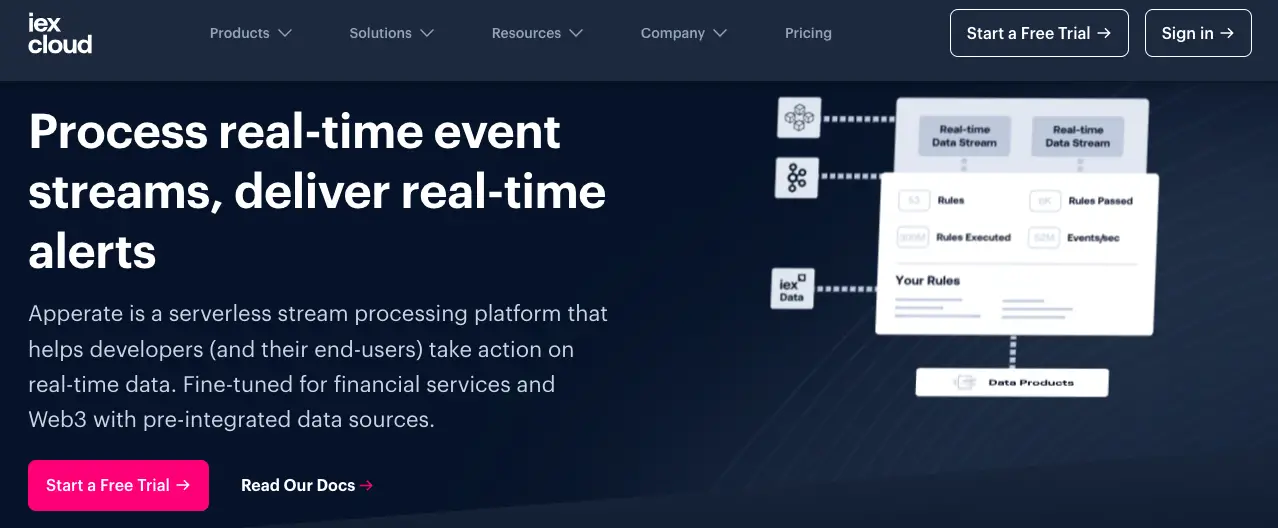 First, let's dive deep into the powerhouse that is IEX Cloud and unravel its key features. This data API titan offers:
All U.S. stock exchanges, 14 international stock exchanges, 50+ forex currency pairs, 7 commodities, and options: IEX Cloud offers you unparalleled access to a diverse range of asset types spanning across U.S. and international markets.
Powerful REST APIs: This data platform uses dynamic market data REST API to revolutionize how you access institutional-grade real-time data.
Incredibly low latency: IEX Cloud delivers a powerful data infrastructure that's up and running in minutes, empowering you to make intelligent trades without the agonizing wait.
After thoroughly examining IEX Cloud, I've awarded this data provider a remarkable 4.6 out of 5. This impressive score highlights their exceptional APIs, as well as areas where they could further improve their offerings. For a comprehensive understanding of my market data API evaluation process, don't miss my insightful Market Data API Buying Guide, where I rank the best stock market data APIs.
IEX Cloud API Integrations
I'm genuinely blown away by IEX Cloud's market data APIs! The IEX Cloud API boasts a REST-based foundation, embraces resource-driven URLs, delivers JSON-encoded responses, and employs standard HTTP response codes. You can even customize your data in different ways, like creating SQL Views to generate customized APIs.
The official API integrations IEX Cloud offers include:
However, you can also access unofficial community libraries and applications, which include:
WebAssembly
C#
HTML S
Excel
Go
R
With these cutting-edge API integrations, you'll experience seamless access to IEX's data like never before.
IEX Cloud Pros and Cons
After testing IEX Cloud's API, I've discovered some pros and cons that you'll want to know about.
IEX Cloud Pros
Unbeatable API integration: Unlock the power of top-tier APIs with IEX Cloud, leveraging the simplicity of REST for seamless data access.
Lightning-speed data access: Experience the thrill of obtaining the data you need faster than ever, courtesy of IEX Cloud's astonishingly low latency.
Super affordable pricing: Discover the power of incredible APIs and fast data retrieval without emptying your wallet, all thanks to IEX Cloud's reasonable pricing.
Scalable infrastructure: Access a whopping 1,500 data requests per second with the Enterprise Plan.
Access to a Coinbase connector: While IEX does not offer crypto endpoints, you can still get data for your favorite digital assets via their Coinbase connection.
IEX Cloud Cons
Occasional data inconsistencies: While IEX Cloud's data is generally reliable, some users have reported discrepancies that could potentially impact your analysis.
Limited international market data: The API focuses primarily on U.S. markets, leaving global traders craving more.
Not the best customer support:  Some users have expressed concerns about delays in customer support response times and challenges in resolving technical issues.
How IEX Cloud Separates Itself From Competitors
IEX Cloud sets itself apart from other data providers by offering some of the best APIs in the industry. Not every data provider employs clean REST APIs, which in my opinion, are among the most efficient and user-friendly options for seamless data access. This is a significant advantage for IEX Cloud, as their excellent APIs make it easier for users to access data without any hassle. In fact, that's why I've ranked IEX Cloud an impressive 4.8 out of 5 for its usability.
Another way IEX Cloud sticks out from the crowd is by delivering lightning-fast data speeds. In the high-stakes world of trading, every second matters, and waiting a long time for data retrieval can be frustrating. But thanks to IEX Cloud's ultra-low latency, users can swiftly access vital information, unlike Intrinio's and Tradier's users who experience longer wait times. That's why I've awarded IEX Cloud a stellar 4.8 rating for latency.
Last but not least, IEX Cloud's pricing is another aspect that makes it unique. Users can enjoy the best market data APIs at high speeds without going bankrupt. This combination of top-notch features and affordability makes IEX Cloud an attractive option for traders and analysts alike, which is why I've awarded it a 4.8 in the pricing category.
Expert Views on IEX Cloud: Opinions from Industry Pros
Curious about what other experts have to say about IEX Cloud's offerings? Let's dive into some insightful reviews!
Former Senior quantitative researcher Piotr Pomorski has praised IEX Cloud, enthusiastically recommending it as a top-notch choice for traders searching for reliable, high-quality data.

Thomas Dadmun, the visionary founder of Point Focal, reveals how IEX Cloud has revolutionized the market data landscape, giving it an edge over competitors.

By now, you're probably curious about the cost of accessing IEX Cloud's API, right?
Pricing: Picking the Right Plan For Your Data Needs
IEX Cloud currently presents you with three different pricing plans to choose from:
Launch Plan: Pay-as-you-go pricing, access up to 1 GB of storage, five active rules, 2 API tokens, and 20 custom databases
Grow Plan: Up to 250 GB of storage, unlimited active rules, up to 50 API tokens, 1,000 custom datasets, and SSE streaming
Enterprise Plan: Private contracts with custom terms, annual invoicing, and premium support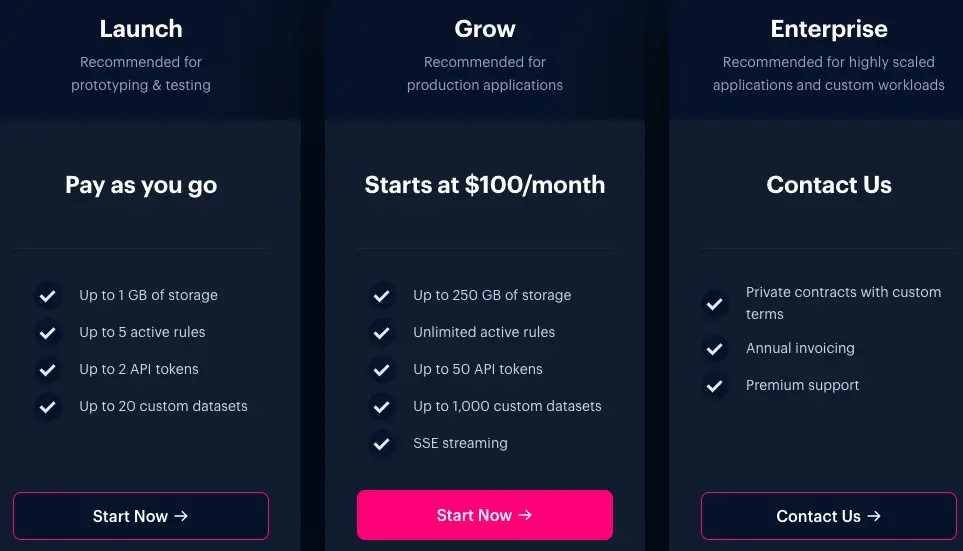 Overall, I find IEX Cloud's pricing structure to be affordable, delivering outstanding value for your investment. The customizable pricing enables you to craft a plan that perfectly aligns with your usage and specific requirements.
Moreover, IEX Cloud offers a diverse range of expansion plans and data bundle add-ons, such as bids, asks, last trades, historical tick data, equities market data, fundamentals, and more. These add-ons are priced between $50-1,500, allowing you to choose the datasets that suit your needs best.

With a plethora of options and the freedom to create a tailored solution, IEX Cloud stands out as a remarkably cost-effective and powerful resource for accessing financial data.
A Guide to Getting Started with IEX Cloud
Are you excited about diving into IEX Cloud but unsure where to start? Fear not, my friend!
I've harnessed the power of IEX Cloud data through Python, enabling me to tap into real-time data, dissect trends, and make more informed trading choices.  And today, I'm here to guide you on your own journey. In my IEX Cloud Python Tutorial, I'll walk you through the process of setting up and accessing the data you need.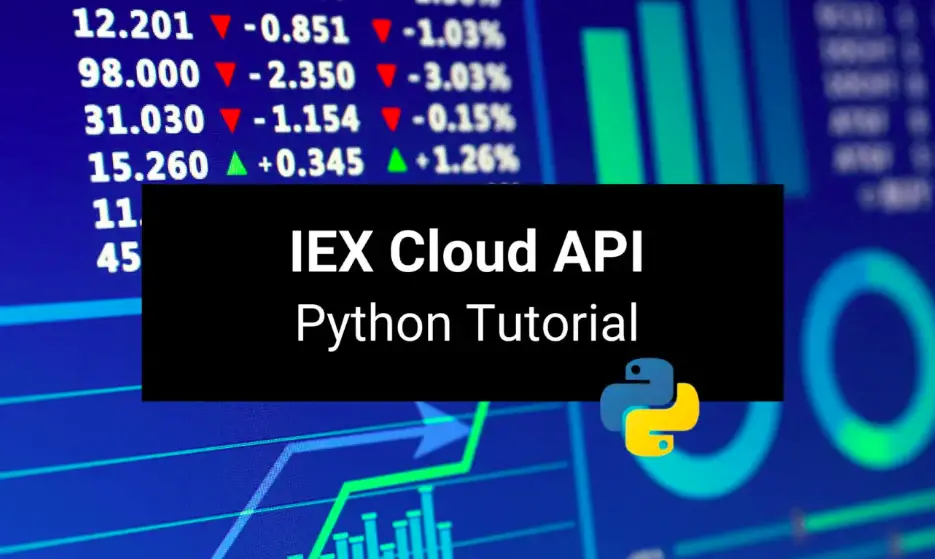 Together, we'll unlock the secrets of obtaining an API key, installing the PyEx Library, and working with the data once it's been retrieved. By the end of this tutorial, you'll discover that tapping into the immense power of IEX Cloud's financial data using Python is an absolute breeze.
IEX Cloud's Customer Support and Resources
If you're using IEX Cloud and need a helping hand, don't worry! IEX Cloud has your back with a comprehensive Support page filled with FAQs to answer questions about pricing, the Apparate API, and everything in between.

The Support page also offers invaluable guidance on utilizing the IEX Cloud API Reference to explore financial data endpoints and services, as well as a handy guide on navigating Apparate Docs.

You can also dive into their Platform Overview to discover how to harness the power of the iex.js Client Library for JavaScript, stay updated on major releases, and monitor the status of the IEX Cloud. This level of support truly makes you feel like IEX Cloud is there with you every step of the way, ensuring you don't just sink in their vast ocean of data.
What's more, IEX Cloud genuinely values your input with its Product Release Roadmap. Here, you can submit your innovative ideas and vote for new features, giving you a sense of ownership and pride in shaping the platform's future.

And finally, if you have any lingering questions that the Support page can't answer, IEX Cloud offers the option to email their support team directly. However, many users have complained that IEX Cloud offers lousy customer service, so you may have to wait a while to hear a response.
Community Insights: Real Experiences from IEX Cloud's Users
Let's dive into the opinions of other IEX Cloud users and see what they have to say about their experience!
One Redditor from the r/Algotrading subreddit shared that after exploring multiple platforms, they discovered IEX Cloud to provide the most extensive data and superior API without breaking the bank.

A professor on Reddit also endorsed IEX Cloud, revealing that their students successfully utilized this platform to access historical data. The professor even denounces the idea that IEX features incorrect data.

But while IEX Cloud has its fair share of enthusiasts, it's not without its critics. Many have voiced concerns and highlighted areas where the platform could level up.
Take this Reddit user, for example, who is a fan of IEX Cloud, but highlights some of its drawbacks, such as the need to be mindful of data consumption and the initial difficulty of understanding its TA data.

Another Reddit user expressed their dissatisfaction after a one-month trial of IEX Cloud. They found the platform's flexible pricing models to be confusing and even claimed its fundamental stock data was incomplete.

However, in my experience, IEX Cloud's data features acceptable accuracy, earning it a solid 4.4 rating in that department. While there's always room for improvement, it's essential to recognize how IEX Cloud's outstanding performance in API usability, latency, and pricing, more than makes up for any small inconveniences.
Access Top-Notch APIs with IEX Cloud
So, you're intrigued by IEX Cloud and its offerings? I can't blame you! Why not take their stock data APIs for a spin with a seven-day free trial?
You'll quickly discover just how swift and seamless accessing data can be on this platform. Sign up now; you'll never be left hanging for data again!
Frequently Asked Questions (FAQ)
Now let's answer users' frequently asked questions about IEX Cloud!
What are the limits of IEX Cloud API?
Launch Plan: 5 requests per second
Grow Plan: 200 requests per second
Enterprise Plan: 1,500 requests per second
Why do I need to pay for NASDAQ UTP data?
While Investors Exchange is free, IEX Cloud also gives you access to data from sources like UTP data for Nasdaq-listed stocks. Nasdaq UTP, as the sole owner of this data, sets the price and usage terms, so IEX Cloud must comply with these regulations.
How do I get data on the S&P 500 with IEX Cloud?
Information on the S&P 500 is currently unavailable on IEX Cloud and will likely remain unavailable due to its high prices.
What are alternatives to IEX Cloud?
Who owns IEX Cloud?
A fintech company called IEX Group owns IEX Cloud.
Market Data Industry: IEX Cloud vs. Trends & Challenges
In today's fast-paced world, the market data API industry is undergoing rapid transformation, with data-seekers craving comprehensive coverage for emerging assets on a global scale. Gone are the days when users would settle for subpar APIs and infrastructure.
Fortunately, IEX Cloud has adapted to these evolving demands by granting users access to their extensive Core Data in mere minutes through a single, cutting-edge API. This is the industry's first to provide such a feature, entirely transforming the financial data market by making data retrieval more convenient.
Their market data API is not only among the best in the industry, but it delivers a wealth of data at lightning speed, thanks to its unparalleled latency. While they don't offer crypto yet, IEX Cloud lets you connect to a Coinbase database to access real-time prices on your favorite digital assets, including Bitcoin, Ethereum, and more.
These game-changing innovations are precisely what market data APIs need to embrace in order to thrive in the future and remain at the forefront of industry trends. By offering top-tier APIs, diverse data coverage, and blazing-fast latency, IEX Cloud is setting a lofty benchmark for competitors to chase.
Conclusion: Optimize Your Trading with IEX Cloud
Overall, IEX Cloud's market data APIs are nothing short of phenomenal. Their seamless integration, lightning-fast performance, and wallet-friendly pricing make this data platform a top contender in the industry. While there's always room for improvement, IEX Cloud's overall functionality left me thoroughly impressed, and I found it a breeze to use with Python for data access.
If you're a trader or analyst seeking a robust and efficient platform, look no further. IEX Cloud's services are worth exploring to see if they're the perfect fit for your needs. Don't let this opportunity to elevate your trading game pass you by – sign up for IEX Cloud today and enjoy some of the best APIs in the market!