The 5%ers prop firm is the best choice for forex traders seeking a low-risk platform to help them grow their skills and access substantial capital. With instant funding options, unbelievable growth plans, and up to 100% profit splits, it's no surprise that I've rated the 5ers a solid 4.2 out of 5.
So if you're ready to break into the market and grow your way to success, it's time to check this prop trading firm out. In this 5%ers prop firm review, I'll explain its pros, cons, and provide a comprehensive breakdown of all the details you need to know. Learn how signing up with this proprietary trading firm can skyrocket your career (and bank account) today!
What Is the 5%ers?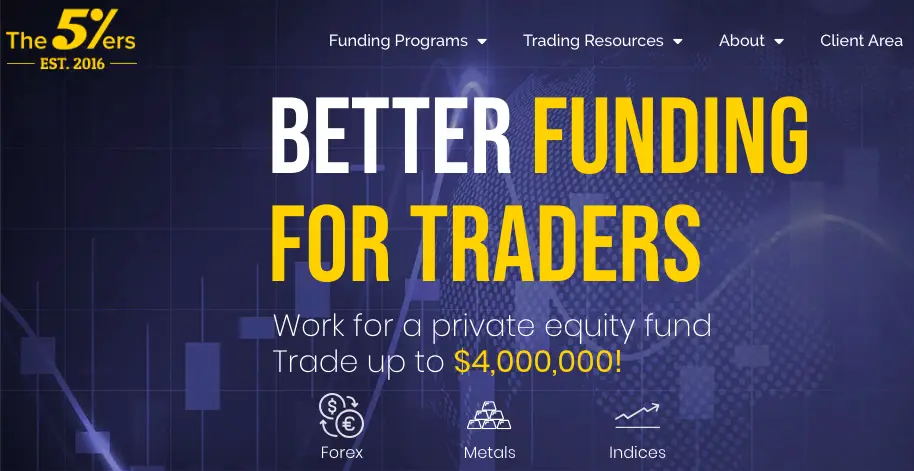 The 5%ers is a prop trading firm and growth program designed to fund profitable traders and enhance their careers. The company provides traders with capital for trading forex, metals, and indices. They take the entire risk for trading losses, so traders don't have to worry about gambling away their own funds.
With The 5%er's hyper-growth scaling plan, traders can quickly boost their capital levels and make a career for themselves as professional traders.
Who Founded The5ers?
Gil Ben Hur is the founder and CEO of The 5%ers; he's been trading in the forex market since 2007. Drawing from his wealth of experience with professional forex traders, Gil crafted a revolutionary prop firm. His vision? To forge a platform that fuels career growth for traders. Here, traders can master the skills necessary to excel and rapidly amass substantial capital.
How the 5%ers Works
Let's discuss the different funding programs The 5%ers offers its traders.
Bootcamp Program
The Bootcamp Program is a low-cost entry program where traders can prove their trading skills to get funded. Traders who sign up for the Bootcamp Program can choose between two trading account sizes: $100K or $250K.

After signing up, you'll receive a demo account where you must pass three challenge phases, as shown below. You'll need to reach a 6% profit target and stay below a 5% maximum loss to pass the challenges.

After getting funded, you can work your way up to keeping 100% of your profits. If you consistently reach the 5% profit target while keeping your losses below 4%, you'll gain access to huge amounts of capital in no time.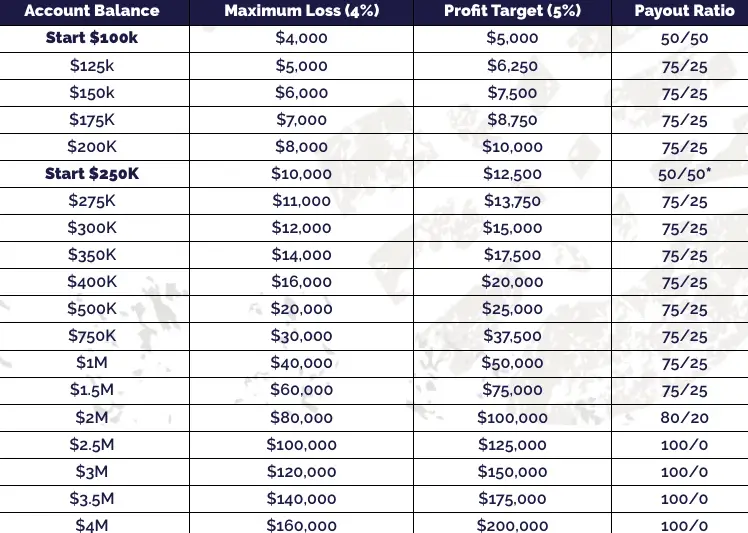 Here are the guidelines you'll have to keep in mind if you sign up for the Bootcamp Program:
Abide by the balance-based absolute drawdown
No minimum trading days or trades required
Leverage: 1:10
5% profit target
News trading is permitted
Hold open trades overnight and over the weekend
Unlimited time
In my experience, the Bootcamp Program is an excellent choice for disciplined and consistent traders. No matter your trading style, you'll enjoy the extended time you have to pass the evaluation.
Hyper Growth Program (Instant Funding)
The Hyper Growth Program (the instant funding option) has the highest success rate in the industry, allowing you to trade with no time crunch and manage up to $4,000,000. It's an excellent option for experienced traders with a proven trading strategy seeking instant funding.
As shown in the screenshot below, the Hyper Growth Program provides three plans for you to choose from, ranging from $10-40K.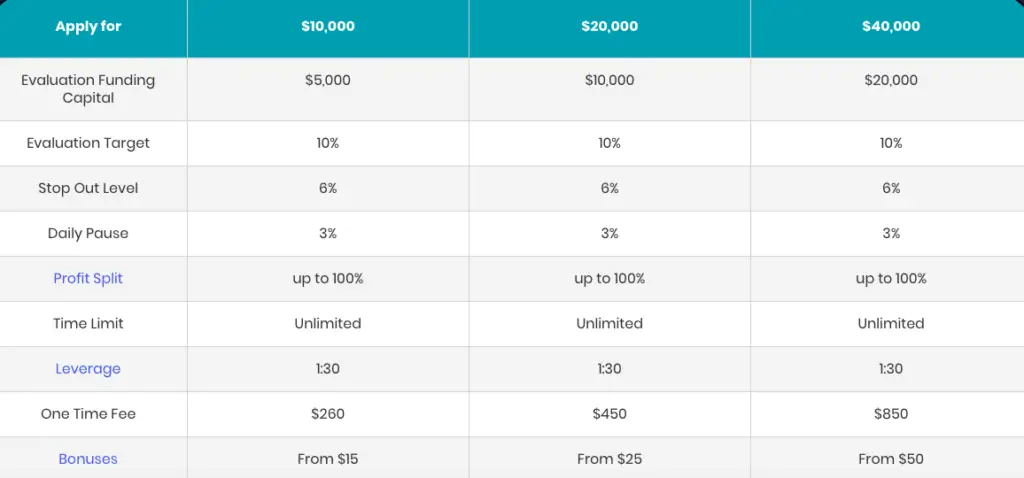 Now let's break down how a funded account with the Hyper Growth Program works:
Double your trading account by meeting 10% profit targets
Abide by the balance-based absolute drawdown
No minimum trading days required
News trading is permitted (hold open trades overnight and over the weekend)
Leverage: 1:30
Profit split up to 100%
Bonuses for each step
After putting it to the test, I've found that the Hyper Growth Program is best for more experienced traders seeking instant funding.
The High-Stakes Reward Program
The High-Stakes Program is ideal for confident traders looking for the best growth plan available. You'll have to pass a two-step evaluation process on a demo account to access a fully funded account. The four account size options range from $5K, $20K, $60K, or $100K.

Here are what the rules for High-Stakes Program look like:
Unlimited time
Leverage: 1:100
Be profitable for a minimum of 30 days
No minimum trading days or trades required
News trading is permitted (hold trades overnight and over the weekend)
Adhere to the balance-based maximum daily drawdown
Scale up to 100% profit shares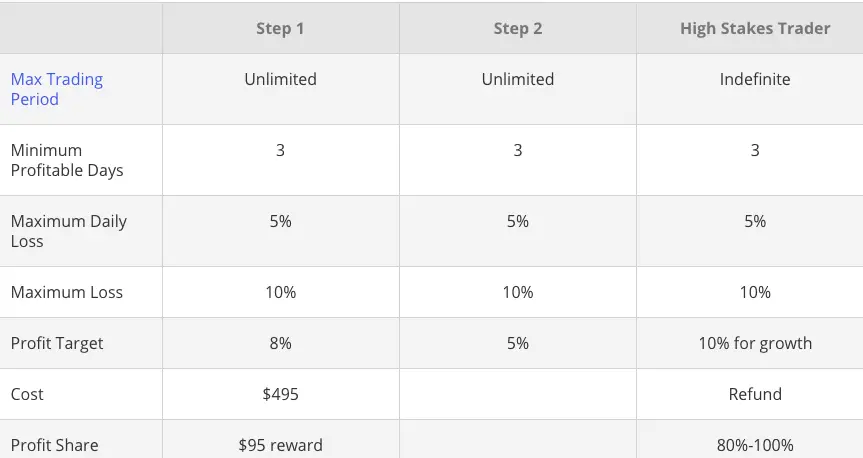 After completing Step 1 of the evaluation, the 5%ers will give you the option to receive HUB credits, which you can put toward future purchases. I appreciate that the 5%ers offers features like this that reward you along the way. After completing Step 2, you'll receive a withdrawable refund to your fully funded account.
Once you're fully funded, your account size and profit split will be increased when you meet the profit targets. Eventually, you can work your way up to a 100% profit split and a $10,000 monthly salary. Not many prop firms offer their traders a salary, so this is an aspect where the 5ers truly stand out!
Top Features of the 5%ers
Now let's talk about some of The 5%er's top features.
50-100% Profit Split
Traders at The 5%ers split between 50-100% of their profits with the prop trading firm. Admittedly, the initial percentage is disappointing compared to other prop trading firms who let their traders keep more. However, you can work up to a 100% profit split by being a profitable trader and proving your skills.
But that's not all- the 5%ers gives you even more opportunities to earn significant income. Not only can you gain bonuses from Phase 1, but you can also earn a regular salary with this firm, ensuring that you're being rewarded for your hard work.
Trade Up To $4,000,000
The 5%ers offers a fast growth plan for traders, doubling their accounts at every 10% profit target. This allows traders to manage up to $4,000,000 in capital- many other prop firms don't come this close!
Instant Funding and Payouts
The 5%ers provides traders with instant funding on real accounts. Traders don't have to worry about qualification phases; you can begin trading real capital from day one. Traders can also receive instant payments with just the click of a button; no waiting around wondering where your money is.
Access to Free Trading Resources
The 5%ers offers multiple educational resources for traders looking to improve their skills. Traders can access webinars, psychology workshops, prop trading courses, calls, blogs, supply and demand workshops, and live trading events.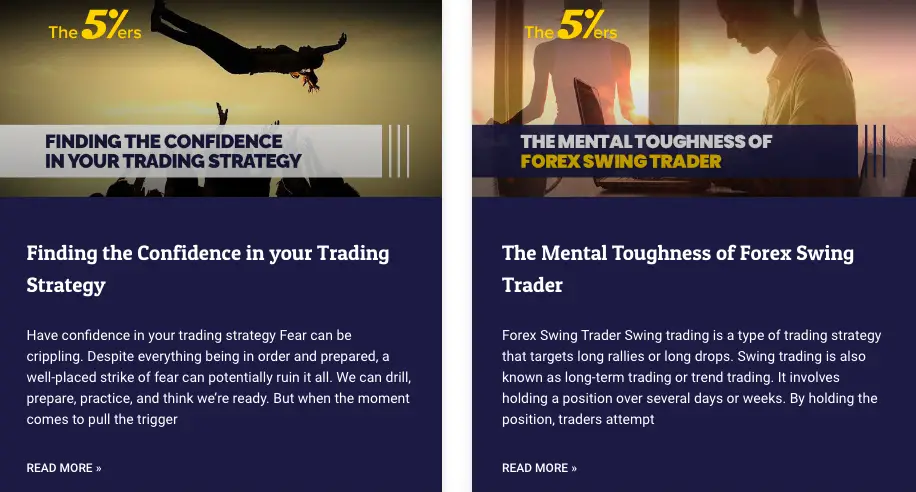 The 5%ers Pricing and Fees
So how much will you pay to trade with this prop firm? Let's break down the costs of each funded trader program!
Bootcamp Program Prices
Here are the prices for the Bootcamp Program:
| | | |
| --- | --- | --- |
| Bootcamp Funded Account | Entry Cost | One-Time Fee (after passing) |
| $100K | $95 | $205 |
| $250K | $225 | $350 |
When you sign up for the Bootcamp Program, you'll invest a minimal upfront fee. Once you ace the evaluation, you'll have to pay the remaining cost. However, if you don't pass, you're only on the hook for the initial fee, not the full amount.
Hyper Growth Program Prices
Here are the costs for the Hyper Growth Program:
| | |
| --- | --- |
| Hyper Growth Funded Account | One-Time Participation Fee |
| $10K | $260 |
| $20K | $450 |
| $40K | $850 |
High Stakes Program Prices
Here are the costs for the High Stakes Program:
| | |
| --- | --- |
| High Stakes Funded Account | One-Time Fee |
| $5K | $39 |
| $20K | $165 |
| $60K | $300 |
| $100K | $495 |
The good news? Once you pass each step and become a High Stakes trader, you'll get this money back!
The 5%ers Pros & Cons
Here are the pros and cons I've come across while trading with the 5ers!
The 5%ers Pros
Instant funding accounts
Funding up to $4,000,000 (with best spreads, executions, and rules)
Amazing Discord community managed by a $1.2M funded trader
Unlimited trading resources and 24/7 customer support with live chat
Reach a 100% profit share (plus bonuses) and a salary
The 5%ers Cons
Limited profit split depending on program
No futures trading
The 5%ers Customer Reviews and Testimonials
This prop firm has 4.8 stars on TrustPilot, making it one of the best-rated prop firms. Check out these reviews to see what other traders think of The 5%ers!
Positive Reviews
One verified trader named Jayson shared how the Bootcamp Program helped him improve his trading strategy: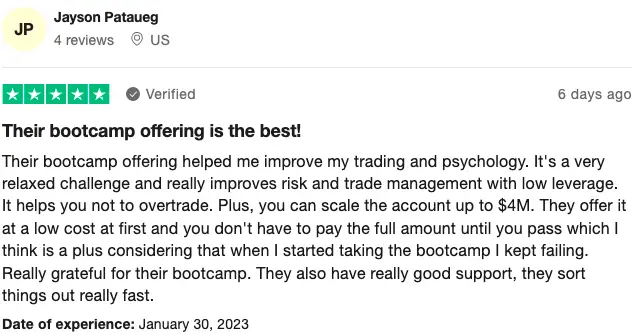 And that's not all- one Reddit user praises 5ers, explaining they love the prop firm's speedy payouts and instant funding program.

Negative Reviews
Of course, The 5%ers still have their share of negative feedback; one trader named Osazeme complained about the prop firm's rules.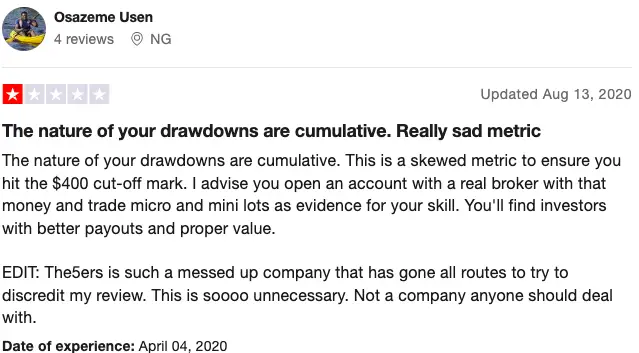 Another trader named Harry reported technical issues with the website and criticized the dashboard page.

The 5%ers Alternatives
Now that you're up to speed with the pros, cons, and reviews of The 5%ers, you may have a better idea if this prop trading company is right for you. But if you think The 5%ers isn't a perfect fit, I recommend checking out these competing prop firms:
Our Personal Experience with the 5%ers
But how do we think The 5%ers compares to these other prop firms?
Overall, The 5% ers is one of the better trading firms on the market. I love that their funded trader programs support multiple trading styles to appease high-risk, low-risk, and long-time traders. Even beginner traders can take advantage of their educational resources and learn helpful trading strategies.
Another feature that truly stands out is the opportunity for traders to tap into instant funding. While most prop firms have you test your skills with virtual capital on demo accounts, the 5%ers flips the script. Sign up for their Hyper Growth Program and you'll be trading real capital at lightning speed.
The 5%ers also offer a remarkable opportunity for traders to ascend the ranks and manage up to a whopping $4,000,000! Compared to many prop firms, this is a truly substantial amount. But the cherry on top? The 5%ers reward their top-performing traders with a 100% profit split. This is a stellar incentive that fuels your motivation to sharpen your trading strategy and push your limits.

However, there's always room for improvement. A notable drawback is that many traders don't reach a 100% profit split; they may only receive 50%, 75%, or 80% of their profits. But don't let this minor hiccup deter you from seizing the incredible opportunities The 5%ers offer.
Conclusion: Should You Trade with the 5%ers?
So should you begin your trading journey with The 5%ers? Beginners, experts, and traders of all styles can benefit from joining The 5%ers.
With a super fast scaling plan and the option for instant funding, this prop trading firm allows you to grow your trading capital fast.
However, if you're chasing high profit splits from the get-go, The 5%ers may not be your first choice. But if you're game to climb the ladder in a rock-solid proprietary trading firm without gambling your own cash, then The 5%ers is a stellar pick.
But of course, it's not your only instant funding prop firm! Explore more options with our list of the Best Prop Firms for Instant Funding!
Frequently Asked Questions
Now let's address some frequently asked questions traders often have about this firm!
Is 5ers a good prop firm?
The 5%ers is a top-tier platform with an excellent industry reputation.
Which prop firm is the best?
Many consider FTMO the best prop firm, though it depends on your trading needs. Check out my list of the Top Prop Trading Firms for my breakdown and analysis!
What are the 5ers payouts?
The 5%ers prop firm offers 50%, 75%, 80%, and 100% payouts.
Do prop firms really pay out?
Yes, legitimate prop firms like the 5%ers pay their prop traders.
Can you make a living trading for a prop firm?
Yes, you can make a living as a successful trader at a proprietary trading firm.
How much does the average prop firm trader make?
According to studies, the average prop firm trader makes around $80-150K.
Can you trade stocks on the 5 ers?
No, the 5%ers lets you trade forex, metals, or indices.