Are you a trader looking for a reputable prop firm to help you level up your trading game and potentially increase your profits? Look no further than FundedNext. I've found that FundedNext is an excellent option for traders of all levels, offering personalized account managers, funded accounts, and an active Discord community to help you stay engaged and informed. In my opinion, FundedNext is an exceptional prop firm that can help you achieve your trading goals, but it's not for everyone.
Keep reading to learn if FundedNext is right for you.
What Is FundedNext?
FundedNext has established itself as a reliable and innovative prop firm that's committed to helping traders worldwide achieve financial success. Its unique approach thoroughly evaluates a trader's risk and money-making abilities before extending funded accounts. This approach allows traders who pass the assessment to minimize their personal risk by trading with the firm's capital instead of their own.
Overall, FundedNext's approach is a promising solution for traders seeking financial assistance and support.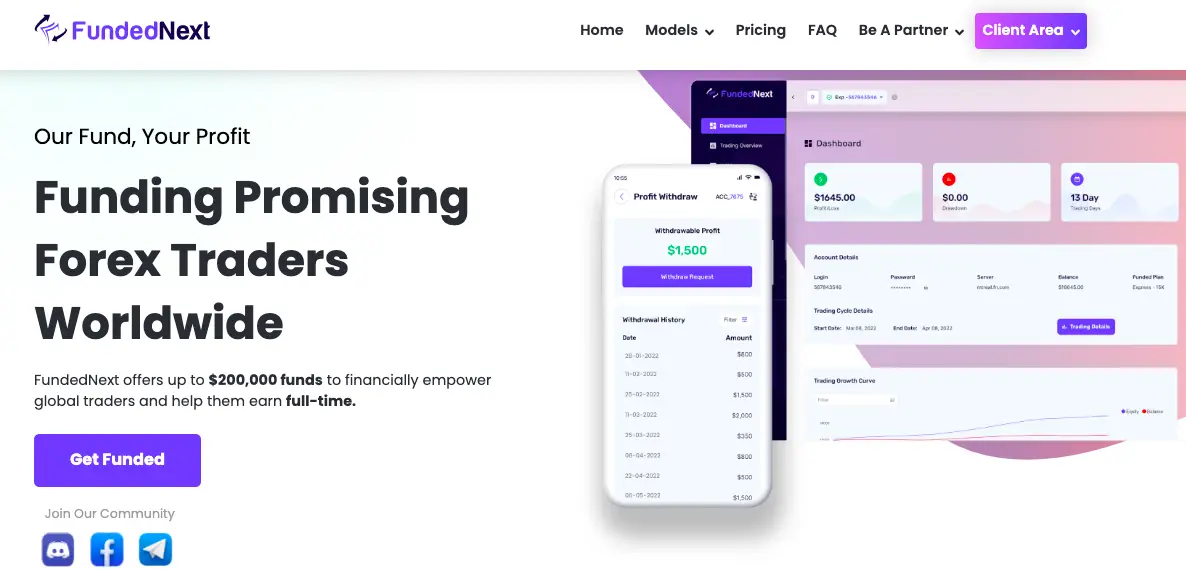 Who Founded FundedNext?
In 2022, Abdullah Jayed established FundedNext to create a prop firm that motivates traders to pursue their dreams. Although this firm is new to the trading scene, FundedNext has already backed over 17,000 traders with funded accounts.
The company boasts an impressive track record, having paid over $22,000,000 to its traders with an average payout time of only five hours. Their outstanding success has earned them recognition from respected publications like Bloomberg, Nasdaq, and StreetInsider.com. It's exciting to see what the future holds for this dynamic firm!
FundedNext Tradable Assets
FundedNext lets you trade forex, indices, and commodities. Here's a screenshot from their FAQ section detailing their tradable instruments:
FundedNext Trading Platforms
FundedNext only supports MetaTrader 4. While we'd like them to offer more options, MetaTrader 4 is a respected platform that many traders prefer, so we don't consider this a huge con. Plus, FundedNext has responded to reviewers saying they plan to add more trading platforms in the future.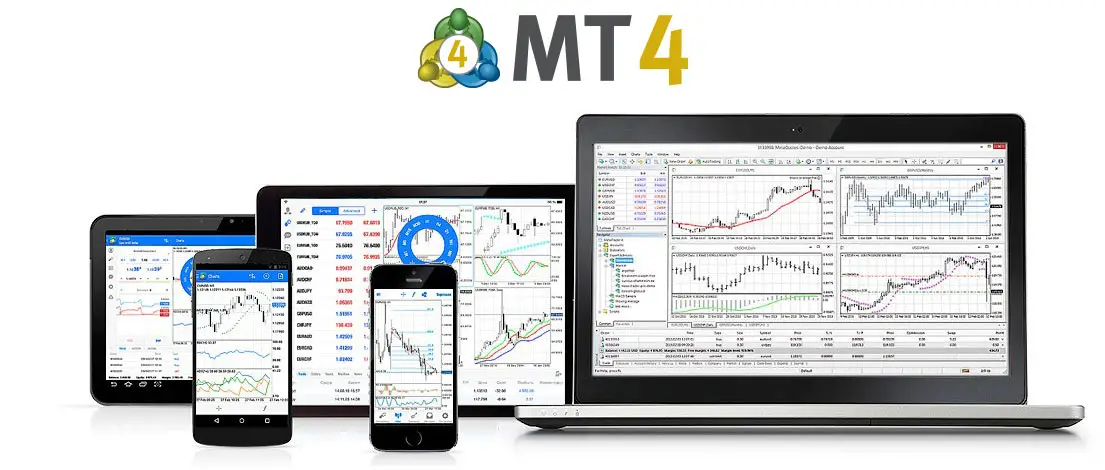 How FundedNext Works
Let's discuss how FundedNext works, from their evaluation rules to different account options.
Evaluation Model
FundedNext offers a two-step evaluation model with certain profit targets and trading objectives. Traders must pass the evaluation process to start trading on a real funded account and earn bigger profits.

Here are the rules for the FundedNext Evaluation:
5% daily drawdown
10% overall drawdown
5% profit target in Phase 1 (within four trading weeks)
10% profit target in Phase 2 (within eight trading weeks)
Place a minimum of 5 individual and separate trades monthly
FundedNext boasts they have realistic profit targets, but some traders think 10% is steep. However, the best part about FundedNext's evaluation is that you have unlimited free retakes if you're in profit but haven't reached the target. You can also receive a 14-day extension to pass the evaluation, which we think is helpful.
After passing the evaluation, you'll receive a funded account with an 80% profit split percentage. You can work your way to 90% by being a profitable trader.
Express Model
FundedNext also offers the Express Model, a one-step evaluation process with a higher profit target. With the Express Model, there are no time limits- you can access a funded account when you reach the profit target while following trading rules.

Here are the rules for the Express Model:
5% daily loss
10% overall loss
25% profit target
Place trades for 10 minimum trading days
You can choose between two types of Express Model Accounts:
Consistency Account
Non-Consistency Account.
See the screenshot below for a breakdown of how each works.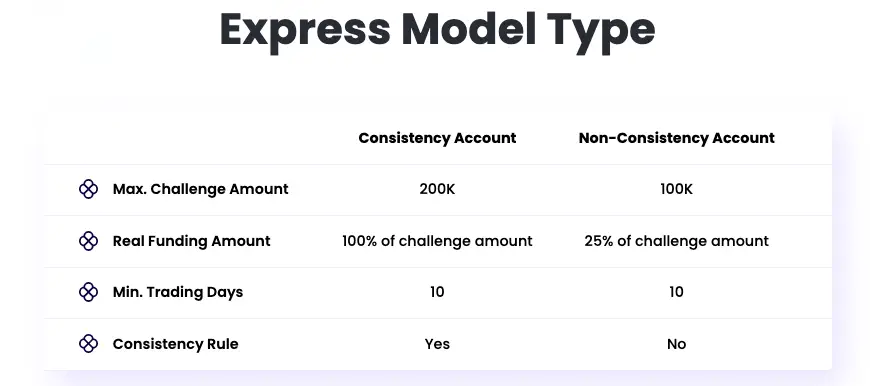 If you want to get funded fast, the Express Account is an excellent option, as you can get funded in as little as 10 days. However, you only start with a 60% profit split, so you must make successful trades to keep more of your profits.
Account Sizes
FundedNext offers multiple account options with varying buying power: $15K, $20K, $50K, $100K, or $200K. However, it's important to note that with a Non-Consistency Account, your funded account does not have the option for a $200K balance.

Top Features of FundedNext
Here's our breakdown of FundedNext's top features!
Up to 90% Profit Split
FundedNext lets you keep up to 90% of your profits by being a successful trader. However, depending on your account type, you will start as low as 60-80%. But what really sets FundedNext apart is that you keep 15% of your profits during the evaluation phase, an excellent feature that lets you make more money.
Manage Up to $4,000,000
With 1:100 leverage and a scaling plan option, traders can handle as much as $4,000,000 in a comfortable trading environment. From what we've seen, this amount is highly competitive. However, you'll only receive a scaling plan if you prove your trading skills, so ensure you follow the FundedNext rules.
FundedNext Mobile App
FundedNext offers a mobile app where traders can receive real-time trading updates. The app lets you track your trading performance, account growth, and disbursement details from the palm of your hand. Not many prop firms have a mobile app, so we really appreciate this feature about FundedNext.
Dedicated Account Manager
Every trader at FundedNext receives a designated account manager. If you have any questions about your funded account or need assistance while trading, your account manager is available 24/7 to help you out.
Active Discord Community
FundedNext has a vibrant Discord channel with 24,000 members, making it one of the best communities for prop traders. You can share trading strategies, discuss market conditions, and connect with like-minded peers all on the FundedNext Discord.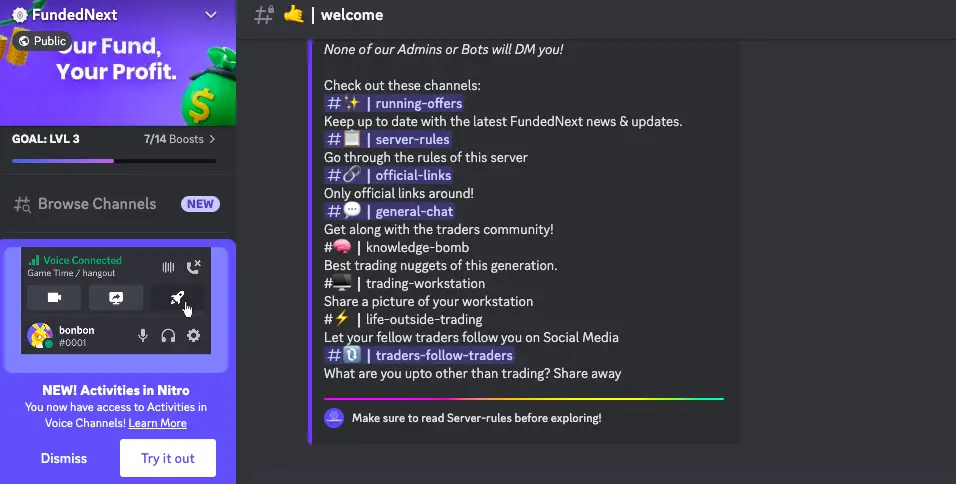 FundedNext Pricing
So, how much does it cost to trade with FundedNext?
The costs for an Evaluation and a Consistency Express Account are the same. See below.
| | |
| --- | --- |
| Evaluation/Consistency Express Account | One-Time Refundable Fee |
| $15K | $99 |
| $25K | $199 |
| $50K | $299 |
| $100K | $549 |
| $200K | $999 |
Here's how much a Non-Consistency Express Account costs:
| | |
| --- | --- |
| Non-Consistency Express Account | One-Time Refundable Fee |
| $15K | $199 |
| $25K | $229 |
| $50K | $379 |
| $100K | $699 |
We think it's great that the fees are fully refundable; you get these costs back after passing the evaluation process.
FundedNext Pros & Cons
Here are the pros and cons of trading with FundedNext!
FundedNext Pros
Up to 90% profit share
24/7 account manager
Supports scalpers, swing, and intraday traders
Grow capital and profits with a scaling plan
1:100 leverage
Trade from the mobile app
Fantastic community
FundedNext Cons
Low profit splits for some accounts
Only supports MetaTrader 4
Insane profit target for Express Model Accounts
User Reviews for FundedNext
Here's what we found after scanning the web for FundedNext reviews!
Positive Reviews
One trader says FundedNext's reasonable prices and helpful account managers contributed to their positive trading experience.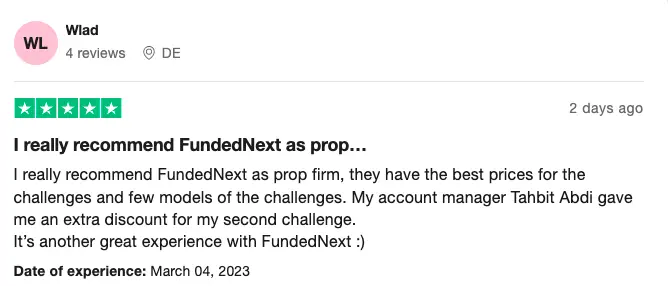 Another trader says a customer support agent answered all their questions via the Chat feature.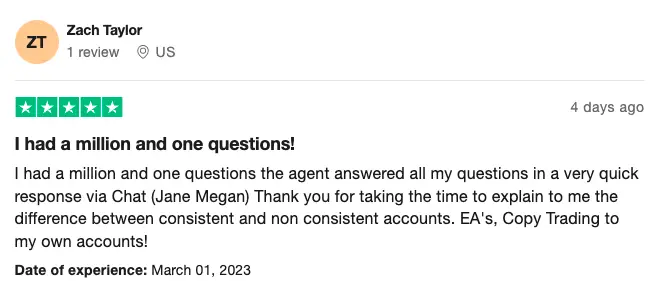 Negative Reviews
But not everyone is on board with FundedNext; one Reddit user complained about FundedNext's rules and customer service team.

Image Source: Reddit/r/Forex
Another trader criticized FundedNext's loss limit rules, calling the prop firm a legal scam.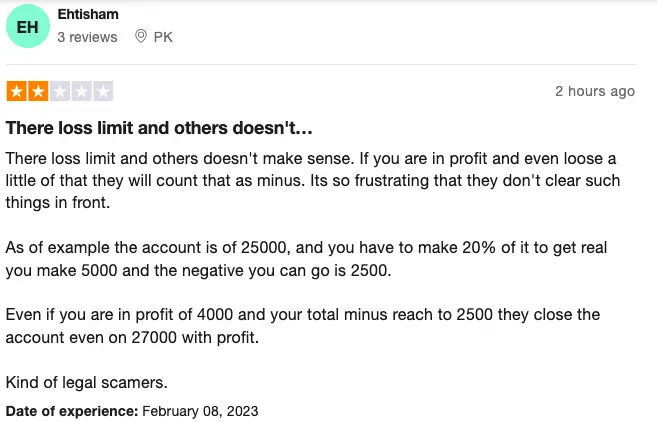 FundedNext Alternatives
We've filled you in on the pros, cons, and features of FundedNext- but you still may not be sold on this prop firm. Luckily, FundedNext isn't your only option! If you'd like to continue your search for the perfect prop firm, take a look at some of FundedNext's competitors:
My Personal Experience with FundedNext
As a seasoned trader, I was impressed with FundedNext for multiple reasons.
Firstly, it has a unique feature that allows traders to keep their profits during the demo stage. Moreover, FundedNext offers different account options with scaling plans, and with their phone app, tracking progress is now easier than ever. Additionally, I was thrilled with the friendly and supportive Discord community.
Yet, FundedNext can still improve in some aspects. For instance, the initial profit split in the Express Model Accounts is low at 60%, which could be higher to match other platforms. Furthermore, some traders find the profit targets challenging, which could be made more achievable.
My experience with FundedNext showed me that it's a fantastic platform that offers unique and excellent features, and with some minor improvements, it could go from good to great.
Conclusion: Should You Trade with FundedNext?
Are you looking for a prop firm where you can grow as a trader? With scaling plans up to $4,000,000 and increasing profit splits, FundedNext is an excellent choice. You can get funded fast, use the mobile app to track trades, and become part of a thriving trading community.
While FundedNext may not be ideal for beginner traders due to a lack of educational resources, it's among the top picks for skilled traders seeking capital. Join FundedNext today, or check out other options with our Top Prop Trading Firms for Scalpers Review!