Looking for a prop firm to jumpstart your trading career? SurgeTrader may be the answer you're looking for. With options for both beginner and experienced traders, SurgeTrader provides a platform for traders to succeed with its clear rules and multiple account options. Enhance your trading skills and capitalize on valuable resources while being part of a supportive community of expert traders.
But with all the options, how do you know if SurgeTrader is right for you?
In this comprehensive SurgeTrader review, we'll ensure you have all the information you need to determine if this is the best prop firm for you.
What Is SurgeTader?
SurgeTrader, a US-based prop trading firm funded by Valo Holdings, provides stable and secure financing for traders globally.
SurgeTrader offers a funded account, with straightforward rules, easy evaluations, unlimited time, and exceptional support, for trading without risking your own capital.
Trade a diverse range of assets, such as forex, equities, indices, oil, metals, and cryptocurrency, with SurgeTrader.
Who Founded SurgeTrader?
Jana Seaman, a serial entrepreneur, founded SurgeTrader in 2021. The concept of SurgeTrader came from a chat Jana had with a forex broker and an institutional trader over sushi in Florida.
They discussed how many traders fail because they need to over-leverage their accounts to make significant returns. To fix this, they came up with SurgeTrader.
SurgeTrader is designed to help traders succeed without gimmicks or false promises. The firm identifies and funds profitable traders with enough capital to trade without over-trading
How SurgeTrader Works
Let's discuss how SurgeTrader works, including its rules, trader packages, and evaluation process.
Trader Packages
SurgeTrader offers their traders six different packages of varying account sizes; options range from $25K for Beginners to $1,000,000 for Masters.
The trading rules for each account type are the same:
Reach a 10% profit target
Do not exceed the 4% daily loss limit
Do not exceed the 5% maximum trailing drawdown
Leverage 10:1 (this only applies to forex and metals)
Every time you reach the 10% profit target, you can progress through the scaling plan to manage even more capital.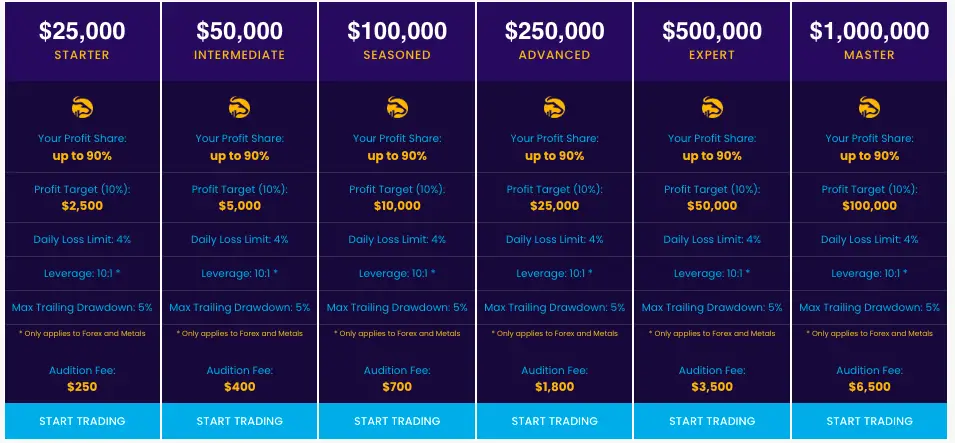 Traders can also purchase additional add-ons to customize their packages to meet their needs. For example, you can pay extra for the following features:
No stop-loss
90% profit split
Double leverage (20:1)
Bundle pack (get all three add-ons)
SurgeTrader Audition
To become a funded trader at SurgerTrader, you'll need to pass the SurgeTrader Audition. The SurgeTrader Audition is a one-step evaluation process where traders prove their skills before getting funded.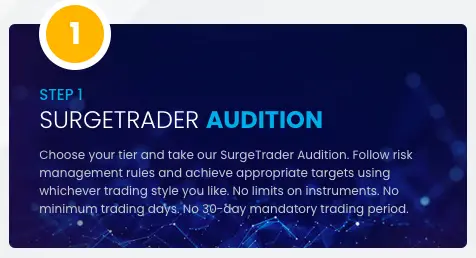 First, you'll choose the trader package that's best for you. Then, you'll aim to reach the profit target while following trading rules. There is no minimum number of trading days to pass the Audition; SurgeTrader will reward you with a funded account whenever you fulfill the terms.
The trading rules for the SurgeTrader Audition are:
Reach a 10% profit target
Stay within the 4% daily drawdown parameters
Stay within the 5% maximum trailing drawdown
After successfully reaching the profit target, SurgeTrader will see that you're a profitable trader with solid risk management skills. They'll provide you with a funded account with the initial balance for your chosen package.
Top Features of SurgeTrader
Let's break down SurgeTrader's top features that set it apart from other prop firms.
75-90% Profit Split
SurgeTrader lets traders keep 75% of their profits, which isn't bad but not super impressive. However, one unique feature of SurgeTrader is that you can pay for a more significant profit split. After choosing an account size, you can purchase an add-on that lets you keep a whopping 90% of your profits.
Manage Up To $1,000,000
SurgeTrader allows experienced traders to start managing $1,000,000 after passing the evaluation. Other prop firms make you work your way up to access this much capital, but at SurgeTrader, you can prove your trading skills fast and start handling massive amounts of capital immediately.
30-Day Membership with BKForex
When you sign up for SurgeTrader, you also receive a free thirty-day membership with BKForex. BKForex is a trading education company designed to help traders develop their trading strategies and skills. Led by acclaimed trading experts, BKForex helps ensure you have the knowledge necessary to succeed at SurgeTrader.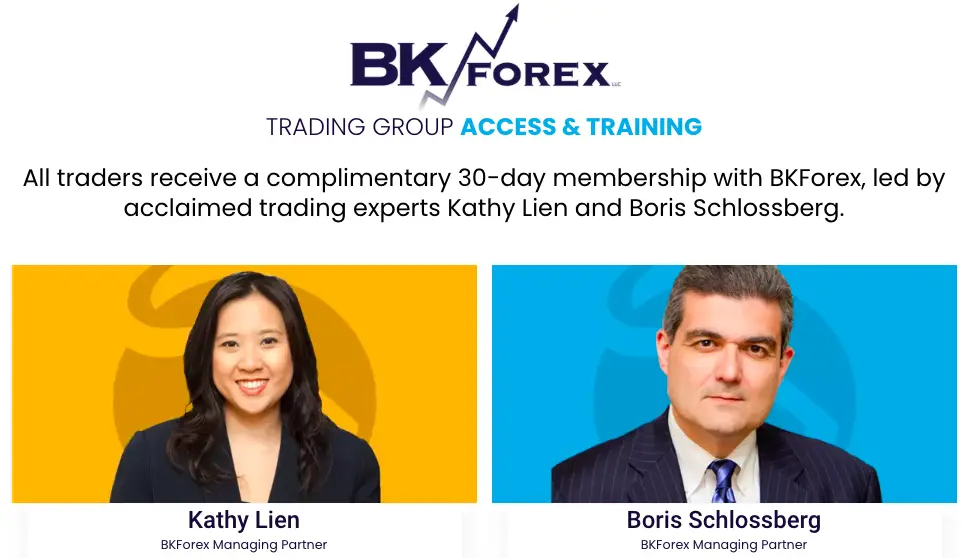 Discord Access
SurgeTrader has an active Discord Channel with over 6,000 members. The Discord Channel contributes to an overall sense of community and allows its members to discuss trading strategies and share helpful tips.
SurgeTrader Pricing
So how much does it cost to trade with SurgeTrader? Let's break down the prices for each trader package!
Package Costs
Here's a breakdown of how much each package costs:
| | |
| --- | --- |
| Trader Packages | Audition Fees |
| Starter ($25K) | $250 |
| Intermediate ($50K) | $400 |
| Seasoned ($100K) | $700 |
| Advanced ($250K) | $1,800 |
| Expert ($500K) | $3,500 |
| Master ($1,000,000) | $6,500 |
Add-Ons Costs
Here's a breakdown of how much each add-on option costs:
| | |
| --- | --- |
| Add-Ons | Fees |
| No Stop-Loss | $10 |
| 90% Profit Split | $20 |
| Double Leverage | $25 |
| Bundle Pack (All 3 Add-Ons) | $40 |
SurgeTrader Pros & Cons
Now let's outline some of SurgeTrader's pros and cons!
SurgeTrader Pros
Good profit split
Optional add-ons to customize your trading experience
Free thirty-day membership to BKForex
Simple, straightforward rules
Manage up to 1,000,000
Active Discord channel
SurgeTrader Cons
You can only receive a higher profit split if you pay extra
The maximum loss limit may be restrictive for some traders
Offers fewer programs than other prop firms
User Reviews for SurgeTrader
SurgeTrader has 4.4 stars on TrustPilot, slightly lower than some of its competitors. Let's see what SurgeTrade reviewers are saying about the prop firm!
Positive Reviews
One satisfied trader named Pierre thinks SurgeTrader is a game-changer with its active Discord, easy withdrawal process, and excellent customer service.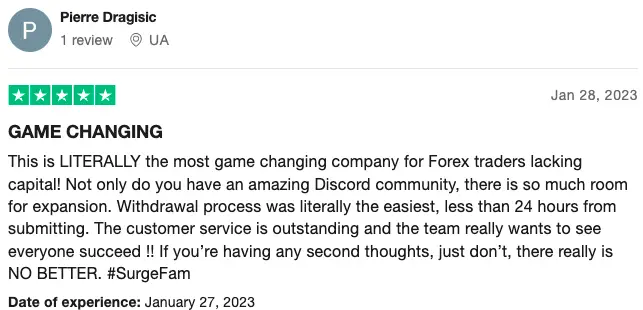 Another trader named Jordan loves the audition process and their quick-to-reply customer support.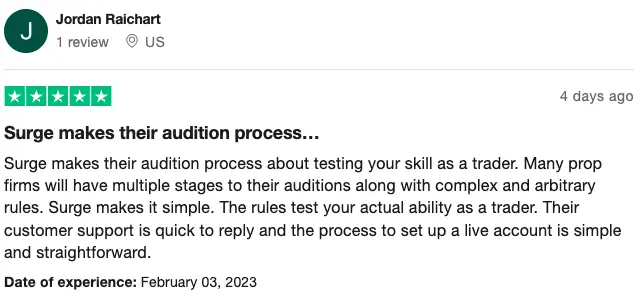 Negative Reviews
But not everyone has positive reviews; one trader named Ishola complains that their overall drawdown rule sets you up for failure.

Another trader name Wei Wu complained about the firm having unclear rules:

SurgeTrader Alternatives
So we've discussed SurgeTrader's features, pros, and cons; are you still not sure this is the right prop firm for you? If not, we recommend checking out these competing prop firms:
Our Personal Experience with SurgeTrader
SurgeTrader is a reliable, trader-friendly prop firm that accelerates funding.
SurgeTrader's rules are easy to understand, unlike other prop firms with complicated options.
SurgeTrader's options give traders more control with no stop-loss and higher profit retention, unlike other firms with limited leverage.
With its free 30-day BKForex membership, SurgeTrader gives traders a chance to improve their skills and ensure success. We also love the lively Discord channel on SurgeTrader, where traders exchange tips and get help from moderators – a rarity in the prop trading world.
One final feature we appreciate about SurgeTrader is its active Discord channel. As we speak, prop traders are sharing trading tips and getting help from SurgeTrader Discord mods. It's nice to see a Discord channel this active, as other prop firms' channels are often quieter.
However, SurgeTrader isn't without its flaws.
For example, you can only receive a 90% profit split if you pay extra. Otherwise, you'll be giving up 25 % of your profits, which is a bit more than most other prop firms.
Keep in mind that a 5% max trailing drawdown may feel restrictive to some traders. Make sure it works for you before signing up.
Conclusion: Should You Trade with SurgeTrader?
Is SurgeTrader right for you? If you're a skilled trader short on capital, SurgeTrader is an excellent choice. If you're a beginner, you can jump on the fast track to success with the BKForex training.
You'll be funded quickly with a fast, easy evaluation process and simple rules.
Whether you're a seasoned trader or just starting, SurgeTrader is an excellent choice. It's no wonder they're known as one of the best in the industry.
But of course, there are many other prop firms out there; check out our list of the Best Prop Trading Firms for Day Traders for more options!