Want to level up your trading game? Whether you're an experienced trader needing funding or a new trader seeking experience, Topstep could be the perfect fit. With expert coaching, flexible funding options, and an easy payout process, Topstep helps traders learn, grow, and make money.
Keep reading our 2023 Topstep Trading Review to decide if this firm is the best option for you.
What Is Topstep?
Topstep empowers traders with hands-on education to become successful. With funded accounts, traders gain real-world experience and master valuable techniques at Topstep. Topstep motivates traders, values diversity, and always looks for ways to improve their trading experience.
Who Founded Topstep?
Michael Patak, a seasoned trader, started Topstep in 2012 after using his struggles in trading as motivation. Michael's journey of losing three trading accounts and finally uncovering the secrets to success led him to establish Topstep.
He aimed to create a prop firm that would allow traders to get funded and improve their skills without risking their own funds. Since its creation, Topstep has launched the careers of thousands of traders and earned recognition as one of the fastest-growing prop firms in the industry.
How Topstep Works
Let's talk about what it looks like to become a Topstep trader!
Trading Combine
The Trading Combine is a learning and evaluation program where futures traders test and develop their skills. Before receiving a funded account with live capital, traders must prove their profitability in a simulated market. Only after reaching specific trading objectives can traders receive a funded account.
Traders can choose between three different account sizes in the Trading Combine, each with varying buying power and rules. See the photo below for a breakdown.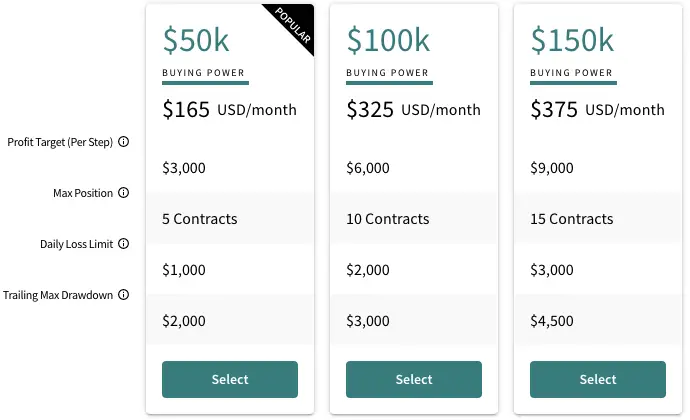 To pass the Trading Combine, traders must complete Steps 1 and 2 by reaching the profit target and following trading objectives. Here's a breakdown of the trading objectives for Steps 1 and 2:
Only trade permitted assets during permitted times (All positions must be closed before 3:10:00 PM CT, and you may only trade futures)
Do not exceed the maximum position size
Do not hit or exceed the daily loss limit
Do not hit or exceed the trailing max drawdown
Place trades for a minimum of 5 days during Step 1
Follow the Scaling Plan in Step 2
Reach the consistency target in Step 2 (Best Day below 40% of total profits made)
After passing Step 2, Topstep will reward you with either a Funded Account or a Pro Account; it's up to you!
Funded Account
The Funded Account is a live trading account where traders can manage real capital. This type of account has all the same account parameters as Step 2 of the Trading Combine, so you won't have to get used to new rules. Traders with a standard Funded Account begin with a $0 balance and work their way up.
With the Funded Account, traders can choose between a Standard Account or a Swing Account. Here are some key points for the Standard Funded Account:
$0 starting balance
The daily loss limit is the same as Step 2 of the Trading Combine
The trailing max drawdown is the same as Step 2 of the Trading Combine
Here are some key points for the Swing Funded Account:
$0 starting balance
$500 weekly loss limit
$1,000 maximum drawdown
The Funded Account is an excellent option for confident traders who want to start managing live capital faster.
Express Funded Account
Some traders may be interested in another option called the Express Funded Account. The Express Funded Account is an alternative to the standard Funded Account where you can trade with virtual capital before getting a live Funded Account.
The Express Funded Account is a pilot program with limited seats, so it may or may not be available after passing the Trading Combine. But if you sign up for an Express Funded Account, you'll have to follow the same trading rules as Step 2 of the Trading Combine.
Risk managers will assess your skills and upgrade you to a live Funded Account when they think you're ready. The Express Funded Account is an excellent option for a trader still developing their trading strategy.
Pro Account
The Pro Account is a simulated trading experience that provides an alternative to the Funded Account. Traders who sign up for the Pro Account receive more flexibility with a larger drawdown once they go live. You can choose a Standard Pro Account or a Swing Pro Account depending on your trading style.
Topstep designed the Pro Account for traders who want to test their skills before handling real capital. Once your simulated balance reaches $5,000 (or $2,500 for Swing Accounts), you'll be upgraded to a live Premium Account.
Premium Account
The Premium Account is a live trading account that starts traders with $5,000 or $2,500, depending on your Pro Account type. You'll be trading live capital and earning real profits on a Premium Account.
Here are some key points you should know about the Standard Premium Account:
$5,000 starting balance
The daily loss limit is the same as Step 2 of the Trading Combine
$0 trailing maximum drawdown
Here are some key points you should know about the Swing Premium Account:
$2,500 starting balance
$500 weekly loss limit
$0 maximum drawdown
The Pro and Premium Accounts benefit traders who enjoy more flexibility and like starting with an initial balance. As we mentioned, the Funded Account lets you trade live capital instantly, but the starting balance is $0.
Top Features of Topstep
Let's discuss Topstep's top features you need to know!
90% Profit Split
Traders at Topstep keep 90% of their profits, which is impressive compared to most prop firms. But it gets even better- for the first $5,000 you earn, you get to keep 100% of your profits.
Fast Payouts
Topstep offers speedy payouts to traders, so you won't have to wait long to get your earnings. This prop firm processes payouts daily, a feature many of its competitors lack.
Topstep Payout Club
The Topstep Payout Club allows traders to earn exclusive gifts from Topstep. Traders must reach certain payout milestones to receive these gifts. One example is the First Payout Bonus; after submitting your first payout request, Topstep will reward you with extra capital to use however you want.
Trading Coaching Programs
Topstep offers their traders free coaching programs, including Group Coaching, One-On-One Coaching, and Digital Coaching. These coaching programs help traders build a trading checklist, develop a trading plan, review their Trader IQ score, and get notified before major events.

Discord Access
Topstep has an active Discord channel with over 4,000 members. This community is a safe place for traders to help each other grow by sharing their trading strategies and tips.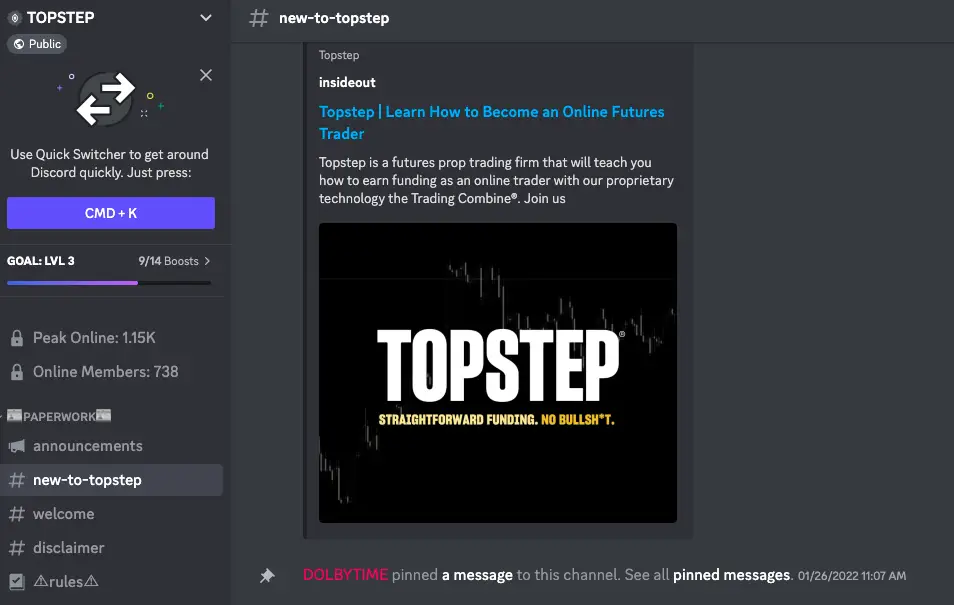 Topstep Pricing
So how much does it cost to trade with Topstep? Here's a breakdown of the Trading Combine monthly subscription costs:
| | |
| --- | --- |
| Buying Power | Monthly Costs |
| $50K | $165 |
| $100K | $325 |
| $150K | $375 |
Once you complete the Trading Combine, you will no longer have to pay these monthly costs.
However, once you're trading with a live funded account, you'll be responsible for the cost associated with running a Professional Trading Business. The amount you'll pay varies depending on your chosen trading platform. See below.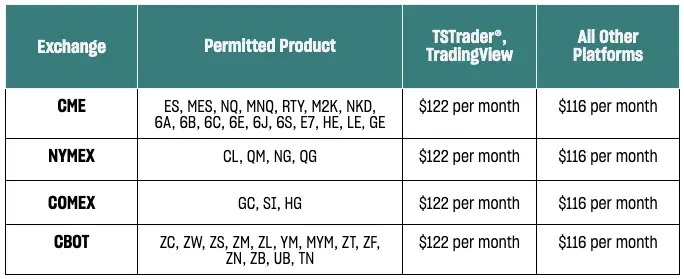 Topstep Pros & Cons
Here's a list of the pros and cons of trading with Topstep!
Topstep Pros
Excellent profit split
Speedy payouts
Topstep Payout Club provides extra rewards
Access to coaching and education
Discord access
Topstep Cons
Futures trading only
High fees
Many traders may struggle to pass the Trading Combine
The website does not explicitly list the account options after the Trading Combine
User Reviews for Topstep
Positive Reviews
One verified trader named William says the Trading Combine helped him develop his trading skills thanks to the stricter rules.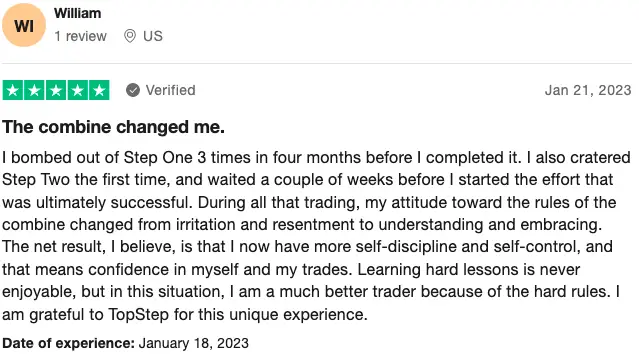 Another happy trader named Andreas says Topstep's rules and goals made him a better, more educated trader.

Negative Reviews
Of course, not everyone is pleased with Topstep; one verified user thinks the prop firm takes advantage of its traders.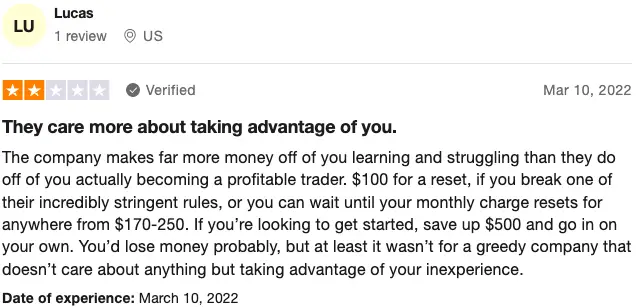 Another trader named Sam criticized Topstep's customer service and 14-day refund policy.

Topstep Alternatives
At this point, you're fully informed about Topstep's pros, cons, and user reviews; are you still uncertain if this is the best prop trading firm for you? If you'd like to see other options, you should check out some of Topstep's competitors:
Our Personal Experience with Topstep
But what are our thoughts on how Topstep compares to other prop firms? Topstep stands out among prop firms with their commitment to trader success. They let traders fully hone their futures trading skills before jumping into a live account, giving them the confidence to succeed.
Topstep pays traders fast with generous profit splits and quick payouts. Plus, join the Topstep Payout Club and get even more capital rewards for reaching payout milestones. This sets Topstep apart from other prop firms.
We also love Topstep's coaching program and Discord channel where funded traders can get expert advice and discuss their trading strategy with other prop traders.
Of course, there are some areas where we think Topstep could improve.
For one, Topstep could be even more competitive with other prop firms if they offered trading in assets beyond just futures.
The Topstep site lacks clarity on funded account options before signing up. You need to search their FAQ page; customer service provides conflicting answers. We want the site to clearly show each funding option, so traders know their choices before registering.
The monthly fees for the Trading Combine can add up, especially if you don't pass the challenge. Let's hope Topstep makes its services more accessible by lowering costs.
Conclusion: Should You Trade with Topstep?
Is Topstep the right fit for you as a trader? With its top-notch tools and resources, this proprietary trading firm caters to novice and experienced futures traders. And, it offers various funding options for day and swing traders to boost their success.
If you want funding fast, Topstep may not be your go-to. You must pass their rigorous two-part evaluation, which can be tough for many traders. And, even if you pass, you won't handle real capital immediately with the Pro Trading Account. If you need multiple quick funding options and lots of money, try looking elsewhere.
Topstep is a top pick for traders ready to boost their skills. With fair profit shares, lots of coaching options, and quick payouts, Topstep is a trader-loved proprietary firm that delivers.
But if you want to explore your options, read our list of the Top Futures Prop Trading Firms!