Ready to elevate your trading game? Apex Trader Funding may be the perfect option for you. Whether you're a seasoned pro or just starting out, this firm is an excellent match for any trading style. With significant profit splits, easy trading rules, and quick payouts, Apex Trader Funding helps many futures traders succeed in their careers.
Check out our Apex Trader Funding Review for all the info you need to decide if this prop firm is right for you.
What Is Apex Trader Funding?
Apex Trader Funding is a futures prop firm that advertises itself as the easiest to pass. Traders who complete the simple evaluation process receive a funded account with the prop firm's capital; this means they can trade futures without risking their own funds. With few rules and affordable prices, ATF is accessible to traders of all levels and styles.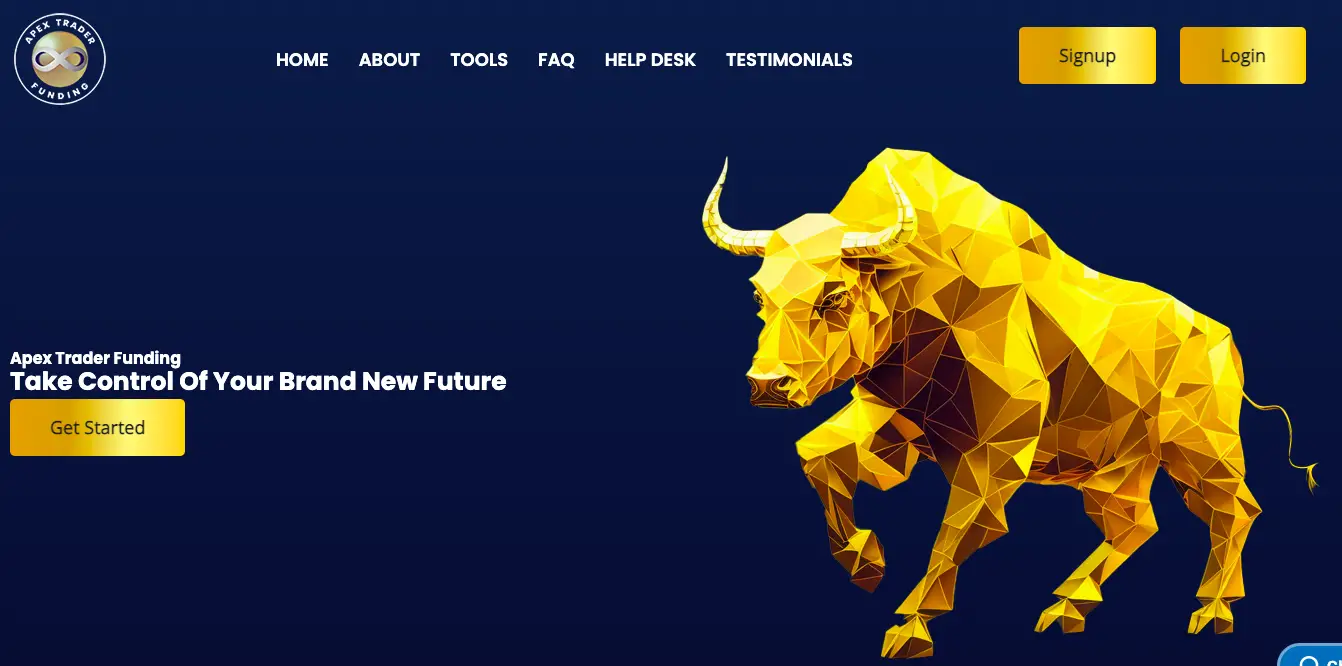 Who Founded Apex Trader Funding?
Imagine having the freedom to trade on your own terms without the limitations of a traditional trading firm. That dream inspired Darrell Martin, a successful rancher and day trader, to create Apex Trader Funding in 2021. Martin had already built a thriving community of traders and saw an opportunity to establish a proprietary firm that offered even greater flexibility and fewer restrictions than its competitors.
Apex Trader Funding Tradable Assets
Apex Trader Funding delivers access to various futures markets – from agricultural products to equity derivatives and micros – so you can trade confidently. Check out the full list of available futures below.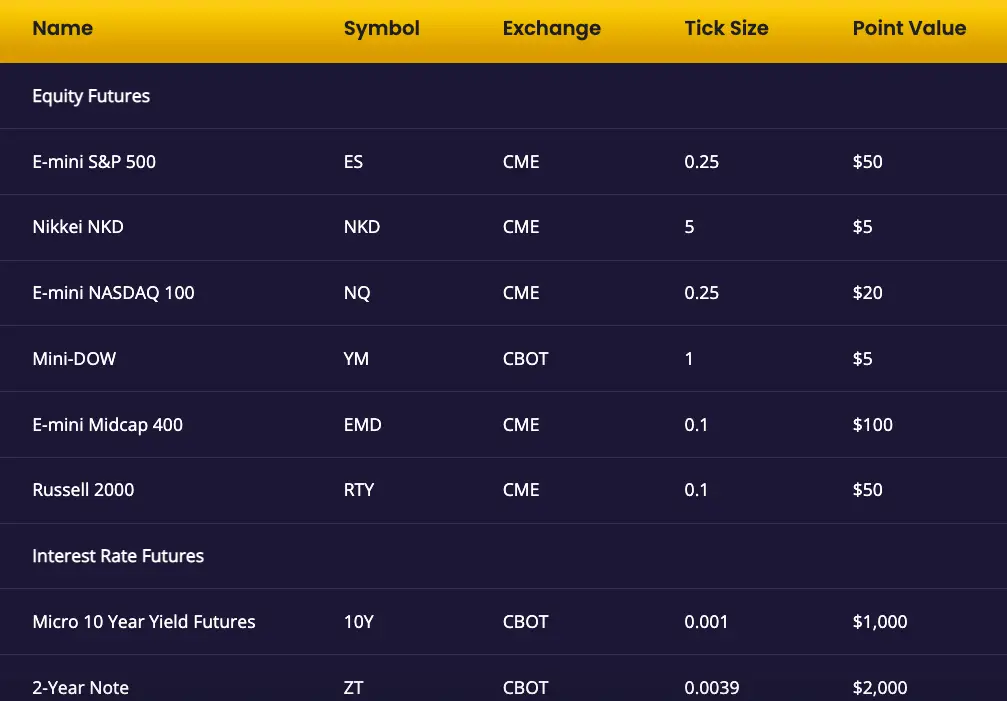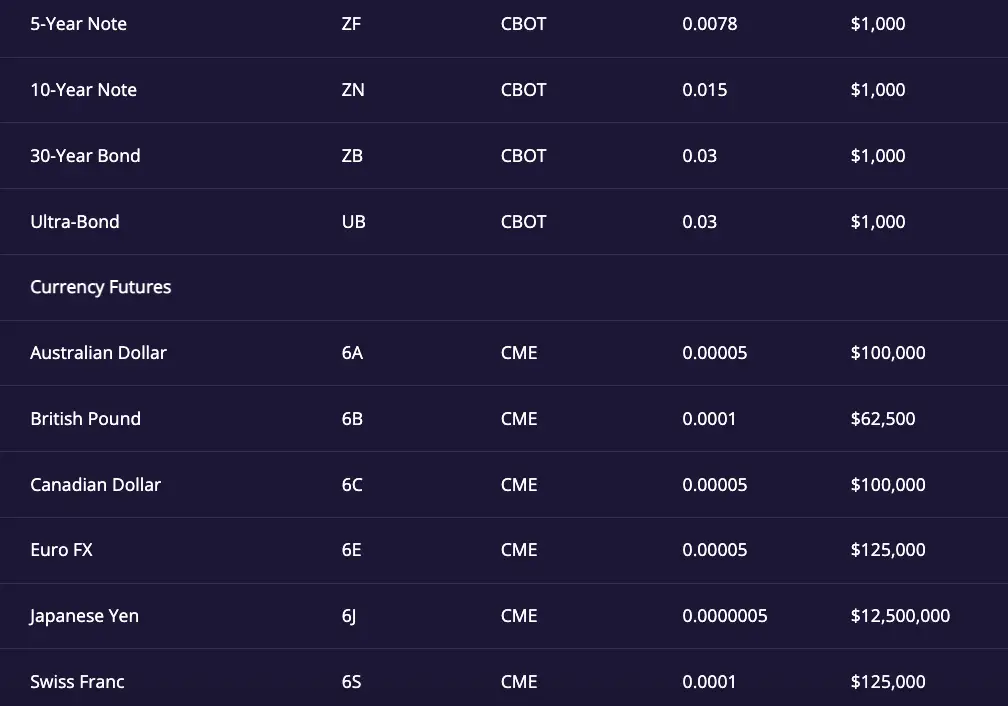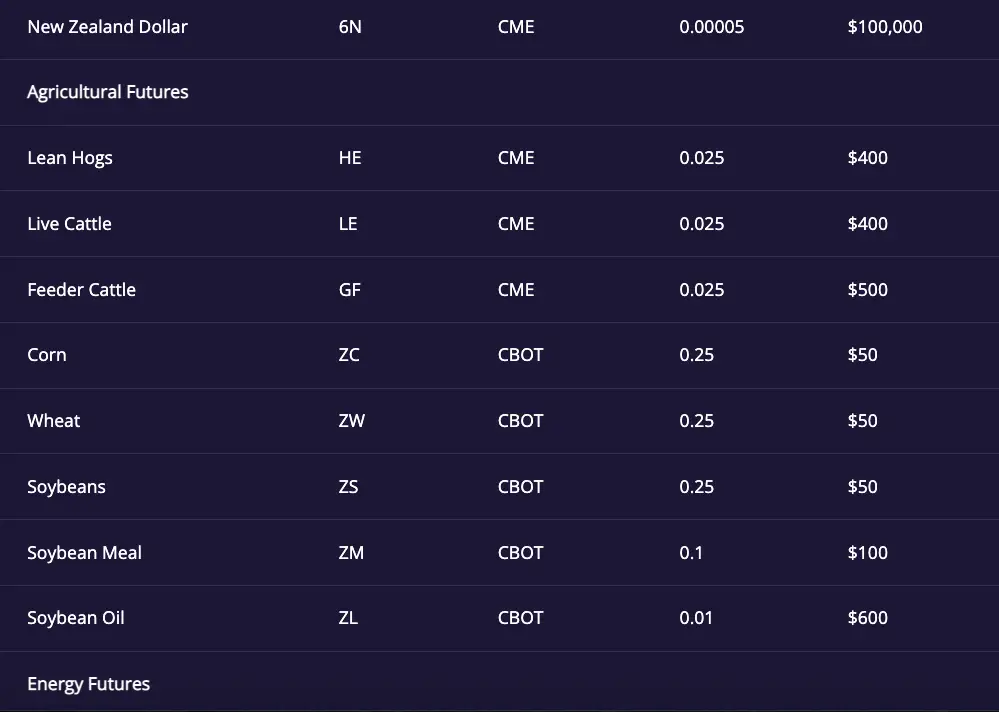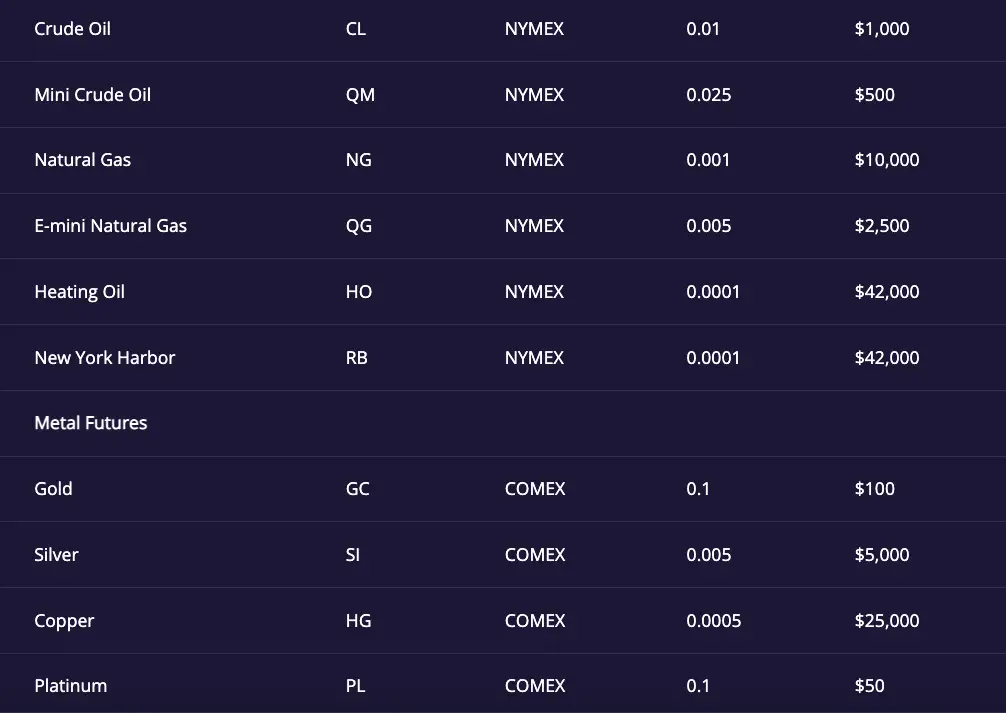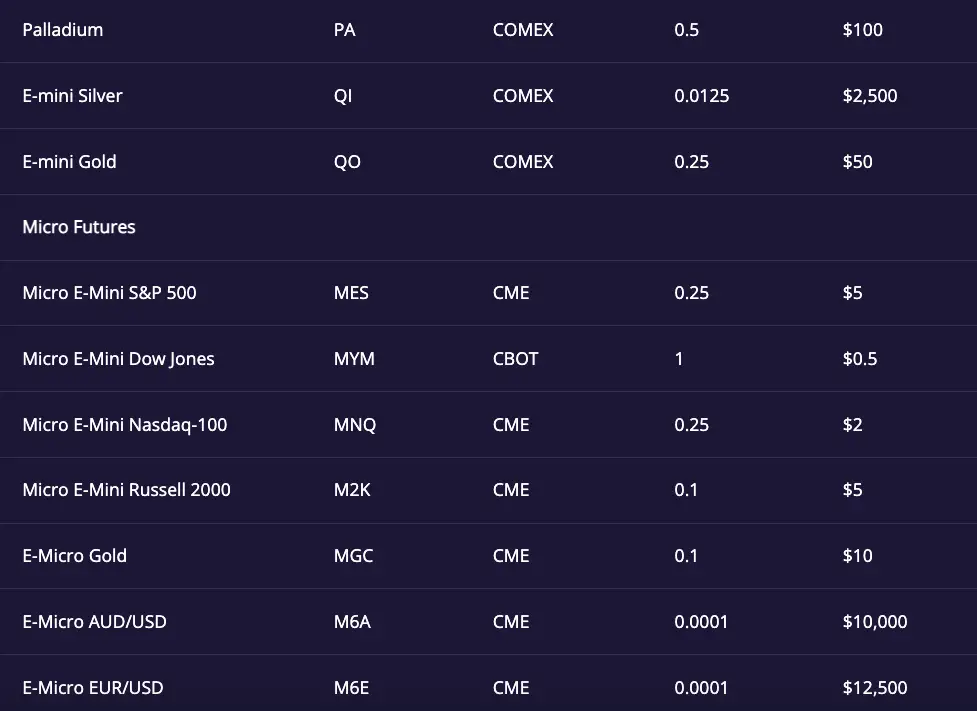 Apex Trader Funding Trading Platforms
Apex Trader Funding recommends using NinjaTrader 8 or Rithmic RTrader Pro. The prop firm tells you to download Rithmic before using NinjaTrader or any other platform; this will let you activate your data feed and place trades. You can also use any of the platforms your Rithmic login works on, including
Bookmap
Finamark
Jigsaw Trading
MotiveWave
Quantower
WealthCharts
Edge Clear
Volfix
While it'd be nice to see ATF offer more trading platforms like MetaTrader 4 and 5, they still give you a list of solid options to choose from.

How Apex Trader Funding Works
Let's talk about our experience with how the Apex Trader Funding program works!
Evaluation Process
First, you must pass the one-step evaluation process to get funded. Luckily, the evaluation process for ATF is super simple!  
After you select an account size, Apex Trader Funding gives you an Evaluation Account. You'll use this account to prove your trading skills to the prop firm.
Here's a breakdown of the Evaluation rules:
Reach the profit goal without hitting the maximum drawdown
Place trades for a minimum of 7 trading days
Follow the code of conduct (show professionalism and respect)
Do not let someone else makes trades for you
Keep RTrader open to monitor maximum drawdown and as a backup for closing trades
Of course, your profit goal and trailing threshold will vary depending on your account. Let's talk about how each account size works!
Account Sizes
Apex Trader Funding offers multiple account options with varying amounts of starting capital. Your options are $25K, $50K, $75K, $100K, $150K, $250K, or $100K Static.
See the photo below for a breakdown of how each account size works.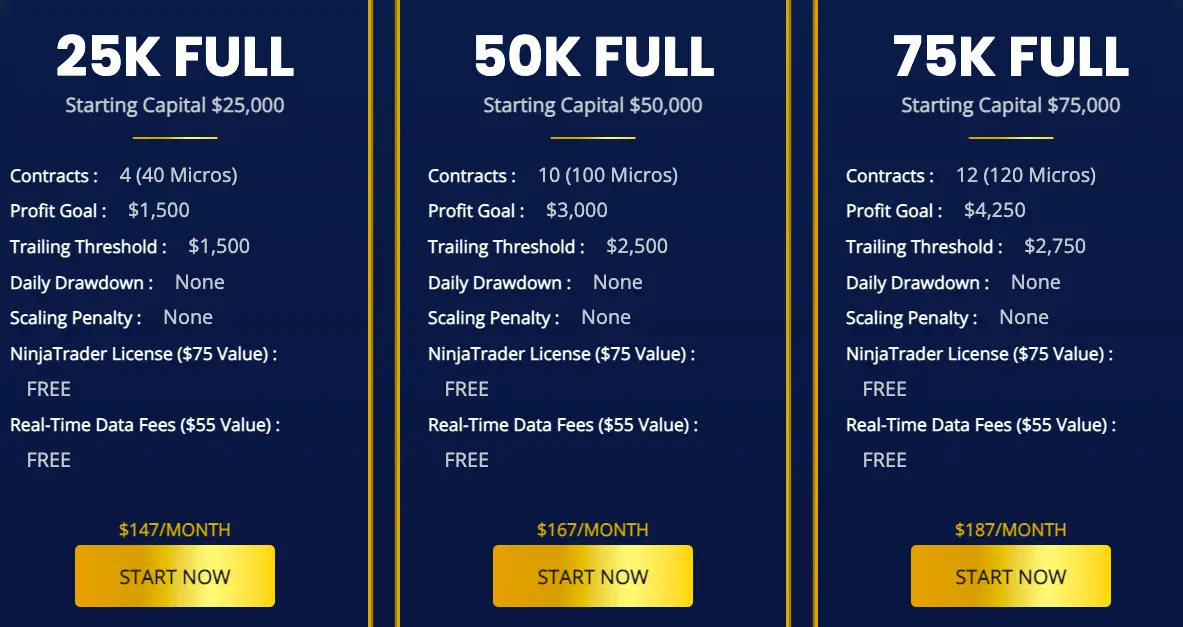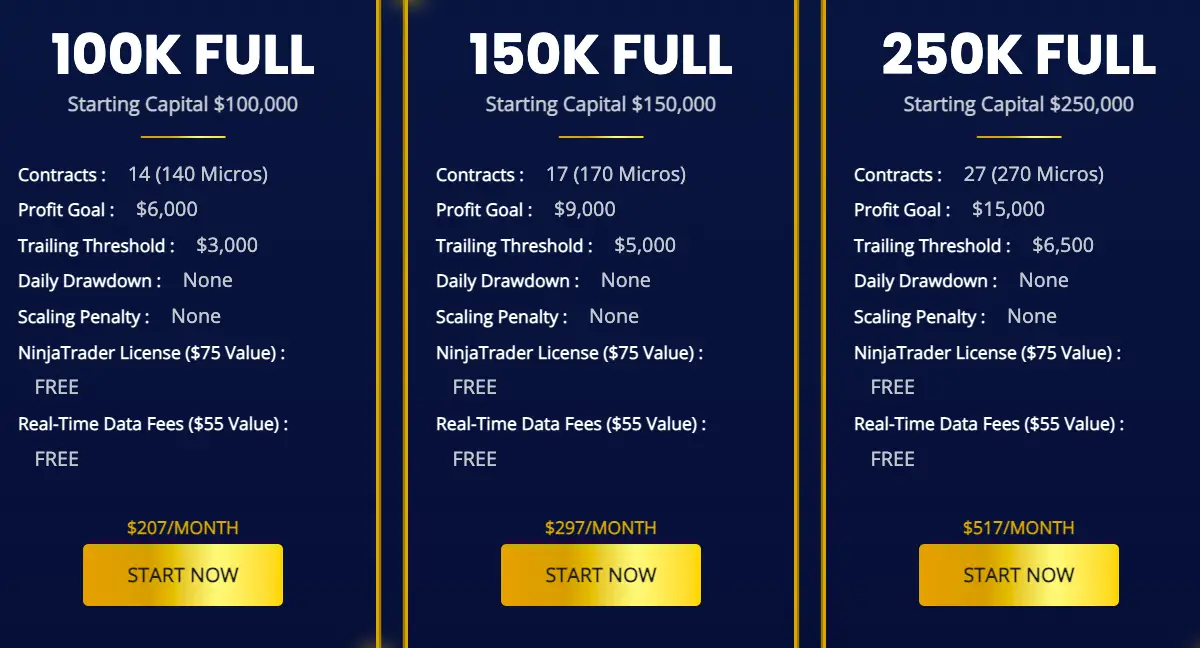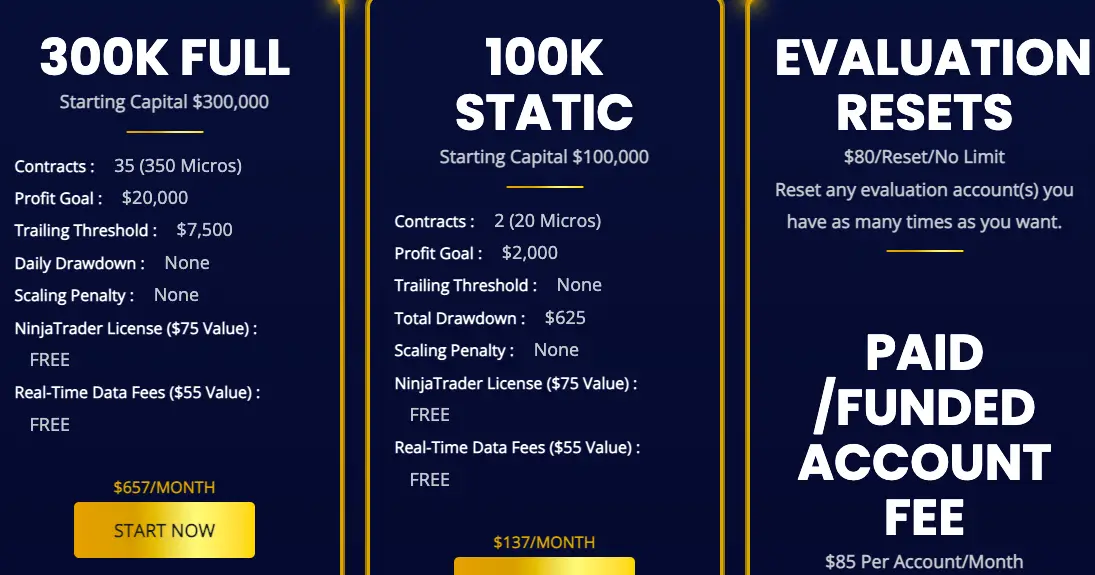 This firm is accessible to various trading styles thanks to its relaxed trading rules. Day traders, swing traders, and scalpers are all welcome at Apex Trader Funding. Just choose the amount of capital you'd like to handle based on your skill level and start trading!
Top Features of Apex Trader Funding
Here's what we think are the top features of Apex Trader Funding!
90-100% Profit Split
One of our favorite features of Apex Trader Funding is their generous profit split. They let you keep 100% of your first $25,000, then 90% after that. From our experience, a 90% profit split is already impressive; the fact that you also get to keep your first $25,000 is an incredible feature.
Get Paid Every Two Weeks
You can receive your profits every two weeks at Apex Trader Funding, which is impressive compared to many other prop firms.
Flexible Trading Rules
Apex Trader Funding offers trading rules that support different trading strategies and styles. You can trade on holidays or during the news with no daily drawdowns. Also, their risk management rules are simple and straightforward, a feature we appreciate.
Access to Trading Tools
Thanks to their helpful trading tools, even new traders are welcome at Apex Trader Funding. ATF gives you access to a trade copier, a free 30-day education course, trade automation software, and a futures trading coaching program with one-on-one mentoring.

Trade on Multiple Trading Accounts
One unique feature of Apex Trader Funding is they let you trade on as many accounts as you want. Most prop firms limit traders to one account, but not ATF! We find that the option to use more than one account minimizes your risk and provides more opportunities for profits.
Apex Trader Funding Pricing
So, what does it cost to trade with ATF? See our table below for a breakdown!
| | |
| --- | --- |
| Apex Trader Funding Account Size | Monthly Fee |
| $25K | $147 |
| $50K | $167 |
| $75K | $187 |
| $100K | $207 |
| $150K | $297 |
| $250K | $517 |
| $300K | $657 |
| $100K Static | $137 |
Don't get turned off by the monthly fees- the incredible profit splits and fast payouts make up for the recurring costs, especially if you're a profitable trader.
Apex Trader Funding Pros & Cons
Here are some pros and cons we found while trading with ATF!
Apex Trader Funding Pros
Excellent profit split
Get funded in just seven days
Open multiple accounts
Relaxed, simple rules
Access to trading tools and resources
Apex Trader Funding Cons
Customer service is not always available
The trailing drawdown rule is restrictive
No Discord channel
User Reviews for Apex Trader Funding
We've searched the web to see what other prop traders think of Apex Trader Funding!
Positive Reviews
One Reddit user says that not only is Apex Trader Funding legitimate, but it's the best prop firm for futures trading.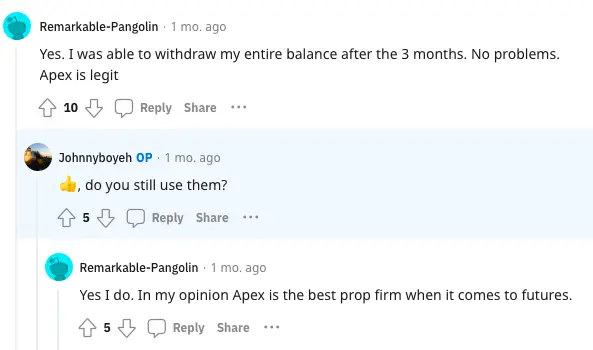 Image Source: Reddit/r/Daytrading
Another trader on TrustPilot loves that he got funded fast and has been able to open multiple accounts.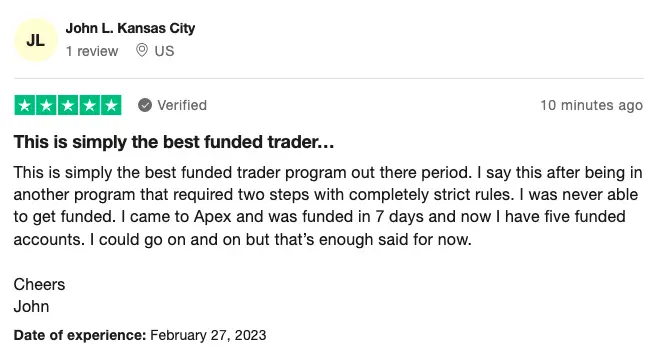 Negative Reviews
Of course, some traders have critiqued the platform; one Reddit user called the company bogus and recommended checking out other prop firms.

Image Source: Reddit.com/r/FuturesTraders
A TrustPilot reviewer named Natasha dislikes the trailing drawdown rule, which is a sentiment that many other traders have echoed.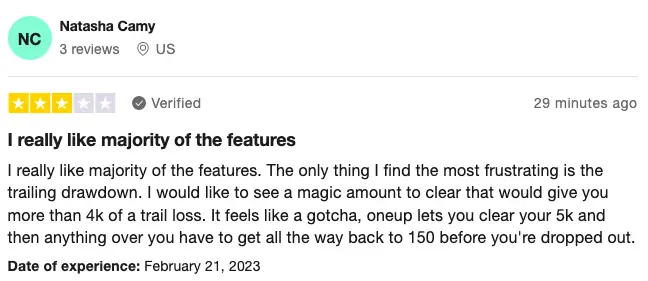 Apex Trader Funding Alternatives
Now that you've got a full picture of how Apex Trader Funding works, you may wonder, "Is this the right prop firm for me?" If the answer isn't a clear yes, we recommend checking out other options. Luckily, there are many! Here's a list of competing prop trading firms that may suit your needs:
Our Personal Experience with Apex Trader Funding
Looking into Apex Trader Funding, I was blown away by their unique and exciting features compared to other prop firms.
The profit split is incredibly generous, allowing traders to keep 100% of their profits up to $25K and 90% after that. And the best part? You get your payouts every two weeks! Plus, opening multiple accounts is a breeze, and their relaxed trading rules make it easy to make money.
While there's room for improvement, I think Apex Trader Funding is on the right track. Seeing them start a Discord channel where traders can connect and share ideas would be fantastic. Additionally, the trailing drawdown rule is a little frustrating.
Another thing that would make a huge difference would be offering 24/7 live chat support. Even though the customer support team is helpful, waiting for a response can be a pain.
Overall, Apex Trader Funding is a fantastic prop firm with unique benefits and room for growth.
Conclusion: Should You Trade with Apex Trader Funding?
Are you on the hunt for the perfect futures prop firm that aligns with your trading style? Look no further than Apex Trader Funding. With its simple rules, attractive payouts, and ability to open multiple accounts, it's an exceptional option.
While it may not be ideal for traders who want to dabble in various assets, it's undoubtedly one of the top picks for futures traders. Join Apex Trader Funding today, or check out our list of the Best Futures Prop Trading Firms for more options!