Are you looking to advance your skills as a futures trader? Whether you're a newbie or a pro, Leeloo Trading may be the perfect prop firm for you. With unrivaled profit splits, flexible trading rules, and free trials for beginners, Leeloo Trading has much more to offer traders than just a funded account. But don't just take our word for it.
Read our Leeloo Trading Review and get all the information you need to determine if this is the best prop firm for you.
What Is Leeloo Trading?
As a leader in the industry, Leeloo empowers skilled traders by providing them with fully funded trading accounts, so they can take on the market without risking their own capital.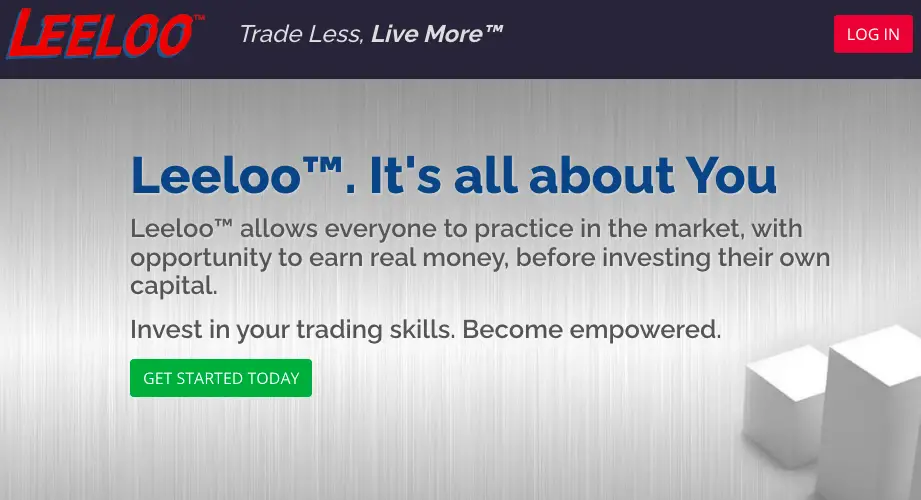 Whether you're a parent, entrepreneur, educator, or someone passionate about trading, Leeloo welcomes traders from all walks of life who are ready to thrive and achieve profitability.
Who Founded Leeloo Trading?
Meet Jody Dahl: entrepreneur, investor, and the mastermind behind Leeloo Trading – a community of traders who achieve their full potential without limitations. Jody believes that success in trading cannot be attained through shortcuts, which led her to develop the Leeloo Trading Program.
Leeloo Trading Tradable Assets
At Leeloo, you have the power to trade a variety of assets, such as equity, interest rate, agricultural, currency, energy, metal, micro, and crypto futures. Get a full breakdown of all your trading options with just a glance at the screenshots below.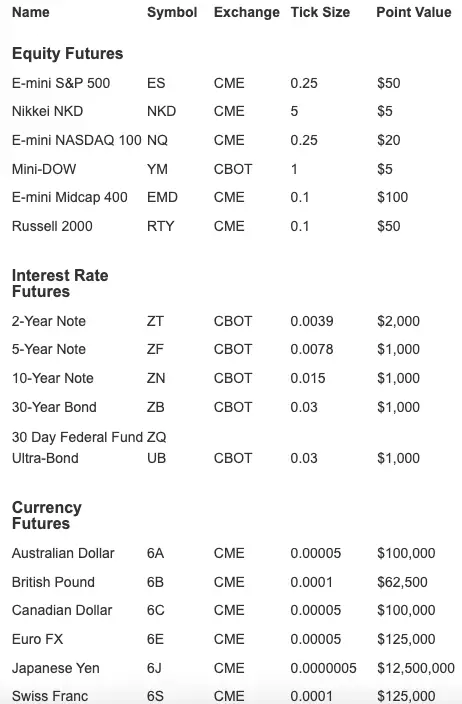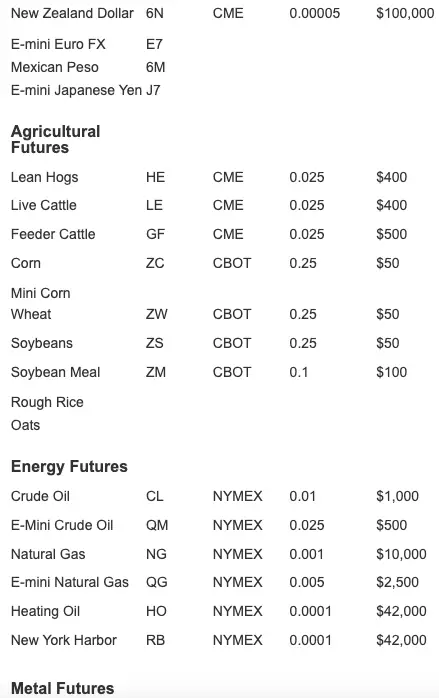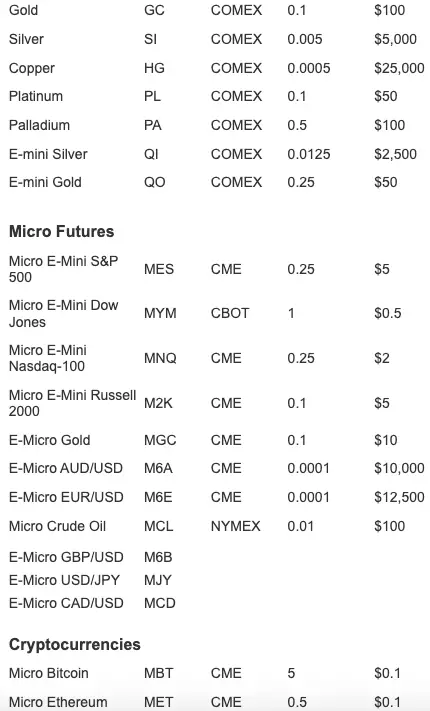 How Leeloo Trading Works
Leeloo offers account sizes tailored to your trading plan and skill level. Account sizes range from $25K at the lowest to $300k at the highest. But before getting funded, you have to pass the evaluation process.
Evaluation Process
Discover how Leeloo can help you achieve your trading goals with their flexible account sizes, ranging from $25K to $300K, perfectly tailored to your trading plan and skill level. But, before you can start trading with real money, you must pass Leeloo's evaluation process.
Here are the trading rules for a practice account:
Reach a $6,000 profit target
Manage up to 12 contracts
Abide by the $3,000 maximum trailing drawdown
Place trades for a minimum of 10 trading days
Congratulations! After the evaluation, Leeloo provides you with a paid performance account, which means you can start making actual trades with the same initial balance as your practice account. This is your chance to put your skills to the test and start earning real profits.
Leeloo Foundation Accounts
Each of the Leeloo trading accounts has different buying power and rules. The standard foundation accounts are available to all traders, and they include the following:
Express Account
Aspire Account
Launch Account
Climb Account
Cruise Account
Burst Account
Explode Account
Glide (Micro) Account
See below for a breakdown of how each funded account works.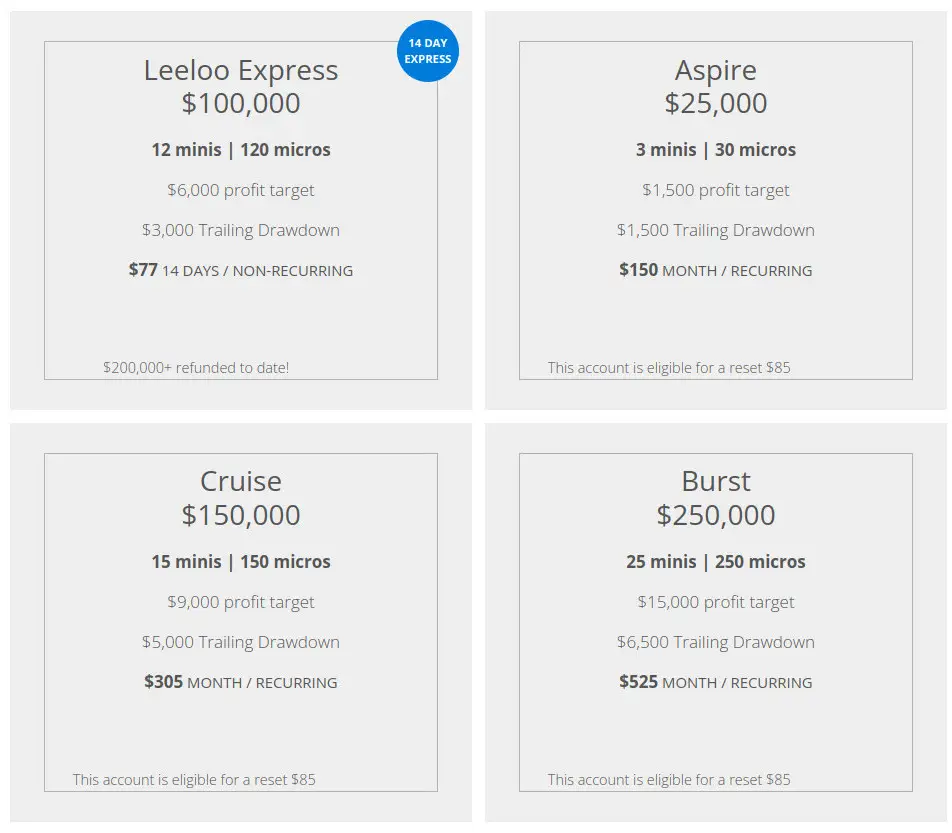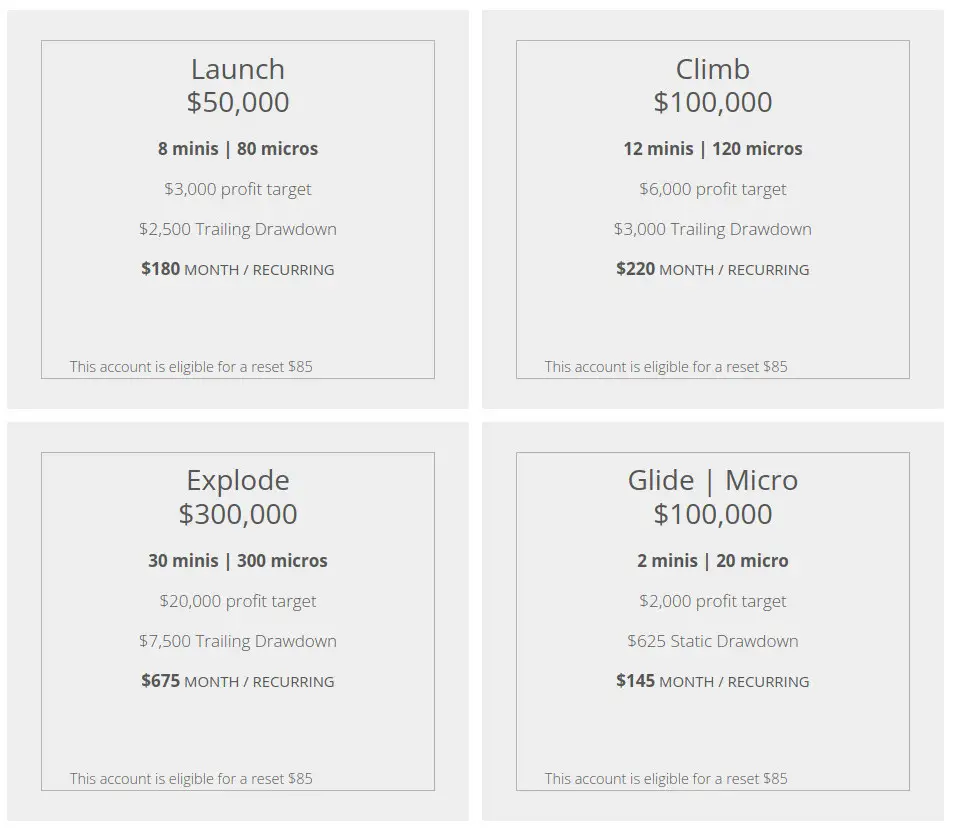 Leeloo Weekly Accounts
Leeloo also offers two weekly account options where traders can enjoy weekly payouts. Traders who qualify for a weekly account choose between initial balances of $25K or $50K.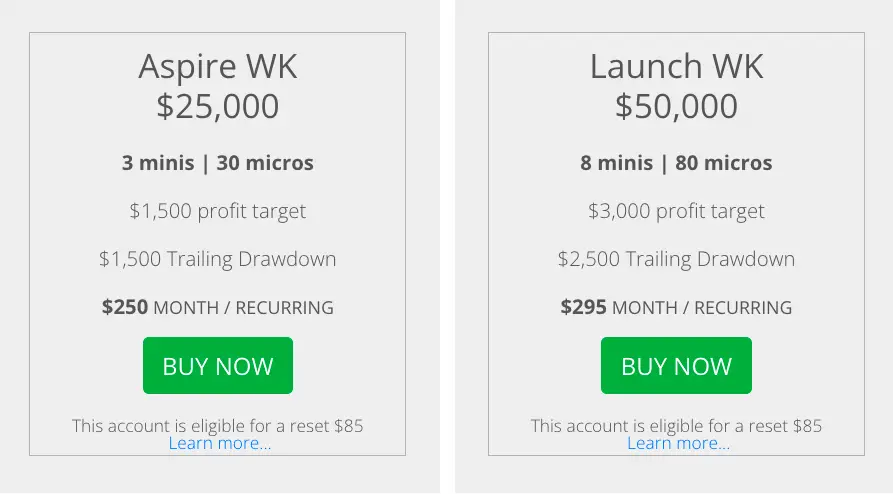 With a ten-minimum trading day requirement and multiple account options, Leeloo supports traders with varying strategies and techniques.
Top Features of Leeloo Trading
 What makes Leeloo Trading stand out from other prop firms? Let's dive into their unique features and find out!
Up to 90-100% Profit Split
Leeloo Trading has a unique profit-sharing system that we love! Here's how it works: You keep 100% of your profits from your initial investment of $8,000, which is an extraordinary advantage. Then, you get to keep 80% of profits for the next year and a fantastic 90% thereafter! Many firms only offer up to 80%
Relaxed Trading Conditions
Leeloo Trading offers flexible trading rules that work for all types of traders. You can hold trading positions over the weekend and during holidays and news days without worrying about daily drawdowns. This makes Leeloo an excellent choice, especially for swing traders who need more time to execute their strategies. With no maximum trading period, you're free to trade how you want, when you want.
Convenient Leeloo App
At Leeloo Trading, they understand the importance of convenience. That's why they offer a mobile app that lets you trade from the palm of your hand. With the Leeloo app, you can participate in contests, track your trading progress, and close trades from absolutely anywhere.
It's a nice touch that makes trading futures more accessible and enjoyable. So, if you're always on the go, you'll love the convenience of trading with Leeloo.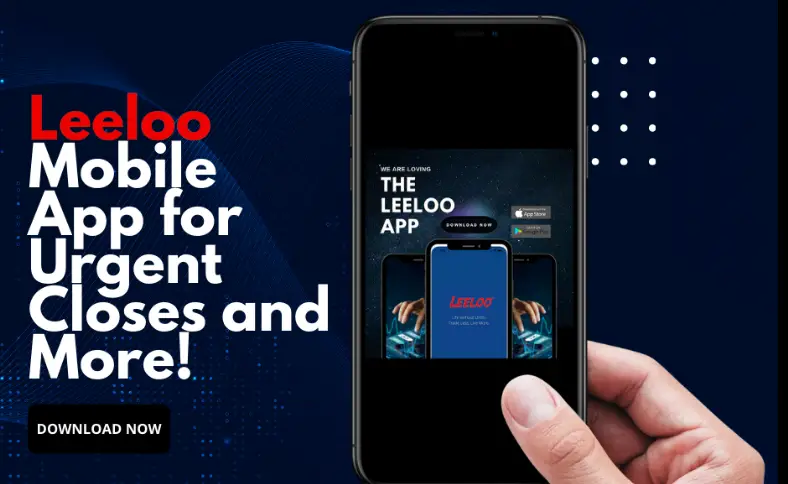 Leeloo Loyalty Program
Leeloo Trading also offers a Leeloo Loyalty Program to reward its most reliable traders. This program lets you accumulate credits every time you buy a subscription package. You can redeem these credits to receive benefits such as free resets or a free Express Practice Account. Not many prop firms offer loyalty programs, so this is a feature we appreciate about Leeloo.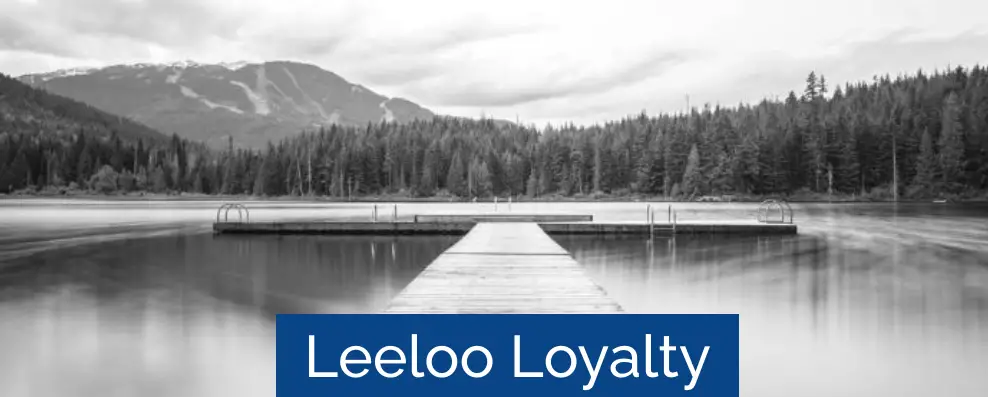 Free Trial for New Members
We were impressed with Leeloo Trading's 14-day free trial for their practice account. It gave us access to a $100,000 virtual balance and allowed us to open up to 12 maximum contracts. Trying out a new prop firm's software can be daunting, so we appreciated being able to test Leeloo's systems before committing. This is an excellent feature for those looking to explore new trading platforms without the risk of losing money.
Leeloo Trading Pricing
Are you curious about the cost of trading with Leeloo?
Well, they offer different pricing options depending on your account type. Let's take a closer look at what you can expect to pay.
| | | |
| --- | --- | --- |
| Leeloo Account Type | Fee | Recurring Monthly? |
| Express ($100K) | $77 | ❌ |
| Aspire ($25K) | $150 | ✅ |
| Launch ($50K) | $180 | ✅ |
| Climb ($100K) | $220 | ✅ |
| Cruise ($150K) | $305 | ✅ |
| Burst ($250K) | $525 | ✅ |
| Explode ($300K) | $675 | ✅ |
| Glide ($100K) | $145 | ✅ |
| Aspire Weekly ($25K) | $250 | ✅ |
| Launch Weekly ($50K) | $295 | ✅ |
As you can see, all accounts require a monthly fee besides the Express Account. If you fail the evaluation, you can reset your account for a fee of $85.
Leeloo Trading Pros & Cons
Here are the pros and cons we found while trading with Leeloo!
Leeloo Pros
Excellent profit split
Free trials
Mobile app
Trading competitions keep it fun
Multiple account options with varying buying power
Trading rules accommodate multiple trading styles
Leeloo Cons
No Discord channel
No customer service live chat
Limited educational tools
User Reviews for Leeloo Trading
Leeloo Trading has 4.9 stars on TrustPilot, making it one of the highest-rated futures prop firms.
Positive Reviews
One trader named James says that Leeloo is an affordable option dedicated to supporting futures traders.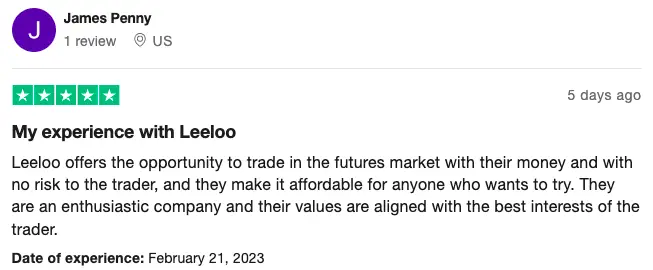 Image Source: TrustPilot
Another happy trader, Huy, praises Leeloo's customer service team and trader competitions.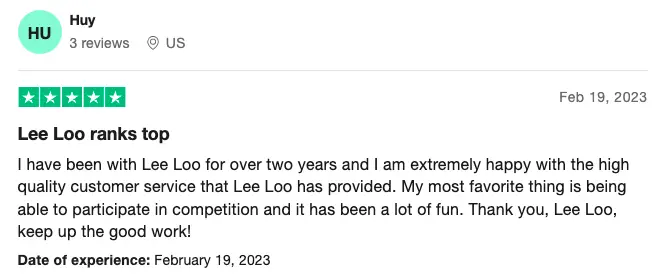 Image Source: TrustPilot
Negative Reviews
Of course, some traders have critiques; CT says the trailing drawdown works against traders, making it difficult to get a funded trading account.

Image Source: TrustPilot
Another trader, Alex, warns that while Leeloo seems like an honest company, some of their dealings are shady.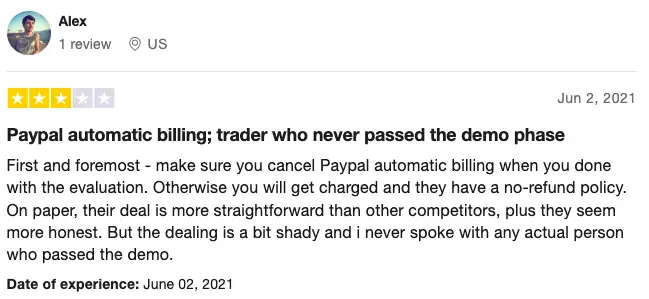 Leeloo Trading Alternatives
Now that you've heard the good, the bad, and the ugly of trading with Leeloo, you may be ready to sign up for an account or look at other options.
Our Personal Experience with Leeloo Trading
Regarding prop trading firms, I was intrigued to see how Leeloo Trading would stack up against others. After researching, Leeloo stands out in the futures market with its user-friendly approach and exceptional payouts. What I appreciate most about Leeloo is their profit-sharing system, which lets you keep your first $8,000 in profits, and as you progress, your profit splits increase.
Leeloo's trader competitions add more excitement and motivation to the trading experience. However, there's still room for improvement. For instance, it would be great to see Leeloo create a Discord community to enable traders to connect and chat. Also, more educational content would benefit beginners looking to learn and develop trading strategies.
Finally, I think it would be helpful if Leeloo implemented a live chat feature to make it easier for traders to contact the Leeloo Trading Team. By doing so, traders can get quick answers to their questions and solve any issues promptly.
Conclusion: Should You Trade with Leeloo Trading?
Looking for an option that caters to futures traders of all kinds? Look no further than Leeloo Trading. With its flexible rules and top-notch tools, Leeloo makes trading interesting with the option to sign up for competitions or grow your skills with a live account.
Although it may not be the best choice for new traders due to its evaluation process and lack of educational resources, Leeloo is an excellent option for experienced traders eager to start trading futures and get funded quickly.
With its attractive payouts and valuable tools, Leeloo Trading is among the best-rated prop firms for skilled traders looking for capital and ways to succeed. Start working with Leeloo Trading now, or check out more options with our review of the Best Futures Prop Trading Firms!