You may consider using a proprietary trading firm if you want to break into the trading business and learn hands-on skills. A good prop firm provides aspiring traders with a funded trading account and the tools to succeed in the financial markets.
However, not all prop firms are built the same; with countless options, you'll need to research to find the best one to suit your needs. For example, you don't want to sign up with a firm to learn trading knowledge and realize they don't offer any educational materials.
Luckily, we're here to help!
In this extensive Earn2Trade review, we'll give you all the information you need to decide if Earn2Trade is the best fit for you.
What Is Earn2Trade?
Earn2Trade is a prop firm focused on early-trader education. Their mission is to provide mentorship to traders and connect them with a partnering prop trading firm.
Earn2Trade welcomes traders of all levels, from newbies looking for a beginner crash course to experienced traders looking for funding. With educational videos and one-on-one mentoring, traders at Earn2Trade can climb the progression ladder and access a funded trading account quickly.
So how does it work?
Anyone can pay for the educational courses at Earn2Trade; you don't need to be a trader to access these materials. However, certain programs offered by Earn2Trade include free access to these courses.
Those who decide to take on one of the Earn2Trade challenges must pass an evaluation period to get funded. After passing, Earn2Trade connects traders with one of their proprietary trading partners, Helios Trading Partners or Appius Trading Limited. The prop firm will provide the funds, so traders don't have to worry about using their own capital.
From this point, traders have the education necessary to trade all CME (CME, CBOT, NYMEX, COMEX) futures assets.
Who Created Earn2Trade?
A trader named Ryan Masten created Earn2Trade in 2016. He designed Earn2Trade to educate clients on futures trading and assist them in growing their trading careers. The company is based in Wyoming and employs a team of traders, educators, and developers to keep operations running.
How Earn2Trade Works
Earn2Trade offers three trading challenges that traders can choose from:
The Trader Career Path
The Gauntlet Mini
The Gauntlet
Let's discuss how each program works, from the features they offer traders to their rules and restrictions.
The Trader Career Path
Introduced in 2022, the Trader Career Path is a scaling plan that enables professional traders to grow their account sizes step by step. With the Trader Career Path, traders have a clear plan where they can work their way up to funded accounts with as much as $400,000.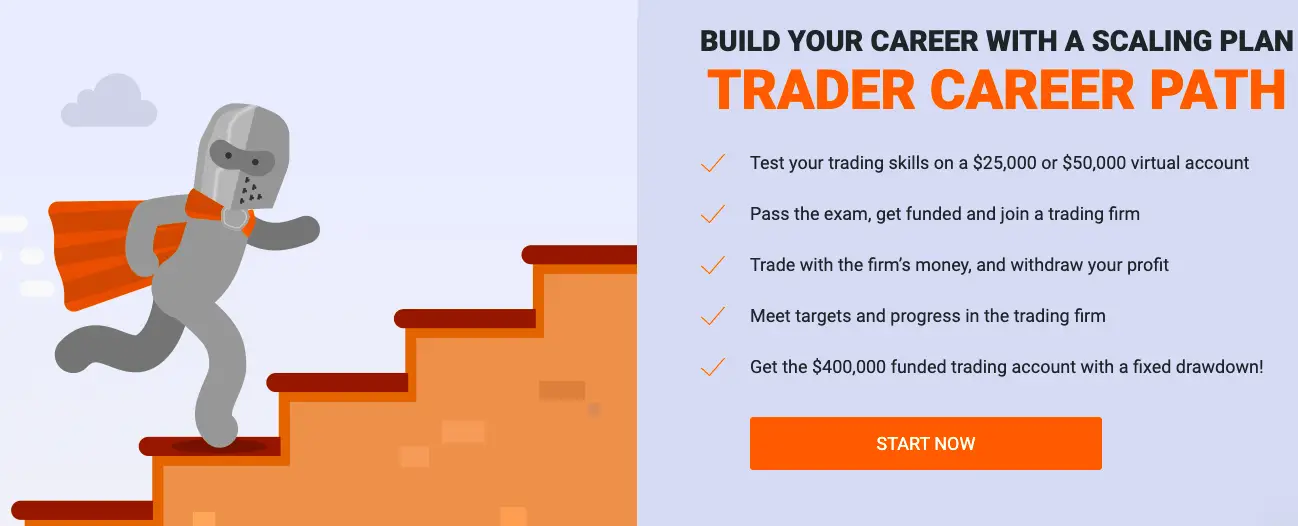 The first stage of the Trader Career Path is an evaluation where you trade with virtual capital while following trading rules. Trading rules include:
Trading for a minimum of 15 days
Only trading during the approved times
Following the progression ladder
Honoring the daily loss limit
Staying within the minimum account balance rules
Maintain consistency*
*No single trading day can account for 30% or more of your total profit and loss during the challenge.
After passing the evaluation, you can access a live funded account from one of Earn2Trade's prop firm partners. Traders can choose between an account with an initial capital of $25,000 or $50,000. Here's what starting with a $25,000 funded account looks like:
| | |
| --- | --- |
| Progression Ladder | Initial Account Balance |
| Evaluation | $25,000 (Virtual with free reset) |
| Junior LiveSim Account | $25,000 (Virtual) |
| Junior Live Account | $25,000 |
| Intermediate Live Account | $50,000 |
| Advanced Live Account | $100,000 |
| Senior Live Account | $200,000 |
Here's what it looks like when you start the Trader Career Path with a $50,000 account:
| | |
| --- | --- |
| Progression Ladder | Initial Account Balance |
| Evaluation | $50,000 (Virtual with free reset) |
| Junior LiveSim Account | $50,000 (Virtual) |
| Junior Live Account | $50,000 |
| Intermediate Live Account | $100,000 |
| Advanced Live Account | $200,000 |
| Senior Live Account | $400,000 |
The Trader Career Path is ideal for traders who want a clear path to professional futures trading. If you're interested in trading large amounts of capital without risking your own money, the Trader Career Path is your best option, as it offers funded accounts of up to $400,000.
The Gauntlet Mini
Unlike the Trader Career Path, the Gauntlet Mini is a one-step evaluation process and trading simulator. Traders who sign up for the Gauntlet Mini use virtual capital to prove their trading talents. One of the Mini's best perks is that during the time of your subscription, you will have free access to Earn2Trade's educational materials.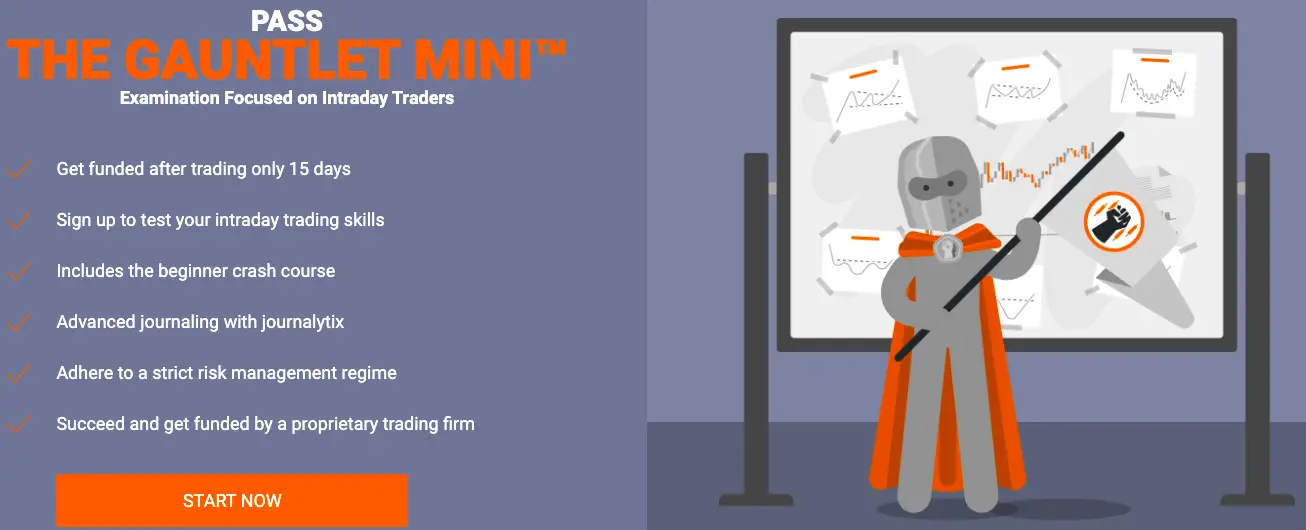 To successfully complete the Mini, you must reach the profit target for your account size while following trading rules. The rules for the Gauntlet Mini include:
Trading for a minimum of 15 trading days
Not exceeding the daily loss limit
Not exceeding the maximum position of opened contracts
Staying within the minimum account balance
Trading only during approved times
Following the "Maintain Consistency" rule
After completing the Mini, Earn2Trader rewards you with a live trading account from a partnering prop firm. The account size with the new prop firm will be the same as the starting size of your Gauntlet Mini account.
See the table for a breakdown of how each account size works for the Gauntlet Mini:
| | | | |
| --- | --- | --- | --- |
| Account Size | Profit Target | Daily Loss Limit | Maximum Number of Contracts |
| $50,000 | $3,000 | $1,100 | Up to 6 |
| $100,000 | $6,000 | $2,200 | Up to 12 |
| $150,000 | $9,000 | $3,300 | Up to 15 |
| $200,000 | $11,000 | $4,400 | Up to 16 |
The Gauntlet Mini is an excellent option for intraday traders who have the skill for futures trading but lack the capital. It's also a strong choice for inexperienced traders, as you get free access to the educational content that Earn2Trade offers.
However, if you're looking to trade larger amounts of capital, the Mini may not be your best option; the highest account size is $200,000, while the Trader Career Path funds up to $400,000.
The Gauntlet
The Gauntlet is a program where traders trade using virtual funds ($25,000) for 60 days. After successfully completing the Gauntlet, traders join a partnering prop firm and access a live funded account with more flexibility than the Trader Career Path or Gauntlet Mini program.

To pass the Gauntlet, traders must hit profit targets while following the trading rules. The trading rules for the Gauntlet include:
Managing a $25,000.00 account for 60 days
Submitting a Trading Plan in the Dashboard
Trading a minimum of 30 days and once per week
Reaching a 10% profit target
10% maximum drawdown
If you're a skilled trader who prefers fewer restrictions on trading, then the Gauntlet is the best option. Traders who pass the Gauntlet enjoy maximum flexibility and can even hold overnight positions.
Top Features of Earn2Trade
Let's explore the top features of Earn2Trade to see how it compares to other prop trading firms.
Get Funded in 15 Days
You can start trading real capital in as little as 15 days with the Trader Career Path and the Gauntlet Mini. This timeline is pretty competitive compared to many other prop firms. Of course, if you decide to go with the Gauntlet, you'll have to trade for 60 days before accessing a live, funded account.
80/20 Profit Split
At Earn2Trade, traders keep 80% of their profits, which is right around the industry standard. If you're looking for a proprietary trading firm where you keep most of your earnings, Earn2Trade is a solid choice.
Advanced Analytics Dashboard
Earn2Trade features a dashboard integrated with Journalytix. Journalytix is a software tool that allows traders to access a live news feed, analyze their trade history, and keep a playbook of their trading strategies.
Educational Courses
Earn2Trade offers a Beginner Crash Course where traders can watch educational videos teaching fundamental and advanced trading concepts. They also provide Futures Trading Courses where you can learn about how to improve your futures trading performance.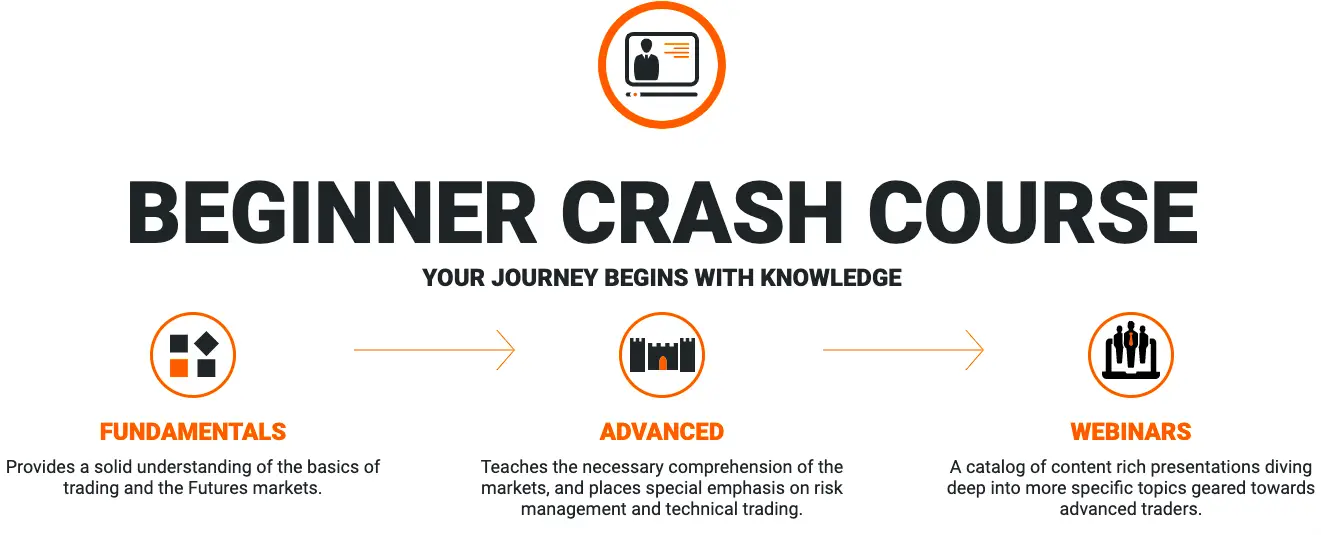 Earn2Trade Pricing and Fees
Before joining Earn2Trade, you'll need to know how much this company's services will cost.
For the Trader Career Path, you'll pay a $150 or $190 monthly subscription fee, depending on which account size you choose. If you fail the Trader Career Path during the evaluation stage, you can reset your account and start again for $100.
For the Gauntlet Mini program, you'll also be charged a recurring subscription fee depending on your package option; costs range from $150-350. With the Gauntlet Mini, traders get free access to the Beginner Crash Course, which typically costs $249.
For the Gauntlet program, you'll pay a one-time fee of $429. For all live accounts, you'll pay a withdrawal fee if you request a withdrawal while your balance is below $500.
Note: Earn2Trade often offers discounted prices, so keep an eye out to get the best deal possible.
Earn2Trade Pros and Cons
Let's give a quick overview of the pros and cons of Earn2Trade!
Earn2Trade Pros
Excellent educational resources (for new and experienced traders)
Multiple program options (Trader Career Path, Gauntlet, Gauntlet Mini)
Fast funding compared to many other prop firms
Fair profit split
Helpful analytics dashboard
Long-standing positive industry reputation
Earn2Trade often offers discounted fees
Earn2Trade Cons
You can only trade futures assets
No trading forex or crypto futures
Metatrader is not supported
User Reviews for Earn2Trade
With a 4.7-star rating on TrustPilot, Earn2Trade has over a thousand reviews from verified customers. Check out some reviews to see what prop traders think of Earn2Trade!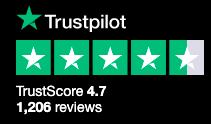 Positive Reviews
One verified user named Oussama thinks Earn2Trade is the best prop firm, and he loves how it helps him stay consistent:

Another user named Youness thinks Earn2Trade has helped him grow as a trader, and he appreciates their clear terms.

Negative Reviews
But not everyone has glowing reviews about Earn2Trade; one unhappy user named Simon warns to avoid Earn2Trade at all costs, complaining of hidden commissions and wasted time: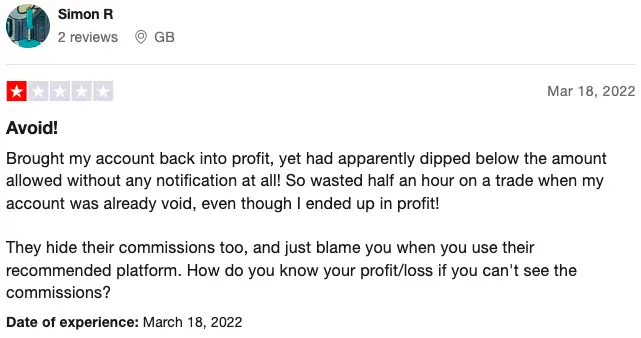 Alessandro expresses his frustration with his account being blocked and customer service not helping him out.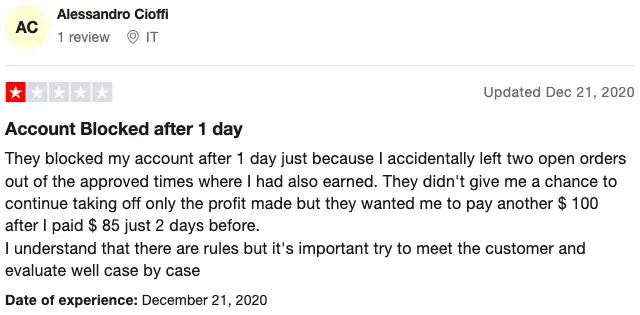 Our Personal Experience with Earn2Trade
​​After testing Earn2Trade, we found that the company's solid reputation is well-deserved. We love Earn2Trade's educational tools, from the Beginner Crash Course to the advanced Futures Courses. We find that these services make Earn2Trade an excellent platform for both amateur and professional traders.
Another feature we appreciate about Earn2Trade is its analytics tracker. With an easy-to-navigate dashboard, traders can easily view their analytics, determine which trading strategies work best, and view real-time news about the market. Features like this are what set Earn2Trade apart from your typical prop firm.
Of course, there are a few ways we believe Earn2Trade could improve its platform. For example, traders are pretty limited in what they can trade; only futures assets are tradable, no forex or crypto. We think if Earn2Trade ventured into more markets, it could open the door for many more traders.
However, if you're only interested in futures trading, it's safe to say Earn2Trade may be one of the better trading platforms on the market.
Earn2Trade Alternatives
Of course, Earn2Trade isn't the only prop trading company on the market; you'll need to research other options before deciding which is best for you. Examples of competing prop firms include:
Conclusion: Should You Use Earn2Trade?
So are you a good candidate for Earn2Trade? Whether you're new to the trading industry or a seasoned veteran, Earn2Trade is an excellent choice for traders in the futures market. With access to courses offering valuable educational content, Earn2Trade hooks users up with the essential tools for becoming talented traders.
If you're interested in fast funding and a headache-less trading experience, Earn2Trade delivers with its easy-to-navigate dashboard and built-in analytics. Because Earn2Trade connects you to one of their partnering prop firms, you won't have to risk your own money; the prop firm will provide a fully funded account to all successful students of Earn2Trade.
So if you're a skilled trader with lots of experience or a new trader looking to learn, you don't have to look much further than Earn2Trade. With its solid reputation and educational material, Earn2Trade sets out to ensure its traders succeed in the industry.
Of course, you can always explore other options with our list of the Top Prop Trading Firms for Futures!