Are you a trader who needs access to capital or expert-level training? If so, you're probably searching for the right proprietary trading firm to help you reach your goals. Proprietary firms are an excellent way for new and experienced traders to get funded, collaborate with professional traders, and start trading without risking their own capital.
With so many options, choosing the best firm to match your needs takes time. You may sign up for a firm with fantastic funding program options, then realize they're overloading you with hefty fees.
That's why we recommend doing your research and reading reviews on multiple proprietary trading firms. Of course, you'll want to learn from like-minded traders who understand the competitive landscape and its many options.
Well, you're in luck! In this comprehensive AudaCity Capital review, you'll learn everything you need to know to determine if AudaCity Capital is the right trading firm for you.
What Is AudaCity Capital?

AudaCity Capital is a forex proprietary trading firm designed to empower traders. This prop firm funds traders with capital for trading forex, stocks, bonds, commodities, and indices on the MetaTrader 4 (MT4) platform. Beginner traders can only trade with forex, but once they prove themselves to be profitable, they can trade more volatile assets.
After a short application process, AudaCity Capital hires prop traders and provides them with capital for trading. Prop traders receive a certain percentage of their profits and work their way up the scaling plan, generating income for themselves and Audacity Capital.
When Was AudaCity Capital Founded?
Founded in 2012, AudaCity Capital has been funding talented and ambitious traders for over ten years. Based in London, this prop firm backs traders in over 140 countries and boasts that 70% of its funded traders are successful. AudaCity Capital's long-standing reputation makes it a trusted firm for anyone looking to begin or grow their trading career.
Top Features of AudaCity Capital
Let's talk about some of Audacity Capital's notable features that set it apart from other prop firms.
The Funded Trader Program
The Funded Trader Program is designed for experienced traders with at least 3-6 months of trading experience. With a quick application process that requires a face-to-face interview, traders in the Funded Trader Program have access to tools that help them manage their money and find success in the field.
The Ability Challenge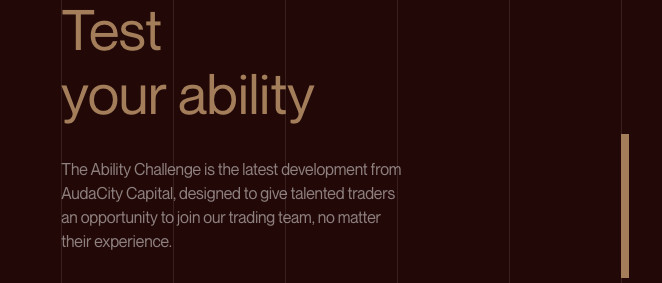 AudaCity Capital also offers the Ability Challenge for talented and ambitious traders looking to join the team. Once traders pass the two-step evaluation process, they can access a trading account with a larger initial balance and enjoy more flexible trading conditions.
50/50 or 75/25 Profit Split
If you're in the Funded Trader Program, you'll share 50% of your profits with the prop firm, which is admittedly a high percentage. However, if you've passed the Ability Challenge, you'll keep 75% of your profit, which is closer to the industry standard.
Live Funded Account
At AudaCity Capital, you can start trading real capital the second you get approved for the Funded Trader Program. This feature is a real plus, as many other prop firms make you handle a demo account before jumping into a live one.
Fast Scaling Plan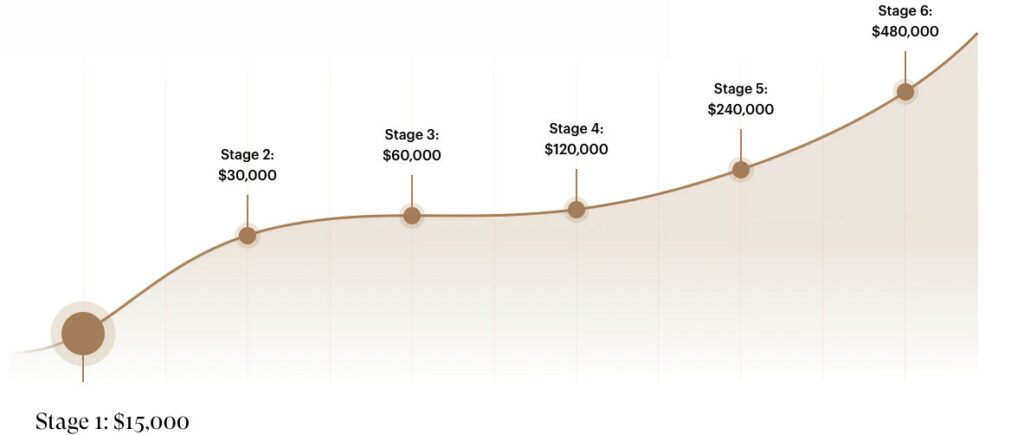 AudaCity Capital lets traders quickly scale up to handling accounts up to $500,000. Every time you reach a 10% profit target, your trading account size doubles, allowing you to make even more money. This is an essential feature for this prop firm to have, as your initial account balance is only $15,000.
No Commissions or Swaps
Traders don't have to pay commission or swap fees at AudaCity Capital; this prop trading firm uses an institutional liquidity provider to ensure traders access deep liquidity in the market.
Hidden Talents Program
Are you a new trader interested in entering the industry? AudaCity Capital offers a Hidden Talents Program to recruit the next generation of talented traders. The Hidden Talents Program provides fresh talent one-on-one training with an experienced mentor.
Audacity Capital Pricing and Fees
One of the most important considerations when selecting a proprietary trading firm is how much it costs you.
You'll pay a one-off joining fee of £199 ($216 USD) plus a monthly platform fee of £99 ($107 USD). No matter how much your account size increases, these costs stay the same.
As mentioned above, traders do not have to pay swaps or commissions thanks to the liquidity provider. This feature allows for speedy executions and tight spreads. However, you make up for not paying swaps or commissions with recurring monthly fees.
AudaCity Capital offers traders a 50/50 profit split (which isn't very exciting compared to what its competitors offer).
How AudaCity Capital Works
Let's explain how AudaCity Capital works, from its account sizes and application process to its rules and regulations.
Accounts
There are six stages through which traders can progress by hitting the profit target. See our table below:
How to Apply
The application process to become a trader at AudaCity Capital is unique compared to other prop firms. While most firms use an evaluation to find profitable traders, AudaCity Capital conducts an interview.
Here's what it takes to reach the interview stage and become a funded trader:
Apply to the program by completing an online form (share your trading experience, trading strategies, and risk management skills)
Attend a face-to-face or over-the-phone interview with talent acquisition team members
Receive feedback in 24 hours and start trading right away
Rules
Traders should be aware of the following rules before trading with AudaCity Capital:
Drawdowns are 10% (no liability for losses)
No trading during major news events (NFP, FOMC, interest rate decisions, and central bank speeches)
Request withdrawals after hitting profit targets
After hitting profit targets, refrain from trading until your account is doubled and you have received the profit payout
AudaCity Capital Pros and Cons
Let's discuss some pros and cons of trading with AudaCity Capital.
AudaCity Capital Pros
Instant live account funding
Access to trading support and educational content
No liability for losses
Long-standing positive reputation in the industry
Multiple trader funding programs to choose from (Ability Challenge and Hidden Talents program)
AudaCity Capital Cons
£199 joining fee plus £99 monthly fee
Limited profit split compared to competitors
Forex trading only until Stage 4
The thorough interview process may scare away traders
User Reviews for AudaCity Capital
AudaCity Capital has a 4.7-star rating on TrustPilot and a world-renowned reputation. Let's look at some reviews to see what proprietary traders say about this firm!
Positive Reviews
Dhruv Patel is a verified AudaCity Capital trader from the United States who says the opportunity was life-changing.
Haran Govindan from the United Kingdom shares his success with Audacity Capital.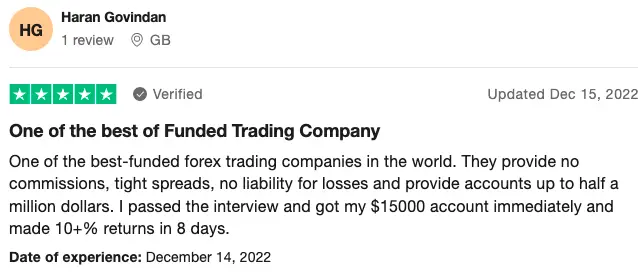 Negative Reviews
Of course, it isn't all sunshine and rainbows; Diet Quintana rated AudaCity Capital poorly due to a lack of communication.

Ansar said Audacity is good, minus the recurring monthly fee.

Alternatives to AudaCity Capital
While AudaCity Capital is a solid choice, you may want to explore some alternative options. Check out our list of competing prop trading firms below:
Our Personal Experience with AudaCity Capital
With a 4.7 star rating, it's no surprise that AudaCity Capital delivers on multiple fronts.
We love that you don't have to play around with demo accounts for a minimum number of trading days; you can jump into live trading and receive an instantly funded account.
We also find it beneficial that traders can choose between multiple programs. For example, less experienced traders can sign up for the Hidden Talents program and receive one-to-one training. This feature makes AudaCity Capital accessible for traders at any level.
However, there are a few areas where AudaCity Capital falls short. For example, we'd love to see AudaCity Capital offer its traders a more generous profit share. With a 50/50 profit split, they fall way behind industry standards; this is a big issue for traders who want to keep more of their earnings.
Conclusion: Should You Trade with AudaCity Capital?
So what's our verdict for AudaCity Capital? If you're a profitable trader who doesn't mind the bigger profit split, then AudaCity Capital is an excellent option. With a fast scaling plan and no liability for losses, you can trade using increasing amounts of capital with little risk. This makes AudaCity Capital ideal for traders who want to break into the industry without gambling their own money away.
Joining the Funded Trader Program ensures you get a live trading account with instant funding, which is more than many other prop firms can say. Even if you're a newbie in the proprietary trading world, AudaCity Capital has programs like the Audacity Challenge and the Hidden Talents Program that are perfect for up-and-coming traders.  
So if you're looking to get funded fast and start trading real capital, AudaCity Capital is an excellent choice. Not only does AudaCity Capital have a great reputation, but it provides traders of all levels with the tools necessary to succeed.
If you're still wondering what else is out there, read our Top Forex Prop Firms Review for more information!