Are you a skilled trader searching for the perfect funding opportunity to take your trading to new heights? If so, Super Funded might be right for you. Their program boasts 90% profit splits, affordable costs, and relaxed trading rules, allowing new and experienced traders to excel in the industry and earn money fast.
Discover if Super Funded is the best prop firm for you with our 2023 review.
What Is Super Funded?
Super Funded is a prop trading firm on a mission to make trading more accessible. Super Funded goes above and beyond with its low-cost funding options to help traders achieve their goals. You can expect exceptional results from their funded trader program.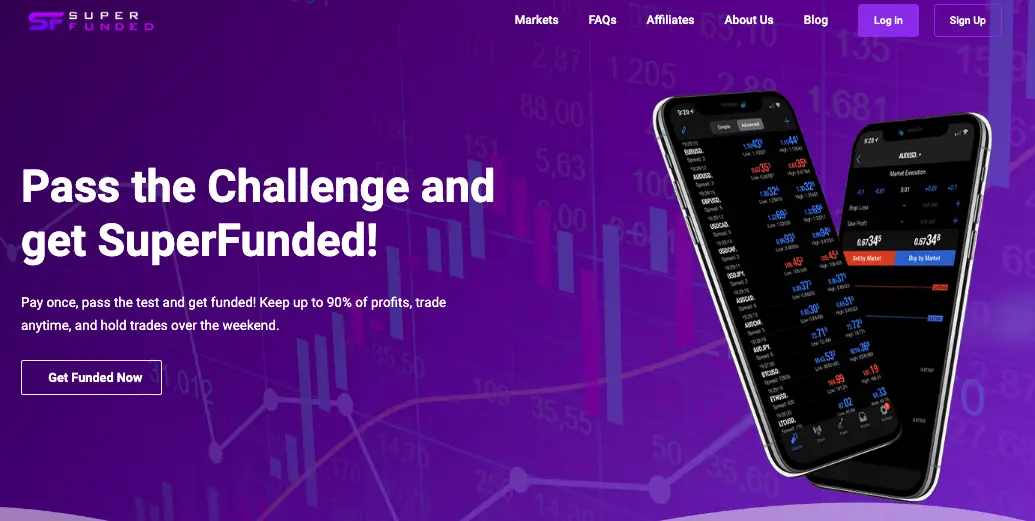 With access to cutting-edge technology and industry-leading spreads, Super Funded traders have the opportunity to excel in the financial markets.
Who Founded Super Funded?
Meet Super Funded – the brainchild of Australian forex veterans with over 50 years of combined trading experience. Partnered with Eightcap, a prominent broker that offers over 800 instruments with highly competitive spreads, Super Funded has the potential to flourish as a newly established firm.
With a wealth of trading experience, the founders of Super Funded have crafted an innovative, funded trader program. Using advanced technology and effective risk management, they help traders quickly achieve their goals.
Super Funded Tradable Assets
With over 40 major and minor forex pairs, gold and silver for commodity lovers, and the two global benchmarks for oil trading, this prop firm welcomes every type of trader. Plus, trade the world's most significant stock indices and stock CDFs too. Check it out in the screenshot below!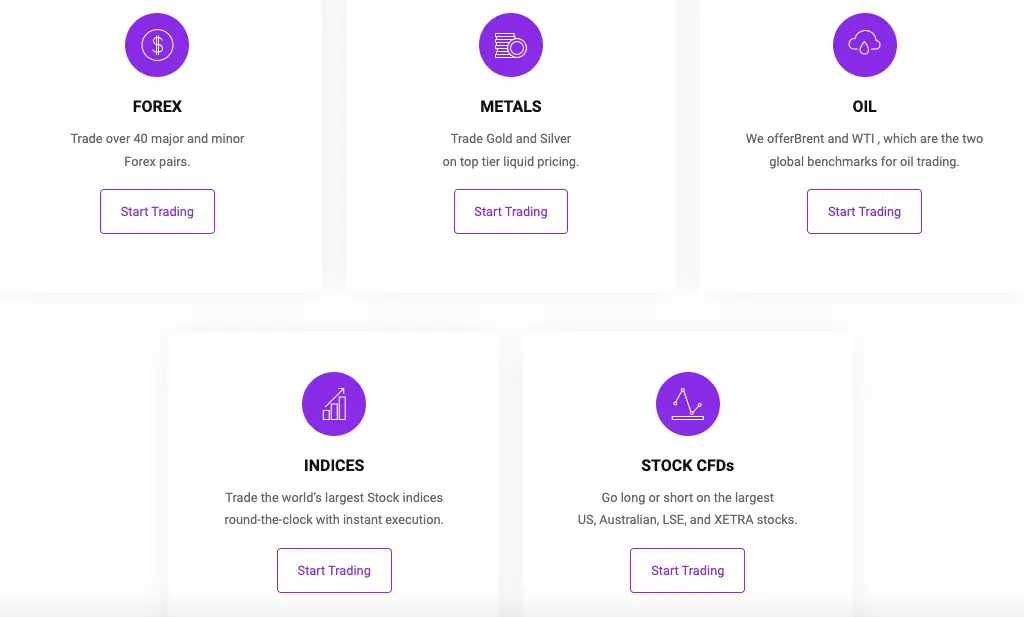 How Super Funded Works
Let's discuss how Super Funded works, from its evaluation process to the account sizes it offers.
Evaluation Process
Super Funded features a one-step evaluation stage where traders prove their profitability and risk management skills before getting funded. Super Funded designed the trading conditions of the evaluation to make traders better at their craft.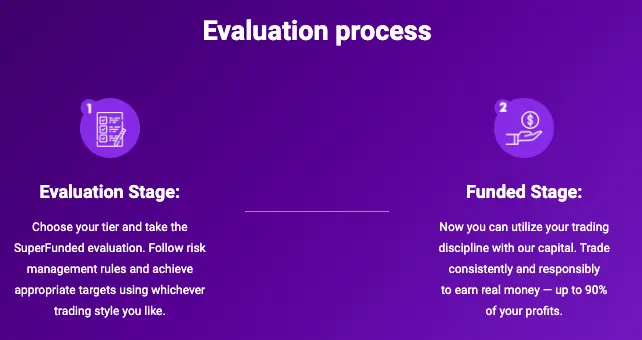 Here are the trading rules for becoming a trader with Super Funded:
Reach a 10% profit target
Do not hit or exceed the 4% max daily loss
Do not hit or exceed the maximum loss rules*
1:30 trading leverage
No minimum trading days required
Maintain the 50% profit consistency rule (no single trade can account for 50% or more of the total return or target return)
*The maximum loss rules vary depending on the account size. See the screenshot below for a full breakdown.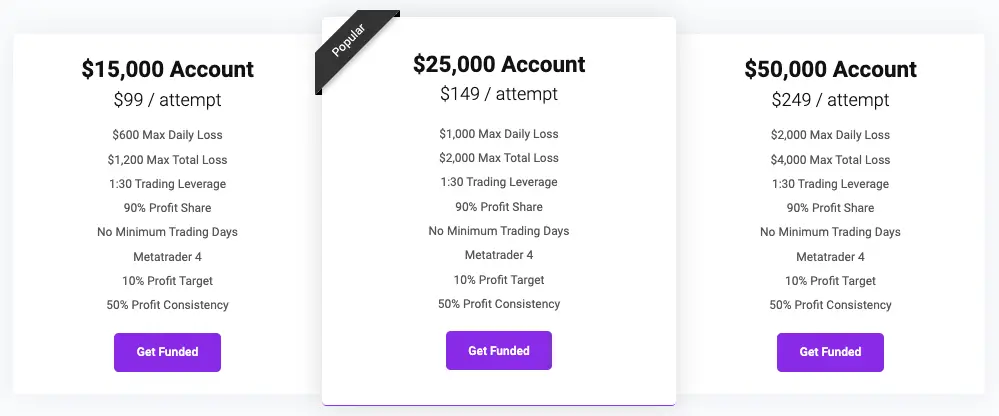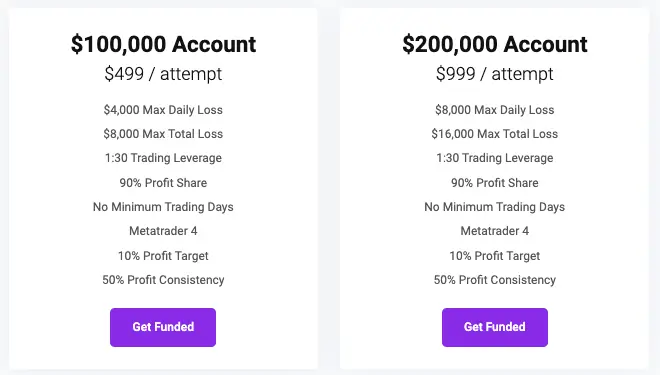 Account Sizes
Super Funded offers five account sizes, each with varying buying power: $15K, $25K, $50K, $100K, or $200K.
After passing the evaluation, traders can start trading real capital immediately, with no minimum trading days required. With a live account, you no longer have to reach a profit target but must continue to follow the other trading objectives. You must also ensure your account ends in a positive balance at the end of each thirty-day trading period.
Top Features of Super Funded
Here are the top features of Super Funded that you should know before joining.
90% Profit Split
Super Funded allows traders to keep 90% of their profits, which is impressive compared to most prop firms. Other prop firms like Earn2Trade only offer an 80% profit share, while AudaCity Capital only provides 50%.
No Demo Accounts
With Super Funded, you never trade on demo accounts or use virtual capital. After passing the evaluation, Super Funded immediately rewards you with real capital, meaning all profits are generated in the live market with no minimum trading days.
Flexible Trading Conditions
At Super Funded, you can trade anytime and even hold trades over the weekend. This feature makes Super Funded accessible to traders of all different trading styles.
Backed by Broker Venture Capital
Super Funded boasts it's the first prop trading firm backed by broker venture capital. This means traders won't have to worry about the firm's funds running out; Super Funded is supported by reliable brokers who help traders reach their goals.
Super Funded Pricing
Super Funded claims that their pricing is way more affordable than other prop firms; so much does it cost to trade with Super Funded? Let's break it down for you!  
See the table below.
| | |
| --- | --- |
| Super Funded Account Tiers | Fee (Per Attempt) |
| $15K | $99 |
| $25K | $149 |
| $50K | $249 |
| $100K | $499 |
| $200K | $999 |
There are no monthly costs for trading with Super Funded; after paying the one-time evaluation fee and getting funded, you won't have to worry about additional expenses.
Super Funded Pros & Cons
Let's break down the pros and cons of trading with Super Funded!
Super Funded Pros
Generous profit share
Reasonable costs with no monthly fees
Simple one-step evaluation process
No demo accounts – trade with real capital in live markets
No minimum trading day requirement
Multiple tradable assets
Trade using EAs or Algos
Allows weekend and overnight holding of trades
Super Funded Cons
Limited educational tools for beginners
Funding only up to $200K
Not much customer support
Not available to traders globally
Limited reviews
User Reviews for Super Funded
Currently, TrustPilot has no user reviews for Super Funded. This is because Super Funded is a new and emerging player in the prop trading world. It'll be exciting to see how Super Funded grows from here by providing a fresh take to proprietary trading with affordable prices and flexible rules.
While it isn't ideal that you can't look at user reviews for this company, it doesn't mean that Super Funded isn't trustworthy or an excellent choice for you.
We believe that the Eightcap backing holds a lot of weight – especially since they power the backend of most prop trading firms.
In fact, you can become a Super Funded trader and give the prop trading firm its first review on TrustPilot!
Super Funded Alternatives
Now that you're familiar with Super Funded's rules, pros, and cons, you may know whether or not this firm is right for you. If you'd like to see more options, we recommend checking out these competing prop firms:
Our Personal Experience with Super Funded
So how do we think Super Funded compares to its competitors? Super Funded is a solid prop Super Funded is an excellent prop trading firm for skilled traders who want to save money. One of the best things about Super Funded is its affordability; traders only pay a one-time fee to take the evaluation and get funded. Plus, Super Funded's profit split is impressive; traders keep 90% of their earnings – they're clearly trying to take market share here.
Also, getting funded with Super Funded is easy- no hoops to jump through. Just follow the trading rules, and you'll be funded in one step; no minimum trading days are required. Super Funded also lets you handle real capital on live accounts.
However, there are some drawbacks. Super Funded lacks educational resources for newer traders. We'd love to see coaching and mentorship opportunities added. Additionally, there is very little customer support- no live-chat option. Finally, Super Funded is unavailable globally, which is a shame since many prop firms offer to fund worldwide. We hope to see Super Funded open its doors to more traders.
Conclusion: Should You Trade with Super Funded?
Are you looking to get funded as a skilled trader? Super Funded is an excellent choice with straightforward requirements, varying account sizes, and an attractive profit-sharing rule – ideal for expert traders needing capital.
But if you're a beginner looking for a prop firm to improve your skills, Super Funded may not be the best option since they provide limited educational resources.
Despite that, it's a great prop trading firm overall with significant potential. Super Funded is a perfect fit for you if you're a skilled trader seeking affordable capital.
But to explore more options, you may want to read our list of the Best Proprietary Trading Firms for Commodities!