If you're a trader needing capital, you're probably searching for a prop firm that matches your needs. Prop firms are an excellent way for traders to enter the world of financial trading without risking their own capital.
Many prop firms promise to assist you in successful trading, but how can you determine which option is best? To ensure you don't get stuck paying hefty fees at a mediocre firm, we recommend researching and gaining insight from expert traders.
Well, look no further!
Our Lux Trading Firm Review will provide the valuable insight you need to decide if Lux Trading Firm checks all your boxes.
What Is Lux Trading Firm?
Lux Trading Firm is a proprietary trading firm based in London that assists new and experienced traders. Their mission is to provide traders with the tools and capital necessary to succeed in the marketplace.
At Luxing Trading Firm, traders can use any trading style to trade forex, indices, debt, and commodities. After passing an evaluation, traders receive a live-funded account with capital provided by the prop firm. This way, traders don't have to risk their own money when trading assets.
Who Founded Lux Trading Firm?
The founders of Lux Trading Firm are expert traders with over three decades of industry experience. Since the early 90s, the founders have been trading through fluctuating market conditions and learning what it takes to succeed.
Lux Trading Firm has a team of asset managers, financial experts, system developers, and fund managers, keeping the prop firm strong. Thanks to the insight and support from the group, traders at this firm have the tools necessary to achieve growth and success.
How Lux Trading Firm Works
Let's discuss how Lux Trading Firm works, from how to get started to its various options and rules.
How to Become a Lux Trader
To become a trader at Lux, you must choose an account type and start the evaluation process. Each account features an Evaluation and Advanced stage; you'll have to reach the profit target to pass each step and access a live funded account.
Here's a breakdown of the profit targets you'll need to reach for each stage of the evaluation process:
| | | |
| --- | --- | --- |
| Account Size | Evaluation Profit Target | Advanced Profit Target |
| $50,000 | $3,000 | $2,000 |
| $100,000 | $6,000 | $4,000 |
| $200,000 | $3,000 | $2,000 |
Once you pass the Evaluation and Advanced demo account stages, you can access a Professional Account and earn real profits with live capital.
Lux offers two types of trading accounts for their traders:
The Lux Career Trading Plan (the standard option)
The Lux Elite Traders Club  
The Lux Career Trading Plan
With the Lux Career Trading Plan, traders can choose between three account sizes with varying initial balances: $50,000, $150,000, or $200,000. By reaching the 10% profit target at every step and following the trading rules, traders can progress through 6-8 stages* to access a $10,000,000 account.
*With the $50,000 account, it will take eight stages; with the $150,000 account, it will take seven steps; with the $200,000 account, it will take six stages.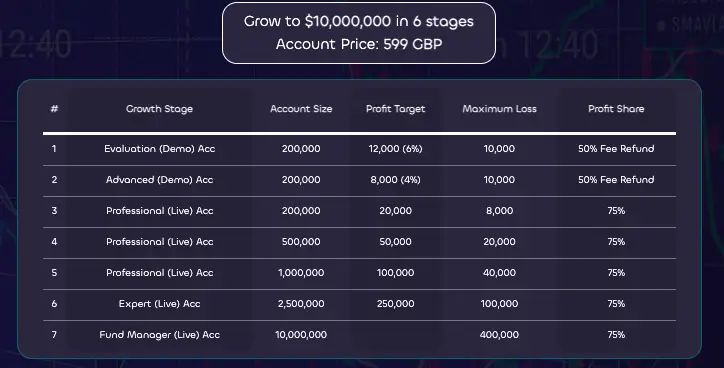 So what trading rules do you need to follow to work up the scaling plan? Here's a quick breakdown:
10% profit target
Stop-loss must be within the 4 or 5% drawdown limit
Stop-loss cannot exceed the maximum allowed risk capital
Only trade with forex, indices, debt, and commodities
The Lux Career Trading Program is ideal for traders who possess the skills to succeed but lack the capital to trade. While the Trading Program offers fewer benefits than the Elite Club, the one-time joining fee is lower, and traders can still pay for features like mentorship separately.
The Lux Elite Traders Club
The Lux Elite Traders Club is a program for all types of traders; students, beginners, and experts can all sign up to receive the benefits of the Elite Package. Like the standard Lux Career Trading Program, traders choose between three accounts ranging from $50,000-200,000.
However, each account type gives you access to different Elite features. Lux Elite features include access to a live trading room with daily market analysis, mentorship, educational content, risk management desk services, and exclusive workshops.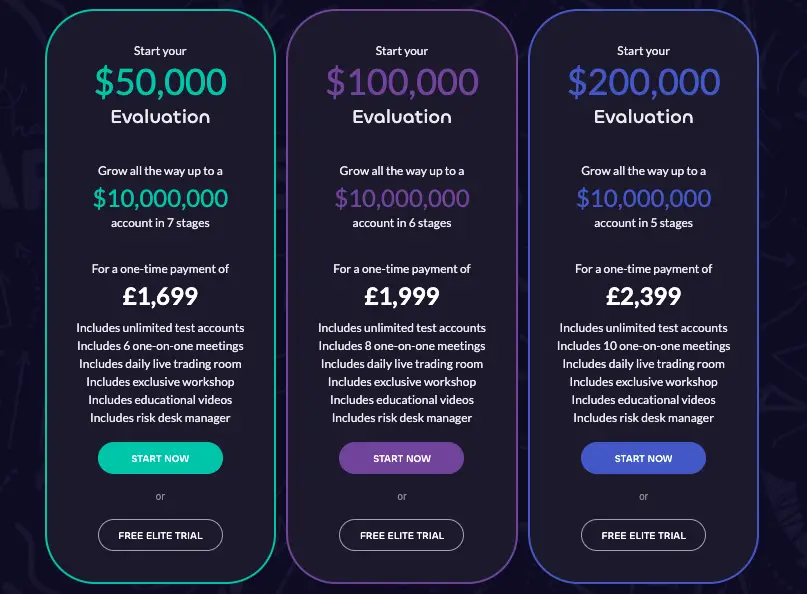 The same rules we mentioned for the standard accounts apply to the Lux Elite Traders Club: 10% profit target, stop-loss within limits, and only trading approved assets.
The Lux Elite Traders Club is ideal for traders hungry for success. While the Lux Elite Traders Club costs are higher than the regular trading program, Lux Trading Firm claims you save 60% considering all the added program benefits.
Top Features of Lux Trading Firm
Let's break down some of Lux Trading Firm's top features that make it stand out from other prop firms.
Trade Up to $10 Million
One of the most notable features of this firm is that traders can access funded accounts of up to $10,000,000 in just six stages. This amount is massive compared to what other prop firms offer their traders.
75/25 Profit Split
At Lux Trading Firm, traders keep 75% of their profits while the prop firm takes the other 25%. This is a tad lower than other prop trading firms offer, but it still allows traders to keep most of their profits.
One-on-One Mentorship
Lux Trading Firm offers a mentorship program where traders can choose mentors and learn valuable trading skills. Your mentor will teach you trading rules and strategies to help ensure your success in the trading industry.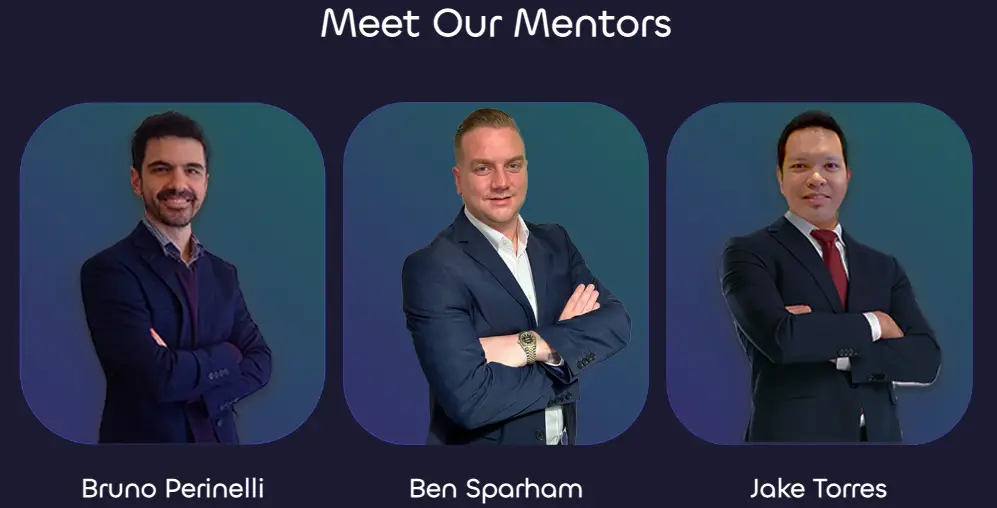 No Maximum Time Limits
Many prop firms impose a maximum time limit that traders have to hit their profit targets. Lux Trading Firm, however, provides traders with an unlimited amount of time to reach profit targets and progress to the next stage.
Lux Trading Firm Pricing and Fees
One of the most important aspects of a proprietary trading firm is how much it costs, so what can you expect to pay at Lux Trading Firm?
The Lux Trading Career Plan Prices
As mentioned, traders can choose between three account sizes at Lux Trading Firm. See how much each account costs in the table below.  
| | |
| --- | --- |
| Account Size | One-Time Fee |
| $50K Account |  £299 ($368.86) |
| $100K Account | £499 ($615.58) |
| $200K Account | £599 ($739.03) |
However, what sets Lux Trading Firm apart from other trading firms is that they offer a full refund for the first two stages of any account. Traders will receive 50% of their one-time payment after stage one and the remaining 50% after stage two.
Mentorship Prices
Of course, if you're interested in meeting with a mentor, you'll have to pay additional costs. See the table below.
| | |
| --- | --- |
| Amount of Mentoring | One-Time Fee |
| One Session |  £125 ($154.90) |
| Three Sessions | £365 ($452.31) |
| Five Sessions | £595 ($737.33) |
The Lux Elite Package Prices
The Lux Elite package is a bit more costly, but it gives traders access to more benefits. Check out the table below.
| | |
| --- | --- |
| Elite Account Size | One-Time Fee |
| $50K |   £1,699 ($2,105.43) |
| $100K |  £1,999 ($2,477.20) |
| $200K | £2,399 ($2,972.88) |
You can sign up for a free trial for any account type before committing to paying any fees.
Lux Trading Firm Pros & Cons
Let's discuss the pros and cons of trading with Lux to determine if this prop firm is right for you.
Lux Trading Firm Pros
Funded accounts with vast amounts of capital
Quick scaling plan
No virtual capital on live accounts; trade with real money
Trade multiple assets, not just forex
Reasonable profit target during the evaluation
You can hold forex trades over the weekend (great for swing traders)
Refundable fees for traders who pass the evaluation
Free trial options for all accounts
Lux Trading Firm Cons
A high number of required trading days
The 5% maximum relative drawdown limits the amount of risk you can take
Fees are expensive for traders who don't pass the evaluation
Profit splits are slightly below average
User Reviews for Lux Trading Firm
Lux Trading Firm has a 4.5-star rating on TrustPilot, which is decent but slightly lower than some of its competitors. Let's see verified users' feedback about Lux Trading Firm!
Positive Feedback
A trader named Yusif explains how Lux Trading Firm reignited his passion for trading with its transparent rules and excellent customer service.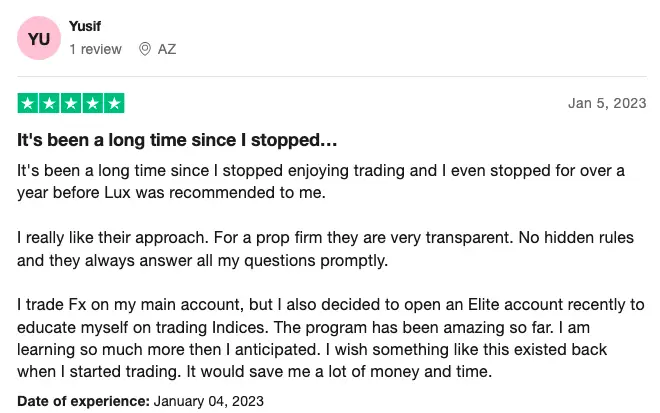 Another trader named Nikolay thinks that Lux has the best dashboard and finds their software to be user-friendly:

Negative Feedback
Of course, some users have their criticisms of the platform; one trader rated the prop firm one star and complained about the company's 1:1 leverage: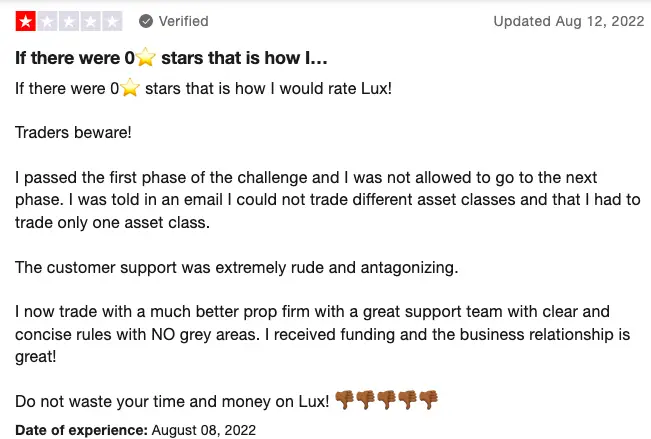 Another disgruntled trader named Mohammed complained about Lux's rules and pricing:

Lux Trading Firm Alternatives
After weighing other traders' opinions, you may feel like you've decided whether or not Lux is suitable for you. If this is the case, there are other options out there.
 Here's a list of competing prop firms we think you should check out:
Our Personal Experience with Lux Trading Firm
But what's our opinion of Lux, and how it compares to these other firms? Overall, we're impressed with the features that Lux Trading Firm offers. First, we love that you can advance to trading with $10 million in just six steps; this feature is incredibly unique, as many prop firms don't even break half a million.
We're also a fan of how Lux Trading Firm structures its evaluation process; not only do traders have attainable profit targets, but they get their fees refunded after they pass. This unique feature makes Lux Trading Firm an excellent option for confident traders looking to save money.
But of course, it wouldn't be an honest review if we didn't mention some of our criticisms. For one, we'd love to see Lux Trading Firm let traders keep more of their profits; if they bumped the profit split to 80/20, they would be slightly more competitive compared to other firms.
Also, while it's excellent that Lux refunds fees to traders who pass, what about those who don't? They end up paying hefty fees, a feature that could turn less experienced traders away.
Another issue is that the evaluation process is lengthy compared to other firms, requiring a higher-than-average minimum number of trading days. We'd love to start trading real capital faster, so we found this feature a little restrictive.
Conclusion: Should You Trade with Lux Trading Firm?
So is Lux Trading Firm the right prop trading firm for you? Lux Trading Firm is ideal for skilled traders of all kinds; forex traders, swing traders, and others can enjoy trading multiple assets with this firm. Even newbies can benefit from Lux's services if they don't mind paying extra for mentorship.
With refundable fees, no max time limits, and low profit targets during evaluation, Lux can be a cost-effective way for traders to break into the market. It's also excellent for traders who like to manage massive amounts of capital; the $10,000,000 account size that Lux Firm offers sets it apart from most other prop firms.  
If you're a high-risk trader, on the other hand, Lux may not be the best choice for your trading style. With a minimum requirement of 29 trading days and a 5% relative drawdown, Lux is ideal for traders with a reliable trading strategy that churns out profits with little risk.
But if you're still not sure about Lux Trading Firm, check out more options with our list of the Top Prop Trading Firms for Beginners!